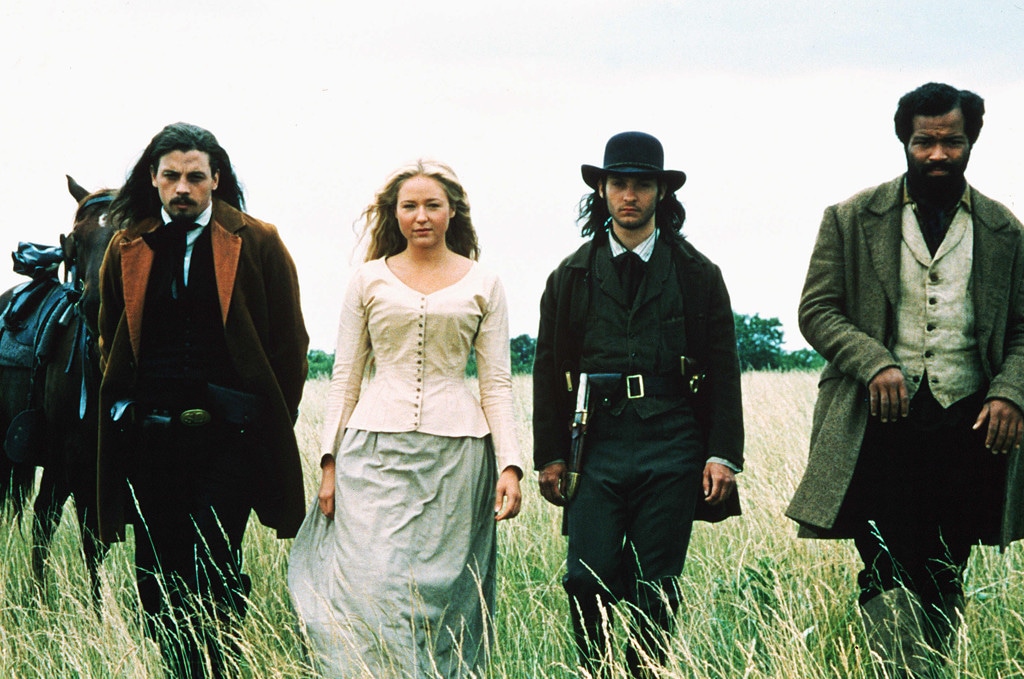 Universal/Kobal/Shutterstock
Twenty years ago, it was a very big deal that Jewel was going to be in a movie. She was at the peak of her commercial powers, performing the national anthem at the Super Bowl in 1998; selling 3.7 million copies of her sophomore album, Spirit; releasing a book of poetry.
Yet at the same time, director Ang Lee admitted in 1999, "I'm way over 40, so I didn't know who Jewel was."  
But Lee doesn't have two Oscars because he's afraid to venture into the unknown.
Rather, over the past few decades he's proved a fearless filmmaker, tackling themes both grand and intensely personal, while also being at the forefront when it comes to utilizing the newest cinematic technology, whether audiences have been ready for 120fps/3D/4K cinema or a de-aged Will Smith or not.
In turn, his successes—Sense and Sensibility; Crouching Tiger, Hidden Dragon; Brokeback Mountain; Life of Pi—have been spectacular. As have his failures.
Lost down the rabbit hole of movies you may forget are part of Lee's oeuvre is Ride With the Devil, his 1999 Civil War epic starring—among many others, most of whom hadn't yet become who they are today—Tobey Maguire, Skeet Ulrich and singer-songwriter Jewel Kilcher.
"Her part doesn't require her to carry the movie, so I didn't think it was such a big risk," Lee told the San Francisco Chronicle about his chosen leading lady. Still, and even though unbeknownst to him, she was easily the most famous woman (though Margo Martindale has since remedied that) in a film that otherwise didn't have all that much for women to do. 
And so, for all of its illustrious pedigree and serious subject matter, Ride With the Devil somehow turned, pop culturally speaking, into "the Western with Jewel." 
And it indeed marked Jewel's acting debut—and she didn't star in another movie until she played the lead sleuth in several Fixer Upper Mysteries on the Hallmark Channel starting in 2017.
All these years, that seemed to be an indicator that Lee had miscalculated her potential—but in reality, what was as promising a film debut as any ended up overshadowed by the dark cloud that seemingly hung over the film upon arrival. 
"Jewel deserves praise for, quite simply, performing her character in a convincing and unmannered way," Roger Ebert wrote in his review of the film. "She is an actress here, not a pop star trying out a new hobby. " 
Movies that have all the pieces in place to be great but which instead not only flop but are memorable failures are endlessly fascinating—and now that it's been 20 years since the film landed with a thud in theaters, we wanted to reexamine what happened and why.
Here's the unequivocally hard truth: Ride With the Devil cost an estimated $38 million to make and made $635,096. Your eyes don't deceive you and we didn't forget any zeroes. That was in limited release, not a 1,000-theater opening or anything, but still, that's barely private jet fare for a press tour.
The reviews were pretty much all over the place, from reverential to dripping with disappointment. Its Metacritic score stands at 69, leading off with a New York Daily News critic calling it the best movie he'd seen all year—and in 1999, that was saying something. The Los Angeles Times called it "probably the most intelligent treatment of this period we've had." "In its quiet way, Ride With the Devil is terrific," said the Washington Post.
Yet maybe it was the promise of that quietness, actual long stretches of the film slow-moving and devoid of dialog, that deterred audiences—even though there were so many interesting actors in the film and it was beautifully shot, authentically on location in western Missouri and Kansas. (It's an Ang Lee movie after all—they're all beautiful.)
Ebert called it "a long slog," the film's as-seen-through-the-eyes-of-the-guys-who-don't-know-their-cause-is-lost approach being a thoughtful topic for further discussion but unfortunately couched in a chore of a movie to watch. "Dramatically anemic," declared Entertainment Weekly.
Funny, it was frequently called out for being so long, but two hours and 18 minutes just doesn't sound all that long anymore, as hosannas pour in for the three-hour-and-29-minute The Irishman. And long patches of silence while conflicted, emotionally drained people pensively do what they have to do to survive are part of the deal when you sit down for a Terrence Malick film.
In The Cinema of Ang Lee: The Other Side of the Screen, author Whitney Crothers Dilley questions whether the movie was simply mishandled from the get-go, resulting in potential audiences not knowing whether it would be heavy on wartime action, a plot that tests the bond between Maguire and Ulrich's characters, a romance co-starring Jewel in the vein of Far and Away (or a love triangle like Legends of the Fall), or, at the very least, a more straightforward piece of the Civil War, like Glory or Gettysburg. 
"For the average moviegoer, the film itself seems to renege on some of the poster's promises," Dilley writes. The original poster featured two embracing lovers imposed over a scene of soldiers on horseback, galloping away.
Instead, reminiscent of Gone With the Wind in an early celebratory scene, it unfolds from the perspective of Southern allies who early on joke that the institution of marriage is as much slavery for a man as actual slavery.
The drama is primarily set in Missouri, which was a slave state, though tens of thousands more of its men fought for the Union Army than for the Confederacy, and Kansas, which, as the newest U.S. state when war broke out in 1861, had rejected slavery.
Friends Jack and Jake, played by Ulrich and Maguire, join Missouri's pro-Confederacy partisan fighters known as the Bushwackers after Jack's father is killed by Jayhawkers, anti-slavery militants from Kansas.
It's Maguire's Jake Roedel, the first-generation son of German immigrants (who faced their own share of discrimination) who starts to spot the holes in the Confederacy's cause after he befriends Daniel Holt (Jeffrey Wright, then best known as a Tony winner for Angels in America), a freed slave also fighting for the South out of loyalty to his former owner (played by Simon Baker). 
But the film is still more about moral ambiguity, internal conflict and the horrors of war in general, as the bloody violence attests, than it is a vehicle for the usual message about slave owners and those who fought to defend that way of life being on the wrong side of history.
Right before Ride With the Devil, Maguire played a teen grappling with 1970s-era suburban ennui and the hypocrisy of grownups in Lee's The Ice Storm, which came out in 1997.
The super-stardom that came with Spider-Man was still a few years off, but Maguire was already known for playing sensitive teens in The Cider House Rules and Pleasantville, and at 23 years old he played a believable-enough 16 in Ride With the Devil. (He was 27 playing high-school-age Peter Parker.)
Ulrich—fresh from his breakout role in Scream, the ensemble Western The Newton Boys, and a small but pivotal part in As Good as It Gets—was unknowingly at the height of his film career, TV finding more to do with him in the future. But at the time, also still an up-and-comer.
John Clifford/Universal/Kobal/Shutterstock
As for Jewel, she was looking to get into acting and casting director Avy Kaufman, seeking the right heroine for Lee's film, approached her team. As Lee said, he was unfamiliar with Jewel's work, so Kaufman sent him copies of her music videos, as well as footage of her as a teenager playing Dorothy in The Wizard of Oz.
Lee liked what he saw, but told the Pieces of You artist that she would have to take acting lessons for three months before he decided one way or another. She agreed.
Touring and taking lessons at the same time proved pretty stressful, so Lee recommended Jewel practice tai chi to help her remain centered. "All of a sudden I was famous and I had a stalker during that time and I was working with this brilliant director, who really intimidated me. The tai chi was just to get me settled," the singer told the San Francisco Chronicle in 1999.
For the first few weeks on set, "Jewel was pretty raw," said Ulrich, whose Jack Bull Chiles is the love interest of Jewel's Sue Lee Shelley, a young widow trying to hold it together on the home front and, later, care for Jack's baby. "She didn't know what was going on when it came to technique. She didn't even know what a mark was."
"I definitely like a challenge, but picking such a hard dramatic role for my first movie was like jumping into the deep end of the pool," Jewel also told the Chronicle. "It was horrifying. Oh f--k, I was worried. It took years off my life. At the same time, I loved the perversity of knowing there is a lot at stake and if you pull it off, it's good, and if you don't, you're screwed."
She melts right into the part of Sue Lee, her accent unaffected, her face fresh but her eyes tired, the hallmark of someone who's seen a lot in a short time. (Jewel has talked about growing up poor in Alaska with an alcoholic father who could be abusive, and she famously lived out of her car when she was starting out as an artist.) 
"I was raised on the land. I was raised to be feminine, but not in the kind of contrived way where you are playing a game of seducing men," Jewel said. "But I have never lost a husband; I have never slept with a man who ended up dying right afterward." And as even many veteran actresses have lamented, wearing that corset was the worst part.
Screenwriter James Schamus, Lee's frequent collaborator, told the Chronicle that he admired the singer's willingness to "completely erase her rock-star personality on the set. She worked like a maniac on this movie. You don't see people work like that too often."
At the same time, "Being a star in one area is no guarantee of ticket sales in another."
But not even being a movie star can guarantee ticket sales.
The film opened in 11 theaters on Friday, Nov. 26, 1999—in time for award season consideration—and promptly took in $64,159, making it the 50th-highest-grossing movie that weekend. In first place was Toy Story 2, grosser of $57.3 million after opening that Wednesday, ahead of the Thanksgiving holiday weekend.
At its peak Ride With the Devil was in 60 theaters in the U.S., with the studio planning to re-release it wide in mid-January. Instead, according to Dilley's book, Universal-owned USA Films scrapped the plan to put it out again and just released it on home video/DVD.
Lee later said the decision was made due to poor results from test screenings—and he subsequently stopped making his films available for test screenings.
But time can be great for misunderstood (and mishandled) movies, and in 2009, a new director's cut was screened at a retrospective hosted by Film Society of Lincoln Center. The bonus material in the 150-minute Criterion Collection DVD release in 2010 included commentary by Lee and Schamus, as well as an interview with Jeffrey Wright (whose character has the most interesting journey by far) probing the blurred moral lines that are central to the film.
Universal/Kobal/Shutterstock
"The Wedding Banquet was the most proportionately profitable movie of 1993," Schamus (per Dilley) later quipped to Lee over drinks in New York, referring to the director's acclaimed Taiwanese comedy, which was nominated for a foreign language film Oscar (and, incidentally, starred Taiwanese pop star May Chin), "and this one is the most proportionately unprofitable movie of 1999."
Not knowing yet that Ride With the Devil was going to bomb, Jewel told the SF Chronicle, "When you're famous and you fail, it's in front of the whole world. The world does not value growth over perfection. People are very unforgiving, and that causes self-censorship. It makes you go, 'Ooh, I've got to be safe and stick with what I know.' I knew I might look bad, and knowing that, I went ahead and did it because otherwise you die creatively."
She also noted that she was lucky to be in a position where she didn't need the money, so she could be as particular as she wanted to be about picking her next role.
But Jewel didn't choose unwisely in the first place. Rather, the movie she picked—or that picked her—just failed to achieve liftoff. 
These days, it seems as if an Ang Lee epic also starring Jeffrey Wright, Simon Baker, Tom Wilkinson, Margo Martindale, Mark Ruffalo (who would break out the next year in You Can Count On Me), Jonathan Rhys-Meyers and Jim Caviezel might spark more interest.
Or at least a more determined "For Your Consideration" campaign.