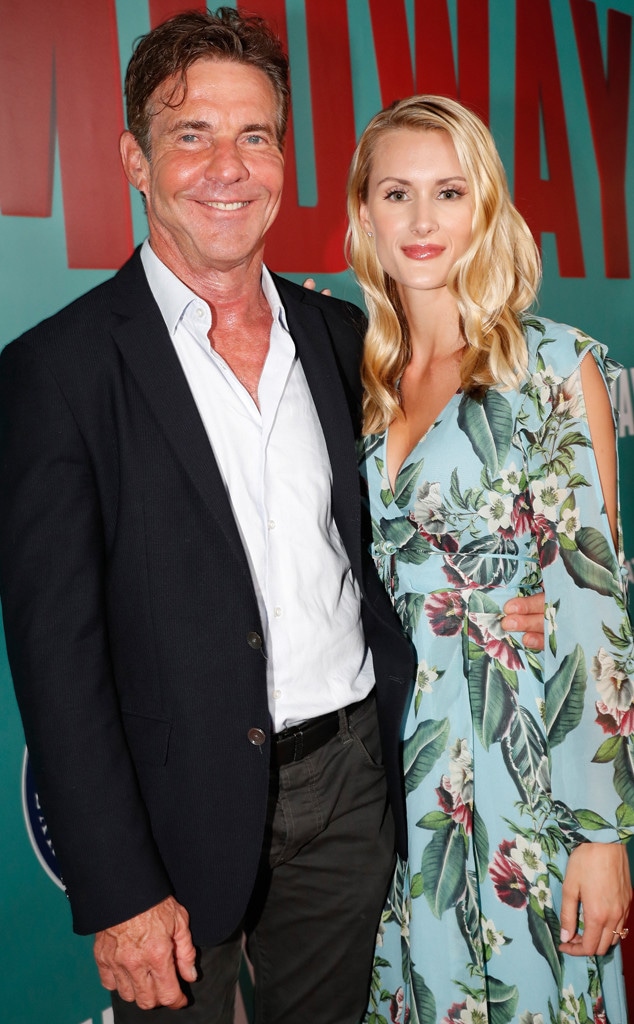 Marco Garcia/Getty Images for Lionsgate Entertainment
Dennis Quaid knows his recent engagement news caused quite the stir.
Back in October, it was revealed that the 65-year-old Parent Trap star is set to tie the knot with 26-year-old PhD student Laura Savoie. The engagement announcement raised eyebrows with many social media users, specifically over the couple's major age-gap. However, the media coverage didn't bother Quaid, in fact, he found it all pretty amusing.
"That was really a laugh," Quaid tells The Guardian in a new interview, published Monday. "I thought it was wonderful, actually."
As for the age difference between him and his now-fiancée, Quaid explains it "really doesn't bother us."
"Everyone comes from the perspective of their own life and so I can't comment on the way they feel; I can't even get angry," the actor says. "I didn't go out looking for an age gap or someone really younger than me. I met her at a business event and then the relationship developed. You have no control over who you fall in love with."
"I don't fall in love easy. But I can't let what a few people think control all that," Quaid continues. "I've been married three times and this is the final one, I know it is. I feel like I have a real partner in life."
Quaid was previously married to P. J. Soles, Meg Ryan, and Kimberly Quaid, with who he shares 12-year-old twins. Quaid also has a 27-year-old son, Jack Quaid, with ex Ryan.
As many Parent Trap fans will know, Quaid's character gets engaged to a 26-year-old woman named Meredith Blake in the film, played by Elaine Hendrix. After hearing about her former co-star's engagement to Savoie, 26, Hendrix hilariously tweeted, "Watch out for those twins."
The tweet was a reference to Quaid's twin daughters in the movie, portrayed by Lindsay Lohan, who were not the biggest fans of her character.
Watch:
Dennis Quaid Talks New Album 18 Years in the Making
Referencing Hendrix's tweet, Quaid tells The Guardian he thought it was funny.
"In fact, that very day, we went to the Staglin Family Vineyard, where we filmed The Parent Trap," Quaid reveals. "I hadn't been there since 1996. So we went and they offered us the opportunity to get married there."
But will they really? According to Quaid, "Well, wouldn't you? For sure!"
And when it comes to a wedding date, Quaid shares, "I think you have to get married within a year of asking."
Watch Daily Pop weekdays at 12:30 p.m., only on E!