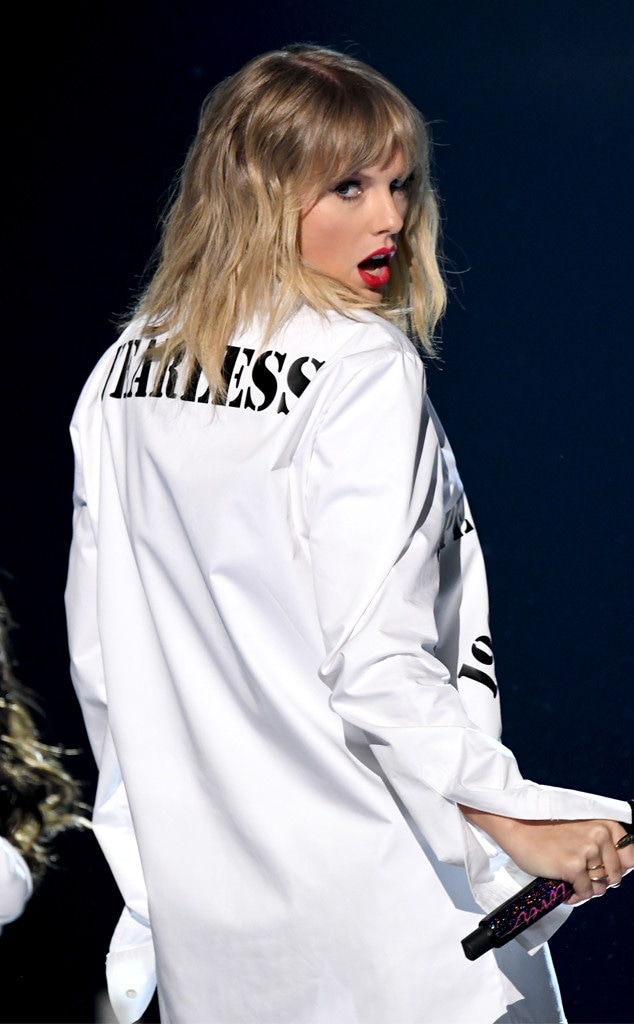 Kevin Winter/Getty Images for dcp
Taylor Swift delivered a powerful performance at the 2019 American Music Awards!
On Sunday night, the superstar singer took to the stage at the Microsoft Theater while being honored as the Artist of the Decade. In celebration, Swift performed a medley of her hit songs, starting off with "The Man." For the performance, Swift—who has been in the middle of a battle over the rights to her music—wore a shirt with the name of her first six albums on it, sending a moving message with her wardrobe alone.
As Swifties will know, the 29-year-old star took to Tumblr earlier this year to react to the news that record executive Scooter Braun had acquired Big Machine Records, the label under which Swift released her first six award-winning albums. In her message, Swift—who is now signed with Republic Records and Universal Music Group—said she felt "sad and grossed out" by the move, which was coordinated with her longtime collaborator Scott Borchetta.
Then, just days before taking the AMAs stage, Swift returned to social media to call out the duo once again, this time telling her fans that Braun and Borchetta were attempting to block her performance at the ceremony. But, when it came time for her performance on Sunday, Swift didn't reference Braun and Borchetta by name, instead, she let the music and her performance messages do all the talking.
"I guess what I'm trying to say is that all any of the artists, or really anyone in this room, wants is to create something that will last," Swift said in her acceptance speech, presented to her by Carole King. "Whatever it is in life. And the fact that this is an award that celebrates a decade of hard work and of art and of fun and memories, all that matters to me is the memories that I have had with you guys, with you, the fans, over the years."
"Guys, we've had fun, incredible, exhilarating, extraordinary times together," the songstress continued. "Thank you for being the reason why I am on this stage from the very first day of my career until tonight. I love you with all of my heart. Thank you for everything. Thank you, AMAs. I'm so lucky to get to do this."
Watch:
American Music Awards 2019: By The Numbers
Swift, who made history at the award show, also referenced her "complicated" year in another heartfelt acceptance speech.
"The last year of my life has had some of the most amazing times and also some of the hardest things I've gone through in my life and not a lot of them are things that haven't been public. And I wanted to thank you so much for being the thing that has been a constant in my life. Like, this industry is really weird," Taylor shared with the audience. "You feel like your stock is either up or down and people either like you or they don't or you're feeling bad about yourself. But the people that hang in there for you are the ones that you will never forget."
In honor of Swift, let's take a look at all of her 2019 American Music Awards Easter eggs!
Congratulations, T.Swift!
Watch Daily Pop weekdays at 12:30 p.m., only on E!