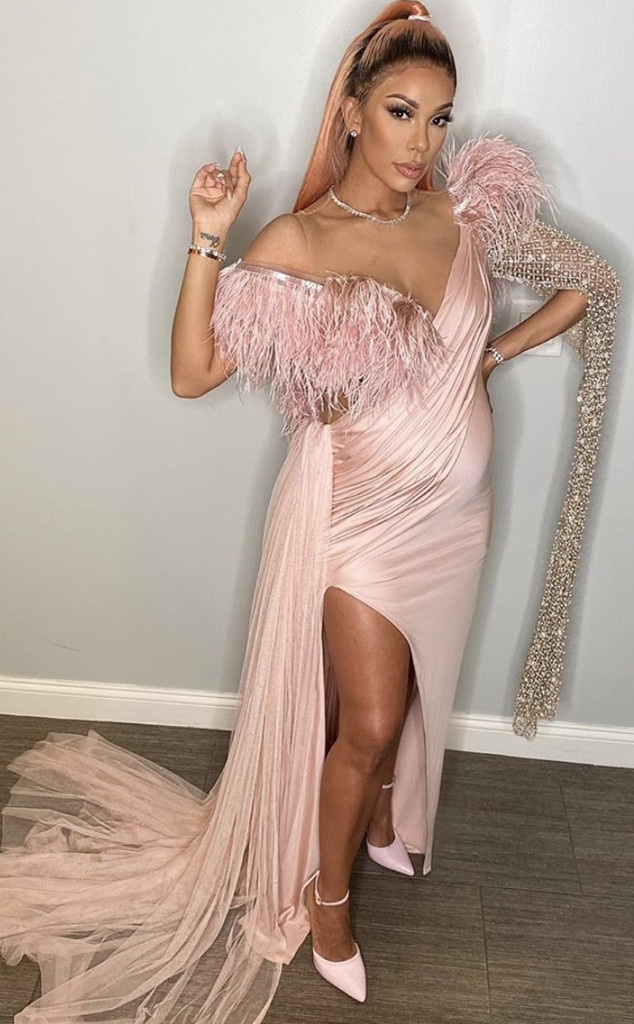 Instagram
These two parents-to-be sure know how to throw a baby shower! 
The Love & Hip Hop duo, Erica Mena and Safaree Samuels threw the most lavish and extravagant baby shower we've seen in a while. The parents-to-be hosted a Met Gala-themed baby shower on Saturday, Nov. 23, to celebrate the arrival of their first child together, a baby girl. 
Erica and Safaree first confirmed they were expecting in October and quickly thereafter, the happy couple also tied the knot. Now, they're celebrating all their blessings accordingly. 
The 38-year-old rapper and the 32-year-old reality TV star took to Instagram to share all the best moments from the fun-filled night. From the looks of it, it was all in the details for their Met Gala-themed baby shower. 
From pink balloons, pink roses, designer baby clothes, portraits of the very pregnant mother-to-be, a baby carriage and belly cast adorned in more pink roses, to even serving donuts at their party—the shower was definitely one to remember. 
But what really had us speechless was Erica's baby shower lewk. The Love & Hip Hop star donned a beautiful rose-colored gown by fashion designer Karen Sabag. Her dress was fun, flirty and glamorous all in one. From the sexy high thigh-slit, the feather-adorned off-shoulder and a sleeve adorned in Swarovski crystals and white water pearls, Erica's dress was nothing but breathtaking.  
"The perfect Met Gala Baby Shower dress. Special thank you to @karensabagofficial for making this dress Saturday morning starting at 5am. You went up and beyond last minute and made sure I had the perfect dress. Thank you to my sis @remyma who picked up my late night call and made this all happen. From you, Karen and her amazing Mother. I so thank you Queens. You are all so appreciated," Erica wrote on Instagram.
Erica also wrote strappy pink heels and wore her in a half ponytail, which was also pink. 
According to another Instagram post she shared of what went into the making of her dress, her gown was made in just a few hours. "This was all done the day of the shower. You designed and made this dress all by hand in just a few hours. Wow talk about talent. I'm so grateful for this love. My sis @remyma even came in at 1 am just to be my body double. Came back with the golden child to make sure everything came together. Love you so much Reminisce."
As for the father-to-be, Safaree stepped out to his baby momma's baby shower wearing a pink suit jacket, paired with white pants. "Getting ready for Her," he wrote on Instagram, sharing a picture of his final baby shower look. 
The rapper also stepped up for his wife and daughter and dyed his hair pink for the occasion. If that's not love, we don't know what is. 
During the baby shower, it looks like Safaree also had a quick outfit change for an impromptu performance during the night. He changed into an all-white suit with a blue undershirt and performed a dance rendition of Michael Jackson's "Smooth Criminal." Meanwhile, Erica was spotted eating donuts and living her best life dancing. 
It's safe to say the parents enjoyed the night to the fullest!