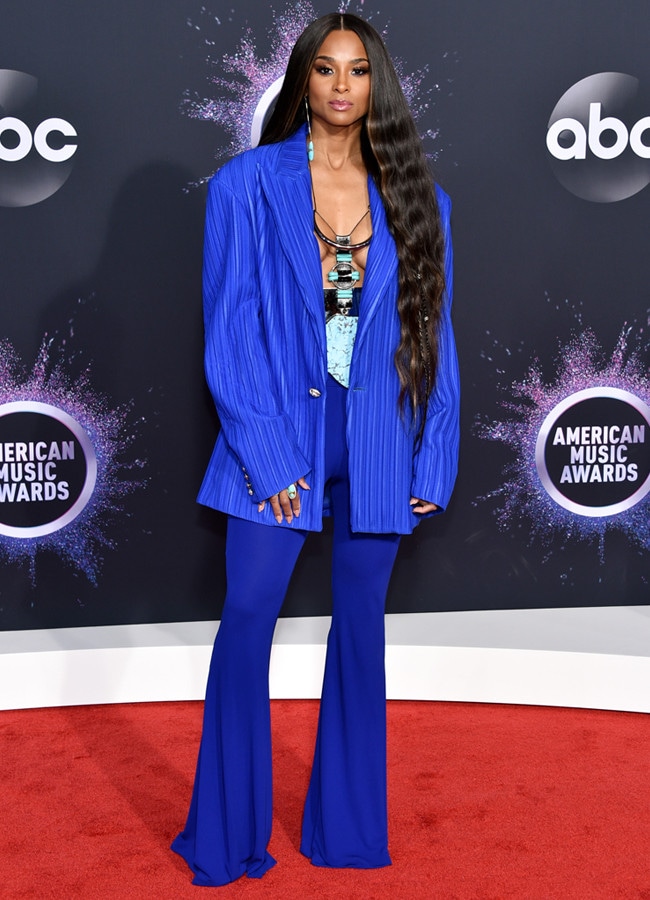 John Shearer/Getty Images for dcp
The hostess with the mostess has arrived and she's lookin' electric. 
Before hosting the 2019 American Music Awards, Ciara hit the red carpet outside the Microsoft Theater in Los Angeles. While hubby Russell Wilson was unable to show his support in person because of his NFL schedule, the "I Bet" singer slayed the carpet all by herself.
The 34-year-old singer stunned during the red carpet clad in an all-blue power suit and wearing her luscious hair in long loose waves.
Stepping out in Balmain, the woman of the hour looked radiant in her bell-bottoms, oversized blazer and pulled the whole look together with what seems to be an oversized necklace that's pulling double duty as a bralette. 
It's safe to say Ciara is bound to be making a lot of best-dressed lists tonight. Now, we can't wait to see what other looks she has in store for us throughout the star-studded night! 
 Just days before the award show, the singer teased plenty of wardrobe changes to E! News.
"This is a girls dream. I get to change outfits. There are at least five changes. It's not too crazy, but It's the right amount," Ciara teased to E! News. "There are going to be so many performers that night so we have to make it all happen you know but I get to squeeze in some really cool moments of fashion that I'm excited about."
Watch:
American Music Awards 2019: By The Numbers
As for her kids, they are also going to be treated to one special night of music.
"My babies will be here!" the "Melanin" singer shared with us. "They will be in the audience watching actually. I'm excited and I always love that."
And for those wondering if Russell had any words of wisdom for his wife before the big gig, we're happy to report the Seattle Seahawks quarterback didn't disappoint.
"He is the best. He always has the right words. He is also really good at doing this kind of stuff himself so I feel like I get inspired when I see him in his element and his zone and doing things like this," Ciara shared. "I also learn some cool things from him...He does everything. He is the best supporter. My kids, my family. They are there for me and that makes me feel good, calm and comforted. They make me feel sure of myself and their love is a huge contribution to that."