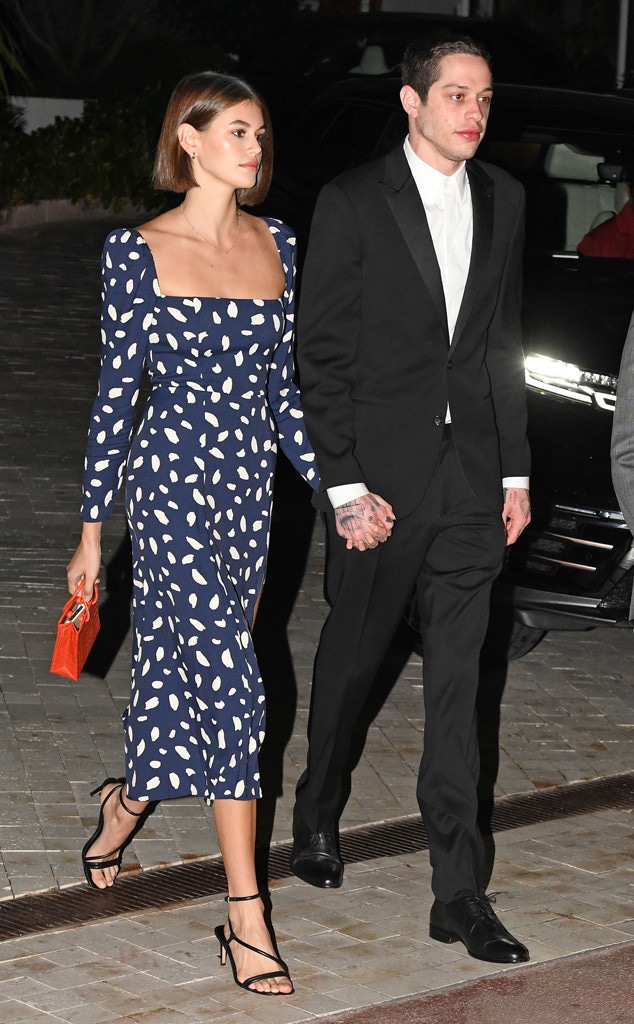 MEGA
Magic City vibes.
Miami looks good on Pete Davidson and Kaia Gerber, who have been putting their blossoming romance on full display during their romantic getaway. After enjoying a beach-filled day and packing on the PDA for onlookers, the dynamic duo got dolled up on Saturday evening to attend a friend's wedding, a source shared with E! News.
Changing out of her snake-print bikini from earlier in the day, the 18-year-old model looked like she stepped off the runway for her date night lewk. She slipped into an ultra-chic navy blue polka dot dress from Reformation. Making her ensemble even more dazzling, Kaia's curve-hugging design featured a thigh-high slit, puffed sleeves and super cute pattern.
For the special occasion, the brunette beauty kept things effortlessly elegant and she tied her outfit together with simple jewelry pieces, black strappy sandal heels and a vibrant red-orange handbag. 
Pete also cleaned up nicely.
The Saturday Night Live star looked dapper in a classic black and white suit for his special night out. As the couple headed out to their friend's wedding, they were spotted holding hands and walking closely with each other.
While it's unclear how long they plan to stay in Miami, one thing is for sure: they're having a good ole time so far.
"They spent the afternoon on the beach at Faena with a big group of friends," an insider told E! News about their beach date on Saturday afternoon. "They both seemed very happy to be out in the sun and enjoying the beautiful weather."
The source added, "At one point, Pete came over and leaned in to give Kaia a kiss [and] she got a big smile on her face."
Moreover, their romantic getaway comes a few days after they were spotted kissing and showing major PDA at the Charlotte Lawrence concert in New York.
"Pete and Kaia seemed playful and happy, but also tried to remain low-key, viewing the concert from the upstairs balcony mostly out of sight," a separate source shared with E! News about their hangout on Monday night. "The two shared a long kiss but appeared embarrassed when the crowd began to take notice of them."
While Davidson and Gerber's romance is certainly in the early stages, it looks like things are going well for the two. They first sparked romance rumors in October and recently confirmed their relationship, which came a few weeks after the 26-year-old actor split with actress Margaret Qualley.
More recently, the SNL star gave fans insight about the type of partner he is when he's in a relationship.
"My love language, when I'm in a relationship, is I treat the person I'm with like a princess," he shared with Paper Magazine in an interview. "I try to go as above and beyond as possible because that's what you're supposed to do? If you're in a relationship with someone, you're just supposed to make that person feel as special as possible."