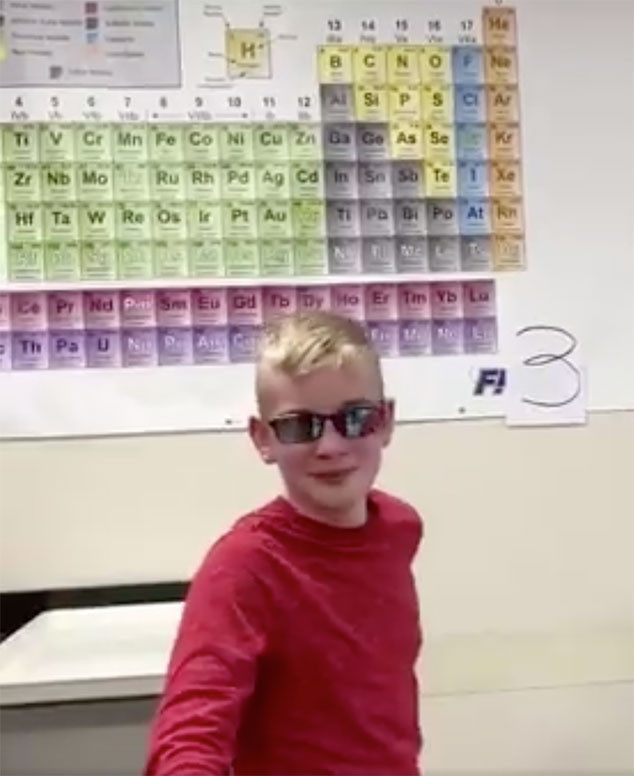 Twitter
If you were looking to end the week on a high note, we have just the video for you. 
A video tweeted on Thursday has been picking up steam on social media and, once you watch, you'll understand why. Minnesota college student Ben Jones shared a clip of his younger brother, Jonathan, who is color blind, seeing color for the first time thanks to a pair of glasses his principal brought into class. 
"My little brother is severely colorblind and so is his principle [sic] at school. While they were learning about colorblindness in class, his principle [sic] brought in some glasses that let him see color for the first time, and he was very emotional," Jones explained on Twitter. 
In the footage, Jonathan put the glasses on and looked around, spurring a heartwarming emotional reaction. His principal, Scott Hanson, comforted him as he cried at the new sights and encouraged him to take a new look around the classroom, including at a nearby colorful painting and poster of the periodic table of elements, which is also color coded. 
"What a great day," Hanson, who allowed Jonathan to borrow the glasses, said. 
"My brother found out fairly recently. It's hard to determine when they're young," Ben told E! News. "The fund will cover the glasses and the excess will go to the EnChroma Foundation, who provide the glasses for those in need."
As for Jonathan's principal, "He's been great for my brother and all the kids at that school," Ben added. "He's a great leader for the kids."
Since the clip garnered such attention online, Jonathan's mom launched a GoFundMe page to purchase a pair of the glasses for him. Less than 24 hours later, it has already exceeded its $350 goal with $6,300 raised by more than 250 donors. 
"After posting a video on social media of Jonathan seeing color for the first time, we have been overwhelmed by how many kind, generous people have wanted to help him get a pair of his own color blind glasses. We will use these funds to purchase his own pair and donate any additional funds to a foundation who purchases color blind glasses for those who can't afford them," the page reads. "Thank you all for your love and compassion. We are overwhelmed and encouraged to know there are so many amazing people in this world who would help a young man they have never met."
The comment section has been equally uplifting. As one donor wrote, "Thank you for helping me remember to pay attention to the beauty in the world."