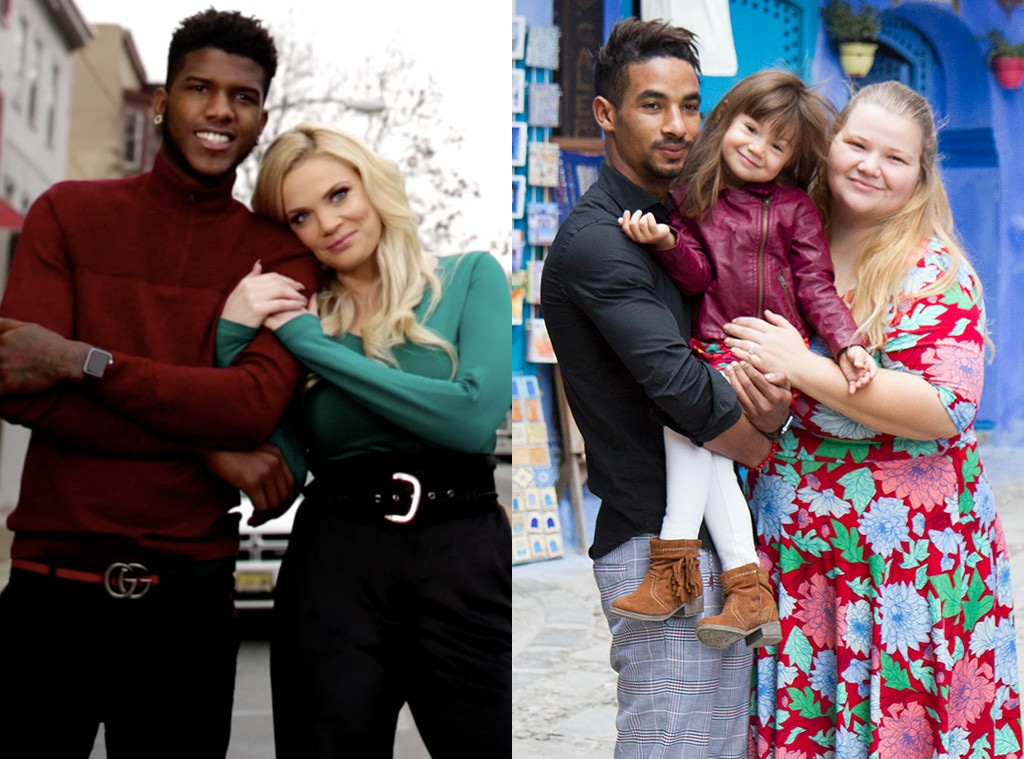 TLC
90 Day Fiancé has given fans so much. In addition to highlighting other cultures—and sometimes an inability for America's to comprehend those other cultures—the TLC franchise has unleashed seven seasons of the mothership and multiple spinoffs full of drama, meme-able moments and head-scratching couplings. However, there's one thing the reality show has yet to feature since its 2014 debut: a same-sex couple.
TLC's Alon Orstein, senior vice president of production and development at TLC, said a same-sex couple is "absolutely a possibility," and he said it "almost certainly will happen."
"At this moment, as far as the stuff that has aired, we just haven't found the quite right couple," he said, noting there were times when the network did find people they liked, but people sometimes drop out of the process for various reasons.
One of those reasons is sometimes a couple just decides not to do the show. "That could happen, or you could have an issue with timing or things like that. But it is something that we have been very keen to find and are continuing to actively pursue," Orstein told E! News about following a gay couple.
So, what makes for a "perfect" 90 Day Fiancé couple?
"I mean, there are so many different flavors, there is no perfect one," Orstein said. "I think what we're always looking for in every 90 Day Fiancé couple is first and foremost, they have to be transparent. They have to be willing to go there, to share their emotions, to talk about their feelings, to let us get beneath the surface. That's the first and foremost. We want to get to the authenticity of them as individuals and the relationship, and have that unvarnished view," he said.
Watch:
Juliana Admits to Getting Michael Drunk When They Met
The show also looks for people who are "engaging, captivating, individual personalities." And that means people from all different walks of life, Orstein said, citing the likes of 90 Day Fiancé: The Other Way's Jenny and 90 Day Fiancé season seven's Juliana. Two women who couldn't be more different in terms of age and background, but two figures who pop on TV.
"We like to look across the spectrum. Diversity is very important to us, extremely important to us. We think one of the great assets of the series is that we have the opportunity to go into all these different countries, people from all different ethnic backgrounds, religious backgrounds, just life experience…It's a cocktail more than it's a perfect couple that makes a season. And we really are thinking about the cocktail when we're looking at casting. Does this mix right? Do we have that right algorithm and alchemy that will be a really good flow throughout the season? We can't have too many people who might be similar feeling [in terms of backgrounds and stories]. We like all different sorts of personality types," he said. "Sometimes it's someone really big [personality]—like Angela—but sometimes it could be someone who's maybe a little bit more understated in a different way, like an Anna, from Anna and Mursel [in 90 Day Fiancé season seven]…I think the beauty of 90 Day Fiancé is we don't really have an archetype. We are looking across the spectrum," he said.
Be sure to come back to E! News for more insight into what goes on behind the scenes of 90 Day Fiancé.
90 Day Fiancé airs Sundays, 8 p.m. on TLC.