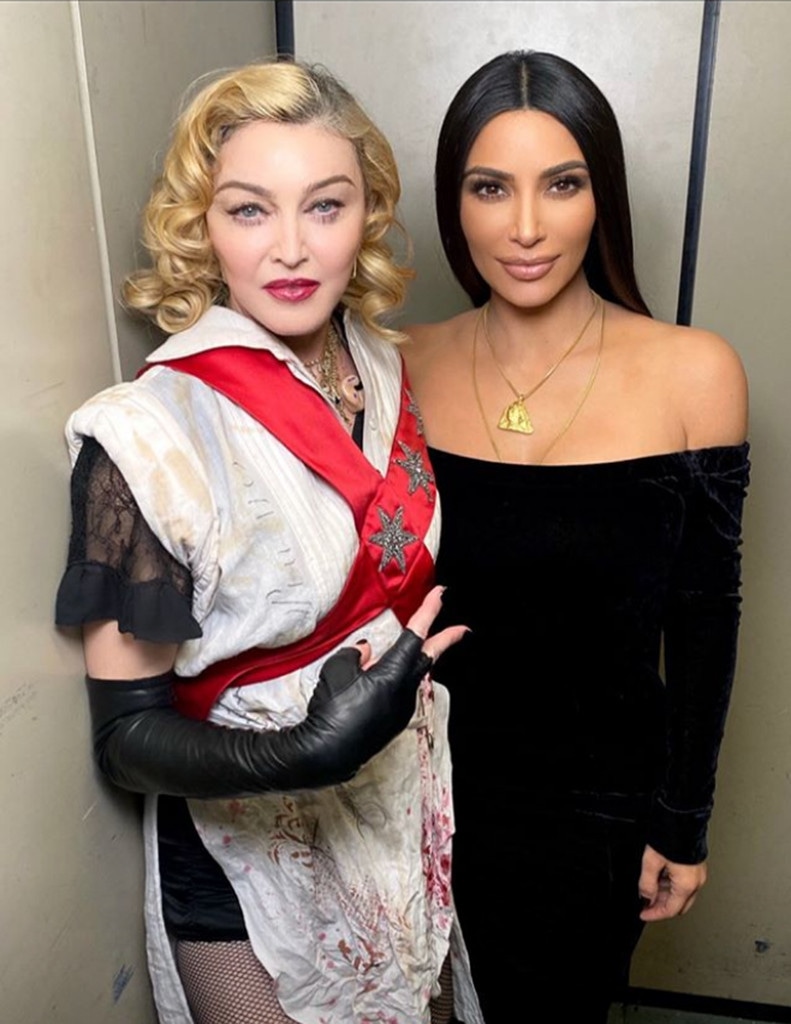 Instagram / Madonna
It's official: Kim Kardashian, Taylor Swift and more top stars are crazy for Madonna.
The OG Queen began her critically acclaimed Madame X tour in September and since then, many A-listers have attended her shows. She recently began two-week a concert residency at Los Angeles' Wiltern Theatre. Kim and sister Kourtney Kardashian attended a show there on Wednesday. At one point, Madonna stepped offstage and sat next to Kim. She posted on her Instagram Story a video of their mid-show interaction.
"Do you mind if I sit down?" Madonna asked. "Thank you so much. Just for a moment."
She then asked for a sip of Kim's beer bottle.
"I'm dying of thirst. Do you mind? Have you had anything out of this bottle? No backwash?" Madonna said, before taking a sip.
"You know, you look very familiar," she joked. "What is your name?
"Kim," the reality star replied.
"Kim. Kim, my God, it's so nice to see you," Madonna said.
The two then hugged.
Kim and Kourtney also got to spend time with the singer backstage. Madonna posted on her Instagram page a video of their hangout. Kim and Kourtney complimented Madonna on her outfits and hairstyles. 'You looked so good," Kim told Madonna.
"Madame X loves when her friends come to visit!!#madamextheatre #thewiltern @kimkardashian @kourtneykardash," Madonna wrote.
Other celebs who have attended Madonna's shows recently include Swift, Bono, Dave Chappelle, Billy Eichner, Katy Perry, Chris Rock, Troye Sivan, Jimmy Kimmel, Spike Lee, John Leguizamo, Dua Lipa, and Megan Mullally.
After completing her last show at the Wiltern on November 25, Madonna will perform several concerts in Boston, Philadelphia and Miami throughout December before heading to Europe for more shows in January.