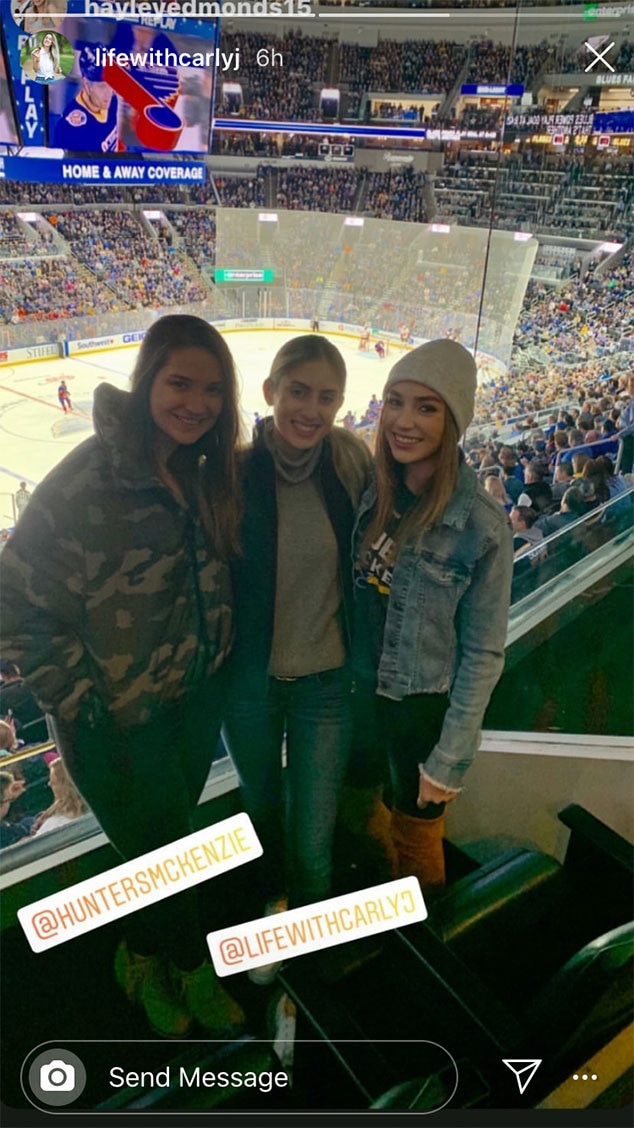 Instagram
Amid her father's drama with estranged wife Meghan Edmonds, Hayley Edmonds is hanging out with the former couple's nanny. 
Last month, reports surfaced of Jim Edmonds filing for divorce allegedly after Meghan accused him of cheating with their family nanny. 
"What I will say is that, in the wake of the sexting situation, my husband was drinking and partying with much younger women, including several of our babysitters, and I found this gallivanting inappropriate, immature, and downright odd," Meghan later wrote on her website. "While I initially wrote it off because during several of these outings, his 22-year-old daughter was present, given his previous indiscretions, I was uncomfortable. Even more so when he started lying about where he was going or who he was going with—and deleting entire text conversations on his phone with several of these young women. (For the record, after the sexting affair he had agreed with our therapist that he would be totally transparent and never delete messages or conversations and he would also keep his location available on his phone.) And when I learned of a particular outing with a babysitter, this time, to a hockey game, that Jim repeatedly lied about, I asked him to include me on all future texts with this sitter but he said, 'No.' Another major red flag."
Meghan added, "To be clear, I don't know if Jim slept with our babysitter or whether they were just being exceedingly inappropriate by hanging out socially without either of them telling me (and Jim expressly lying to me about it). I've gone back and forth with my thoughts for a couple days but as I write this, I don't think he did. But I still don't understand why he'd lie. And why would she lie?" She further explained, "The same day I confronted Jim and one of our babysitters—I got a call from a reporter, telling me he had a story and was releasing it. 'What?! He's divorcing me?!' This is the first I had heard of it."
Edmonds and nanny Carly Wilson have individually denied the claims, with Wilson calling them "completely false" and Edmonds slamming them as "disgusting and irresponsible."
While he publicly vowed to "make it right again" with his family, Jim has since moved out of the St. Louis home they were sharing and into a new property they purchased that is still under construction. Then, his daughter was out with Wilson. In a snap both women shared on Instagram, Hayley and Carly posed together with a third woman at a hockey game on Thursday night. 
Watch:
Meghan King Edmonds Breaks Silence Amid Jim's Cheating Scandal
Previously, Hayley has not had the nicest things to say about her stepmom. "I've been waiting for it. For probably…three years?" she told Us Weekly of the couple's split. "I think it's impossible to be happy with someone so…I don't know if I would say narcissistic but, she, like, creates her own problems and loves conflict and things like that. The selfishness is miserable for anyone to be around, let alone to be married to her. My whole family has grown closer because we have all had to stay silent in hopes to protect my dad and no one can do it anymore."
Hayley, who Edmonds welcomed with ex-wife Lee Ann Horton, also defended Wilson. 
"They're family! They are around everyday and they care about those kids and they care about my dad because he's just like…they want to help him," she told the magazine of the Edmonds' staff. "They're just young girls that are just trying to work and be positive and be happy and enjoy their job. And the way she stepped over the line is just completely disrespectful and it's just absurd...Especially the way that she treated Carly is mind-blowing to me because she holds herself to very high moral standards and she is a great girl who moved to St. Louis across the country because she loves those kids. And it's just I mean absolutely ludicrous I would say. I can't even…I keep saying I'm shocked, but I'm not surprised at the way that she goes after people so ruthlessly."
As for Meghan's point of view, following Jim's sexting scandal and learning their son Hart has "irreversible brain damage," she wrote on her website that she "did not have the love or support of Jim's family–instead they were actively ignoring me or trying to further sabotage our marriage."