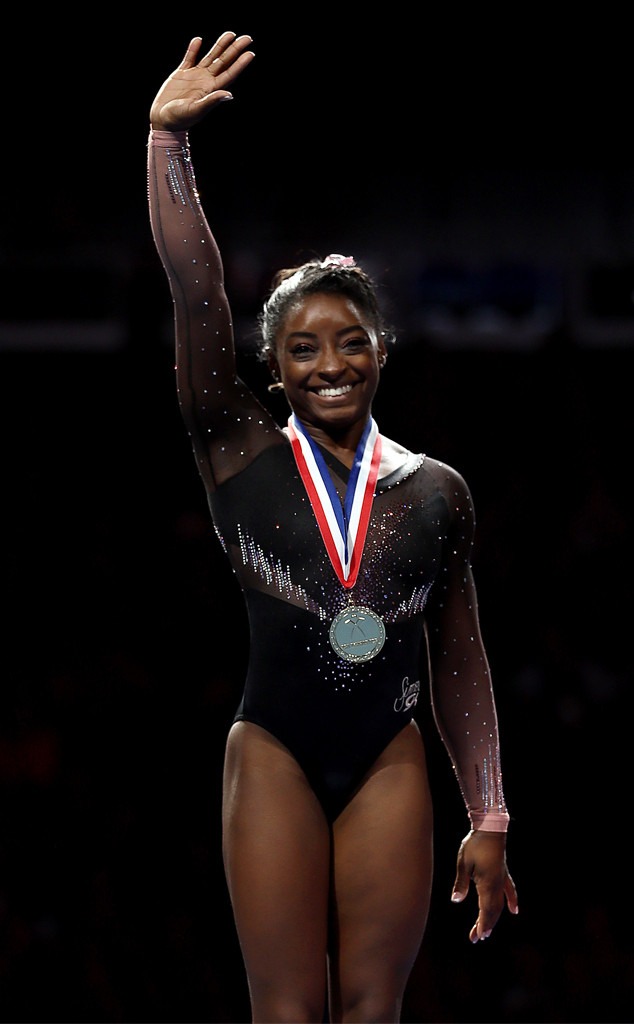 Jamie Squire/Getty Images
Olympic gymnastics champion Simone Biles is saddened and outraged by a new report that claims USA Gymnastics did not investigate if she had been abused by team doctor Larry Nassar after she reported being uncomfortable around him.
The Wall Street Journal reported on Thursday that in 2015, then-organization leader Steve Penny knew the 22-year-old, now the most decorated gymnast, was among the first trio of athletes who had been flagged to USA Gymnastics as being uncomfortable with Nassar. It said Penny had USA Gymnastics contact the FBI to report concerns that the doctor had sexually abused gymnasts under the guise of treatment, and that he did not mention Biles' name.
"Can't tell you how hard this is to read and process," she tweeted in response to the story. "The pain is real and doesn't just go away...especially when new facts are still coming out. What's it going to take for a complete and independent investigation of both USOPC and USAG???"
"Numb is becoming a normal feeling," she added.
In 2018, Nassar was sentenced to 40 to 175 years in prison for sexually abusing dozens of young female gymnasts. That year was the first time Biles communicated publicly about Nassar's abuse of her, via social media, and encouraged by others before her speaking out.
Two years prior, Penny informed Olympic gymnasts that the FBI had revived its investigation of Nassar, and Biles was finally interviewed by the group, the Wall Street Journal said, adding that that was when she realized he had abused her.
The Wall Street Journal said Penny is under scrutiny in a wide-ranging federal criminal investigation into the U.S. Olympic system, while USA Gymnastics is in bankruptcy and facing litigation over its handling of Nassar.
"We were surprised, deeply saddened and outraged to learn from the Wall Street Journal that Simone Biles was one of the athletes mentioned in the original notification in 2015 that triggered the initial Nassar investigation," Li Li Leung, president and CEO of USA Gymnastics, said in a statement to E! News. "We have extended our apologies to Simone and her family, and we are very sorry our organization's leadership at the time handled this situation in a disrespectful and inconsiderate way."
"Simone is the heart and soul of women's gymnastics, and it is heartbreaking that she and her family were not contacted at the time the concerns were first reported," the statement continued. "Our former leadership exhibited poor judgment and unacceptable behavior. As we move forward, one of our goals is for our athletes to feel comfortable in speaking up and sharing their opinions, and to know we are listening to what they have to say. The behavior of past leaders of our organization will not deter us from doing what is right today."
In what marked her first public comments about her abuse by Nassar, Simone had written on Twitter in 2018, "I too am one of the many survivors that was sexually abused by Larry Nassar. Please believe me when I say it was a lot harder to first speak those words out loud than it is now to put them on paper. There are many reasons that I have been reluctant to share my story, but I know now it is not my fault."
"After hearing the brave stories of my friends and other survivors, I know that this horrific experience does not define me. I am much more than this. I am unique, smart, talented, motivated and passionate."
She added, "I have promised myself that my story will be much greater than this and I promise all of you that I will never give up," she continued. "I will compete with all of my heart and soul every time I step into the gym. I love this sport too much and I have never been a quitter. I won't let one man and the others that enabled him to steal my love and joy."
Penny's lawyer told E! News, in response to the report, "Mr. Penny did not know that Ms. Biles was a victim of Larry Nassar until Ms. Biles released her survivor statement on Twitter. Mr. Penny is not aware of Ms. Biles reporting to USA Gymnastics a concern that she was uncomfortable with Nassar before USA Gymnastics went to the FBI. USA Gymnastics was told an athlete was uncomfortable with Nassar's treatment and proceeded to address the matter as has previously been reported."
"Mr. Penny remains dismayed by the lack of effort made by law enforcement to address concerns regarding Nassar," the lawyer said. "Mr. Penny regrets that any athlete experienced the slightest level of discomfort or abuse under Nassar's care."
In March, Biles talked about her ordeal in an interview with Priyanka Chopra for her YouTube series If I Could Tell You Just One Thing.
"There was a time I asked my friend and I called her and I asked her the definition of 'sexually abused,' because some of my other friends, they had had it worse than me," the gymnast said. "She said, "If he did that and that, you've been sexually abused.' I kind of brushed it off, and I was like, 'No, I'm am not willing to put that out there for the world to see. They're not going to see Simone the gymnast. They're going to see Simone as a sexual abuse survivor.'"
"So I denied it and I buried it and I was very depressed," she said. "I like, never left my room. I was sleeping all the time and I told one of my lawyers, I said, 'I sleep all the time because it's the closest thing to death.'"
She continued, "I had just read the story about my friend coming out and I was balling and I called my mom and then I told her. And we had like, detectives come and stuff like that and that was the moment when I realized...It wasn't easy. I feel like I'm a stronger woman today and I feel like telling my story has helped younger girls."
—Reporting by Jessica Finn