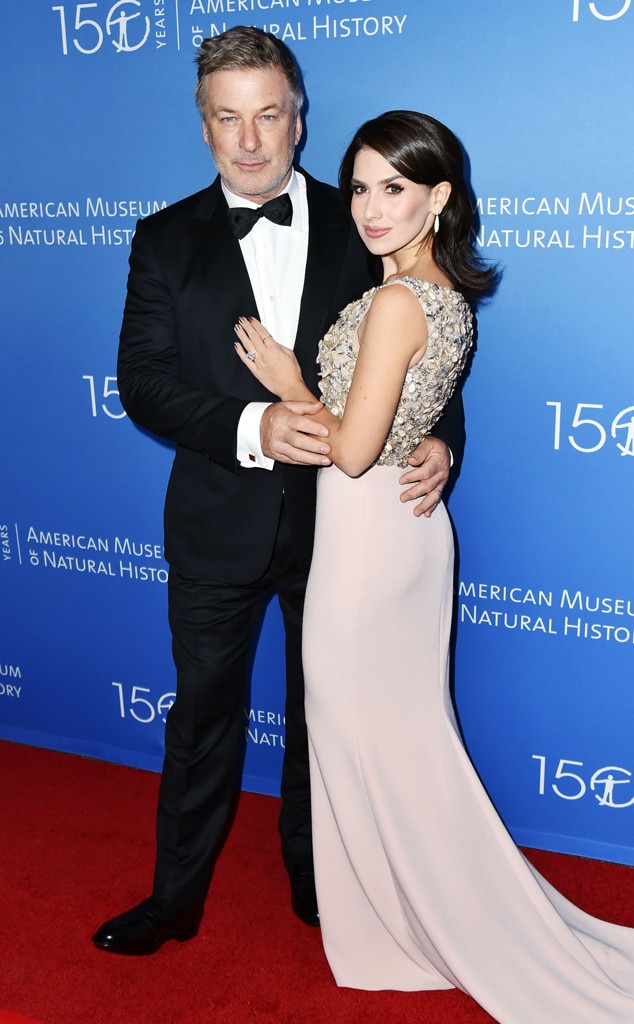 Stephen Lovekin/Shutterstock
It was a glamorous date night for Hilaria Baldwin and Alec Baldwin. 
On Thursday night, the famous parents of four got dolled up and stepped out into the Big Apple for the American Museum of Natural History's 2019 Museum Gala. The married pair of seven years were dressed to impress, Baldwin donning a classic tuxedo while his beloved wife opted for a blush Badgley Mischka gown with an embellished bodice covered in floral appliqués. 
While they were at their fancy outing, the pair's youngsters were at home and less than thrilled their parents had gone out without them. "I really don't do a lot of this anymore. I really like to put them to bed," Hilaria shared with E! News. "And tonight, they told me I was a mean mommy, and I told them I loved them and I...left," she added with a laugh. "And it was really one of those things like, 'Other people do this, Hilaria. You can do this too! One foot in front of the other.' And it was really liberating to put one foot in front of the other and say, 'Ok, I'm doing this.'"
Together, she and her actor husband are parents to daughter Carmen, 6, and sons Rafael, 4, Leonardo, 3, and Romeo, 1. Alec is also dad to 24-year-old Ireland Baldwin, his daughter with ex-wife Kim Basinger.
After suffering a miscarriage in April, Hilaria recently shared that she faced the loss of their unborn baby girl after announcing the pregnancy in September. 
"We are very sad to share that today we learned that our baby passed away at 4 months," she told fans on Instagram. "We also want you to know that even though we are not ok right now, we will be. We are so lucky with our 4 healthy babies—and we will never lose sight of this."
Watch:
Hilaria & Alec Baldwin's Daughter Carmen Reveals Sex of Baby No. 5
Speaking with E! News about sharing the family's loss, Hilaria said, "I am doing much better. I said everything literally maybe an hour or two after I found out. I just wanted to be honest, I don't know how to not be at this point. I am so open on my social media and I don't know how to do it any other way."
She noted, "One of the hardest things is when people don't know are congratulating me on being pregnant. I've had people, who have said the sweetest things, like 'Congratulations, you're having a baby, you're having a girl!' And that's been the hardest because that's not happening. And so, I think, 'Let's catch everybody up and let everyone [know] what's going on."
"It's so fresh," she told E! News. "We were working on things like it was happening and it's not happening anymore. Life is so precious and it can change tomorrow."
For now, the famous mom is focusing on taking care of her sick kids and looking forward to the upcoming holiday. "My kids were just diagnosed with the flu, so I'm doing that," she told E! News. "So, Thanksgiving is going to be really quiet. We are doing a Friendsgiving—see some friends and cook a little bit. Really low-key and no stress."