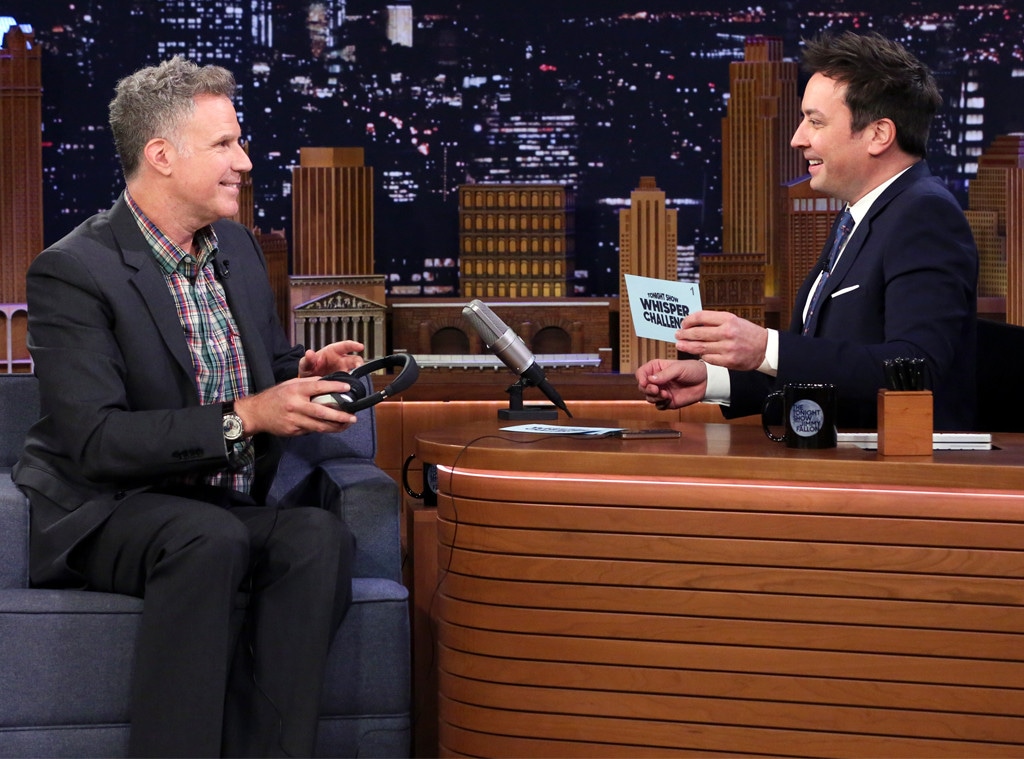 Andrew Lipovsky/NBC
We did not see this one coming.
On Thursday, Will Ferrell and Jimmy Fallon played a round of "Whisper Challenge" on The Tonight Show Starring Jimmy Fallon—and it's safe to say that the game did not go as planned. The rules are simple: one player wears noise-canceling headphones while the other feeds them a phrase that they must try to guess by reading their lips. But, of course, the Elf star took matters into his own hands when it was his turn to read. 
Instead of saying "Baby Yoda" from the card he pulled from the deck, Will used his turn to make a hilarious confession to the late night host. "I have a shoplifting problem," he said. "I have a serious shoplifting problem. Stealing makes me feel big. I steal everything: Groceries, books, cold medicine."
Seeing that Jimmy was unable to make out what he was saying, Will decided to take things up a notch. 
"I know I'm sick, but I can't help myself," he continued. "It's like a high to me. I love the danger of almost getting caught. Can you imagine the headlines? 'Will Ferrell Arrested for Shoplifting at Kohls.' God, that would be so humiliating. But, what can I say? It turns me on."
Discouraged, Jimmy finally took off his headphones and asked to see the card. Playing it cool, Will said, "It was Baby Yoda."
For his next turn, Will got creative again and made an interesting case for Jimmy to join a Jonathan Lipnicki cult instead of saying the phrase that was on the card.
"Do you like cults?" he asked the unsuspecting late night host. "I'm starting one and guess what? You're my first member."
Watch:
What Is Will Ferrell's Favorite Impression?
"I've already seized your bank accounts and stolen your identity," he continued. "We'll worship Jonathan Lipnicki as a god. We're going to use your money to build a temple dedicated to the Jonathan Lipnicki movie, The Little Vampire."
See if you can make it through the hilarious sketch without laughing in the video above!
(E! and NBC are both part of the NBCUniversal Family.)