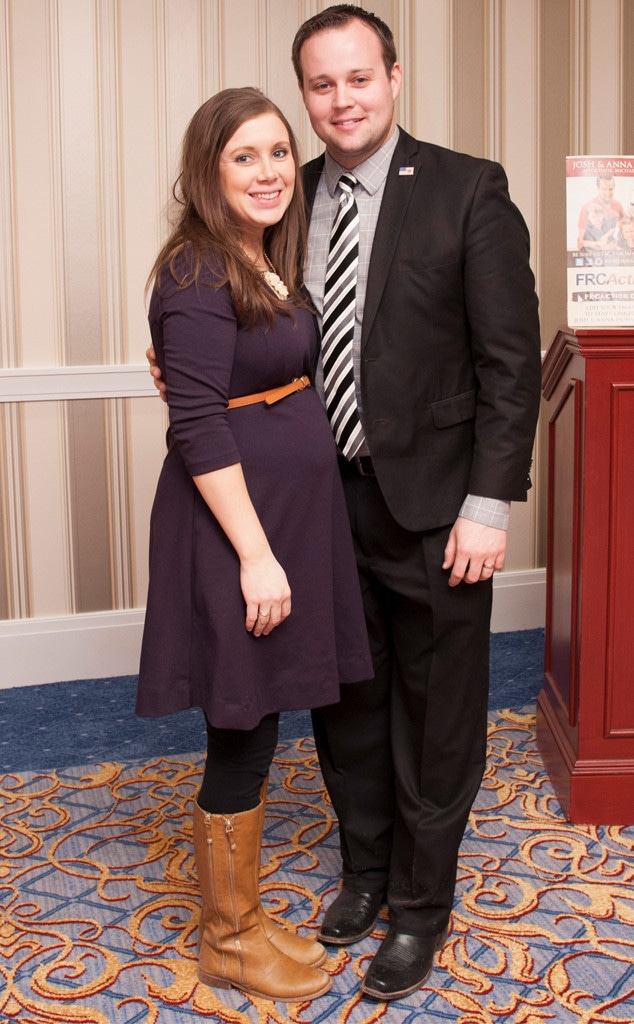 Kris Connor/Getty Images
Josh Duggar and Anna Duggar have a lot to be thankful for this Thanksgiving! 
According to Us Weekly, the parents welcomed their sixth child, a baby girl named Maryella Hope Duggar on Wednesday morning, Nov. 27.
The happy parents told the outlet exclusively: "On Thanksgiving eve our hearts are overflowing with joy and gratefulness for the arrival of our sixth child! Maryella Hope arrived this morning at 9:12am. 8 pounds and 2 ounces, 20 inches long. Anna had a fast labor and delivery without complications. We are so thankful for a beautiful, healthy baby girl!"
Baby Maryella joins older siblings Mackenzie, Michael, Marcus, Meredith and Mason, and unsurprisingly has their own name starting with the letter "M." Anna's pregnancy was announced in April, just eight months following the birth of the couple's fifth child, Mason. Just as they did with the birth announcement, Jim Bob and Michelle were the ones to share the Josh and Anna, both 31, baby update.
As the grandparents, who have 19 children of their own, said on their website in April, "We are so happy for Josh & Anna, expecting their 6th child and our 16th grandchild! Each child is a blessing from God! Anna is one of the most amazing women in the world, she is a Proverbs 31 woman!"
As the statement continued, "Anna & Josh are good parents and it is going to be neat to see what God does with each one of their children's lives. Mackenzie, Michael, Marcus, Meredith and Mason are so excited to have a little sibling on the way! God is at work in their sweet little family! He has blessed them with another child! What a gift! The best days for their family are still ahead!"
Among Jim Bob and Michelle's long list of grandchildren are Israel Dillard and Samuel Dillard, the sons of Jill Duggar and Derick Dillard. The couple welcomed Samuel, their second child, in 2017 and announced the news on their family's blog.
Watch:
Jill Duggar & Derick Dillard Prepping for First Baby!
"We are excited to finally announce the arrival of Samuel Scott Dillard!" the message read. "The newest addition to our family arrived on Saturday, July 8, 2017 at 1:02pm. He weighs 9lb 10oz and is 22" long. After 40 of labor, he was delivered via C-section at the hospital. Thank you for your continued prayers and support!"
Congratulations to the ever-growing Duggar family.