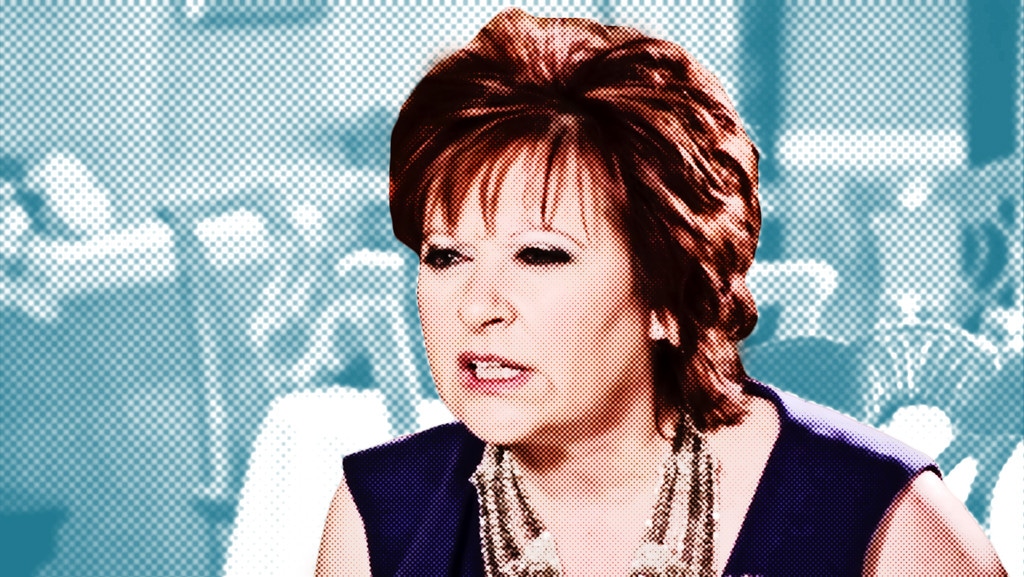 Bravo/E! Illustration
Caroline Manzo spent five seasons on The Real Housewives of New Jersey where she had many memorable face-offs with a variety of cast members. One of the most intense, and at times awkward, confrontations happened with Danielle Staub in season two of RHONJ.
After two seasons on screen in the same show (while rarely coming into contact), and Danielle's repeated clashes with members of Caroline's family, the two met in a restaurant and the Manzo family matriarch didn't mince words.
"You know what you are? You're a clown…Your whole life is a joke…No matter how hard you try, no matter what you do, no matter who you talk to, OK? You will not hurt me. Do you know what? I have integrity and I sit here and I tell you the truth. When I called you garbage, I meant you were garbage," Caroline told Danielle.
That last line would go on to become iconic in the Real Housewives history books.
At the first-ever BravoCon, Caroline relived that moment on a panel with other Real Housewives veterans. And backstage, for the first installment of E!'s Housewives History, she revealed what was really going through her mind when she galled Danielle a "clown" and "garbage."
"If you remember, if you recall, if you go back, I tried to sit and talk with her and talk some sense into her," Caroline told E! News. "That wasn't my intent. And I just got so angry because it was like talking to a wall and she just wasn't taking responsibility for anything. And she started getting snippy with me. I was like, 'All right. Here you go.' And it just came out."
Caroline said it was "definitely autopilot" for her in situations like that. "For me, at least, I never ever thought or planned about what I was going to say or do. I never, ever thought about a reunion, what was going to happen. I just went in and did it. And my reactions, everything you've ever seen of me, is my true thoughts."
After RHONJ, Caroline starred in three seasons of Manzo'd With Children, a spinoff about her family. Despite all that time on TV screens, she said there are some misconceptions audiences have about her.
"I think they think that I'm really super tough when I'm not. I'm very, very chill. I'm very, very mellow. I cry over everything. But when I have to be, I dig my feet in, but beyond that I'm very super-duper easygoing," she said.
Watch:
Melissa Gorga Promises Wild Rumors Will Be Addressed on "RHONJ"
See the episode in its entirety on Hulu. Be sure to come back to E! News for more behind-the-scenes stories about iconic Real Housewives moments.
(E! and Bravo are both part of the NBCUniversal family.)