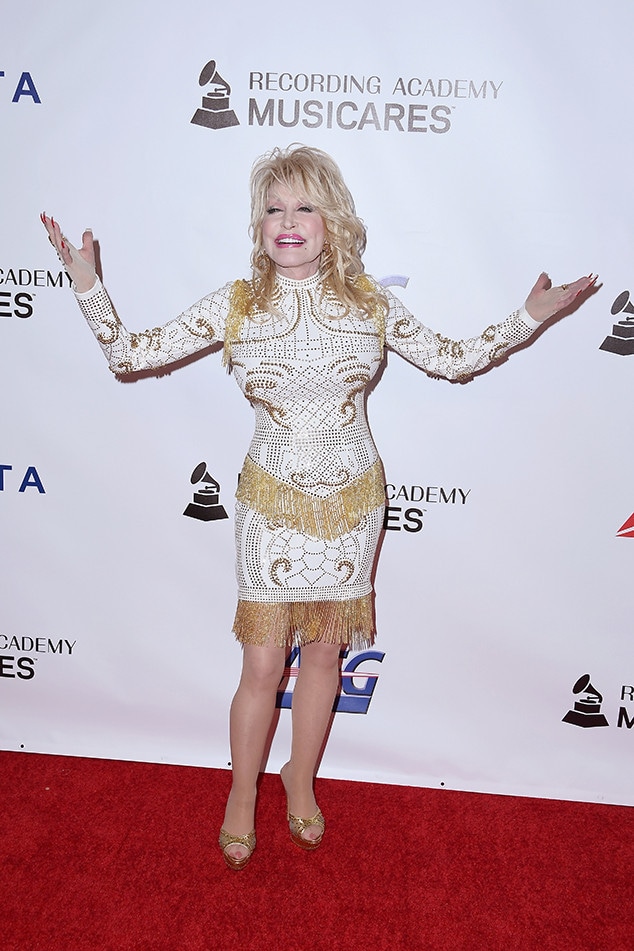 Steve Granitz/Getty Images for NARAS
Dolly Parton can see the future...well, sort of. 
During an appearance on The Tonight Show Wednesday, the 73-year-old country icon revealed a personal tidbit: she's got a little bit of psychic in her. She told Jimmy Fallon that it "kind of runs in my family," which spurred the late-night host to ask if she could read his palm. While Parton said she's not a fortune teller, she gave it a try. 
"Well, I see that you're gonna be very successful with a late-night talk show," she quipped while looking at his hand. "That you have a very long...career ahead of you."
"What's that?" she added. "I think there's a melted M&M in there," Parton joked before licking Fallon's hand, resulting in laughter. 
"My hand is going in the Smithsonian!" Fallon declared. 
Meanwhile, the two also chatted about Parton's upcoming Netflix special, Dolly Parton's Heartstrings, which brings her famous songs to life, including "Jolene." 
"The real story was about my husband. This woman I tell the story about, this girl that worked at the bank when we first got married, this beautiful redhead and he's spending more time at the bank than we had money and I thought, 'Well that ain't gonna work out too good.'"
"Just so you know, I did see Jolene not long ago. She's not so hot now," Parton said. "She used to have that beautiful red hair and now she's gray. She used to have a little tight butt. Now, it's a tight spot getting her butt through the door now. She used to wear a D-cup—now she's wearing Depends."
(E! and NBC are both part of the NBCUniversal family.)