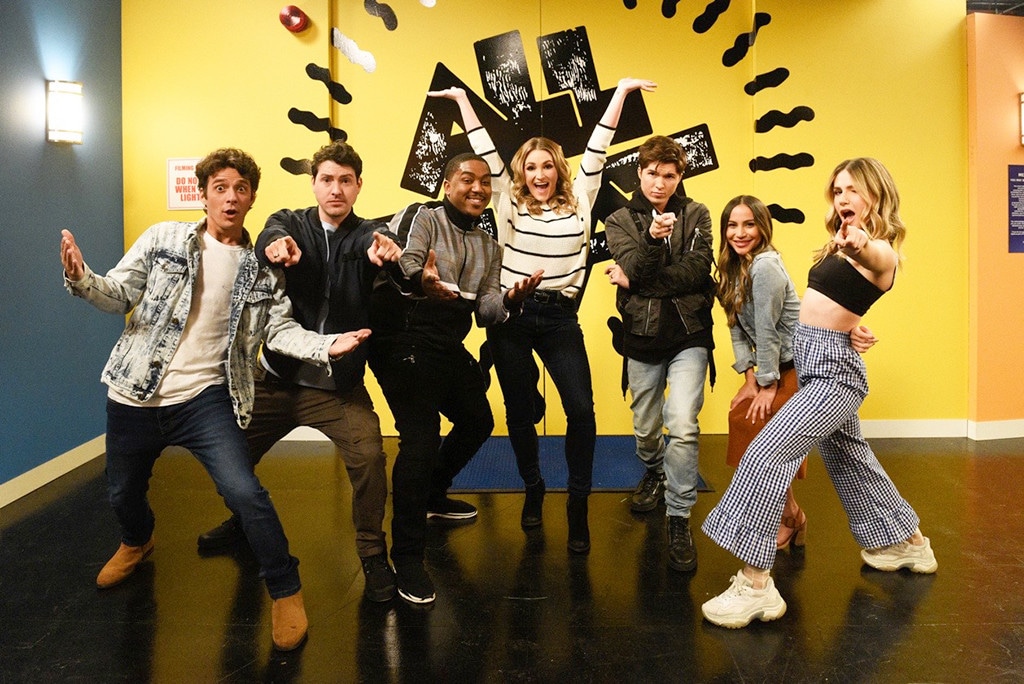 Bonnie Osborne/Nickelodeon/
The Zoey 101 revival you've been waiting for…isn't exactly a revival. E! News can confirm Jamie Lynn Spears and her Zoey 101 costars are reuniting, but it's of an episode of Nickelodeon's All That.
"This has been a long time coming! I'm so excited to be able to reunite the cast and be able to recreate so many amazing memories, but I'm most excited about what's to come in the future," Spears told E! News in an exclusive statement.
Spears reunited with Paul Butcher, Sean Flynn, Kristin Herrera, Chris Massey, Erin Sanders and Matthew Underwood in an all-new version of the All That sketch "Thelma Stump."
Shot in Los Angeles on Thursday, Nov. 21, the new sketch has Spears reprising her bacon-loving bodyguard character from her time on the original show. In the new sketch, Thelma Stump attempts to stop the All That cast members and stars of Zoey 101 from entering the set. Look for the sketch to air in early 2020.
Watch:
Jamie Lynn Spears Defends Britney With a Shocking Throwback
Spears appeared on the original iteration of the show from 2002-2004. Zoey 101 launched in 2005 and ran for four seasons and produced 65 episodes. Rumors about a revival have swirled for months, with Spears herself stoking the flames on social media. In 2019 she signed on for Netflix's Sweet Magnolias, her first TV acting gig since a 2008 episode of Miss Guided.
All That airs Saturdays, 8:30 p.m. on Nickelodeon. The kid-fronted sketch show was revived in 2019 with original cast member and current Saturday Night Live star Kenan Thompson on board as executive producer. Kel Mitchell is also on board as executive producer. Veterans Lori Beth Denberg, Josh Server and Alisa Reyes have also made cameo appearances on the new version of the series.