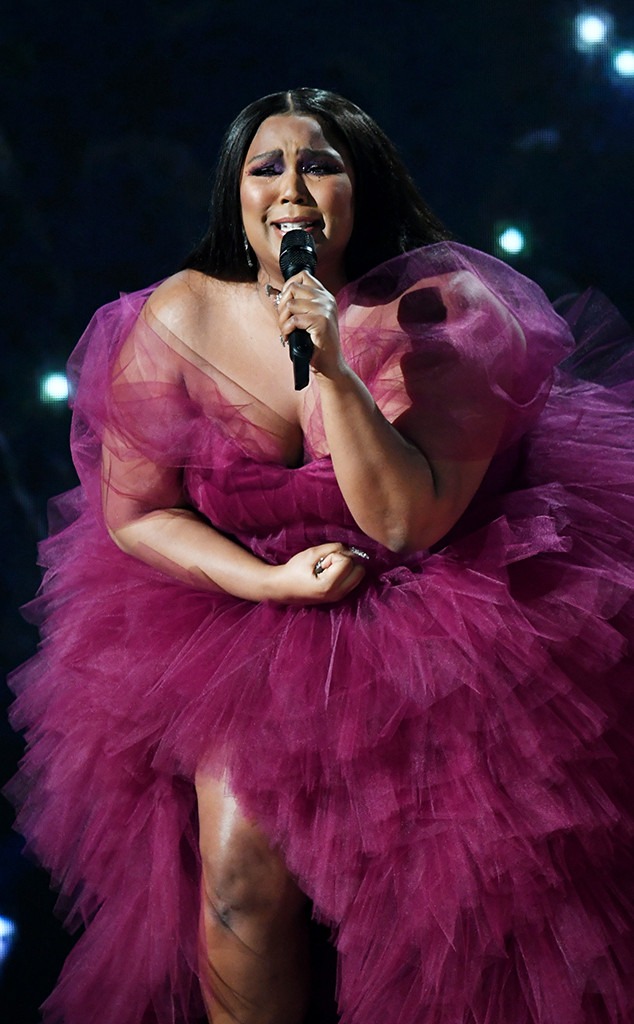 Kevin Winter/Getty Images for dcp
Who would've thought tonight was Lizzo's first time performing at the 2019 American Music Awards?
The breakout superstar took the AMA stage with a performance packed with confidence and soul—but first, self-love! Donning a bright pink gown covered in layers of tulle and Natalie Mills earrings, she encouraged the audience to put their lights up and "shine bright" before launching into a powerful performance of her Grammy-nominated track, "Jerome."
While standing atop a rotating pedestal, it was clear Lizzo poured her emotions into the song as she belted the ballad out, ending while bent down on the floor as the audience, glittering with lights, erupted into applause. 
After that iconique performance, we can't wait to see how many awards she takes home tonight! 
The 31-year-old singer is nominated tonight for New Artist of the Year, Favorite Female Artist in the Soul/R&B category and Favorite Song in the Soul/R&B category as well.
Whether or not Lizzo takes any awards home tonight, she's already had a heck of a month. During the 2019 BET Soul Train Awards, the "Truth Hurts" singer took home the award for Video of the Year for "Juice" and her album Cuz I Love You took home the award for Album/Mixtape of the Year. 
What's more? On Wednesday, Nov. 20, Lizzo also became a first time Grammy nominee! 
The "Truth Hurts" singer also swept the nominations, earning nods in eight categories, including Album of the Year and Record of the Year. It looks like 2020 is going to be good as hell since she's officially the most nominated artist on the entire list for the 2020 Grammy awards. 
To celebrate the momentous day, Lizzo took to Twitter to thank her fans. "THIS HAS BEEN AN INCREDIBLE YEAR FOR MUSIC AND IM JUST SO THANKFUL TO EVEN BE PART OF IT. WE ARE ALL WINNERS. I LOVE YOU. LETS HAVE A WONDERFUL DAY." 
Jordan Strauss/Invision/AP/Shutterstock
Lizzo also took to her Instagram page to share an even sweeter celebratory post, posting a selfie on her Instagram Story of her crying face, writing, "IM CRYING....CUZ I LOVE YOU. Thank you." In another story, the rapper wrote, "IM ON A FLIGHT TO THE STATES...IM FINNA DRINK CHAMPAGNE AND CRY HAPPY TEARS OF APPRECIATION AND LOVE. WE ARE ALL WINNERS." 
If there's anyone that deserves to achieve these milestones, it's Lizzo. Besides delivering some of the best performances and making music that simply makes her listeners feel good, the singer is also an advocate for self-care, self-love and constantly stresses the importance of mental health. 
"When I get really, really anxious before a show, I just go harder and harder and harder when I'm performing and I just go crazy," Lizzo told British Vogue for her cover story. "I don't know why, but my anxiety sometimes fuels who I am as a performer and who I am as an artist – and I know that is not the case for everyone. I don't know if my body just, like, out of a desperate need to find a place for my anxiety or find a use for it, takes it and puts it there."
Watch:
Lizzo Leads 2020 Grammy Nominations With 8
Aside from Album of the Year and Record of the Year, she has also been nominated in the following categories: Song of the Year, Best New Artist, Best Pop Solo Performance, Best R&B Performance, Best Traditional R&B Performance and Best Urban Contemporary Album. 
Congratulations on your American Music Award and Grammy nominations, Lizzo!