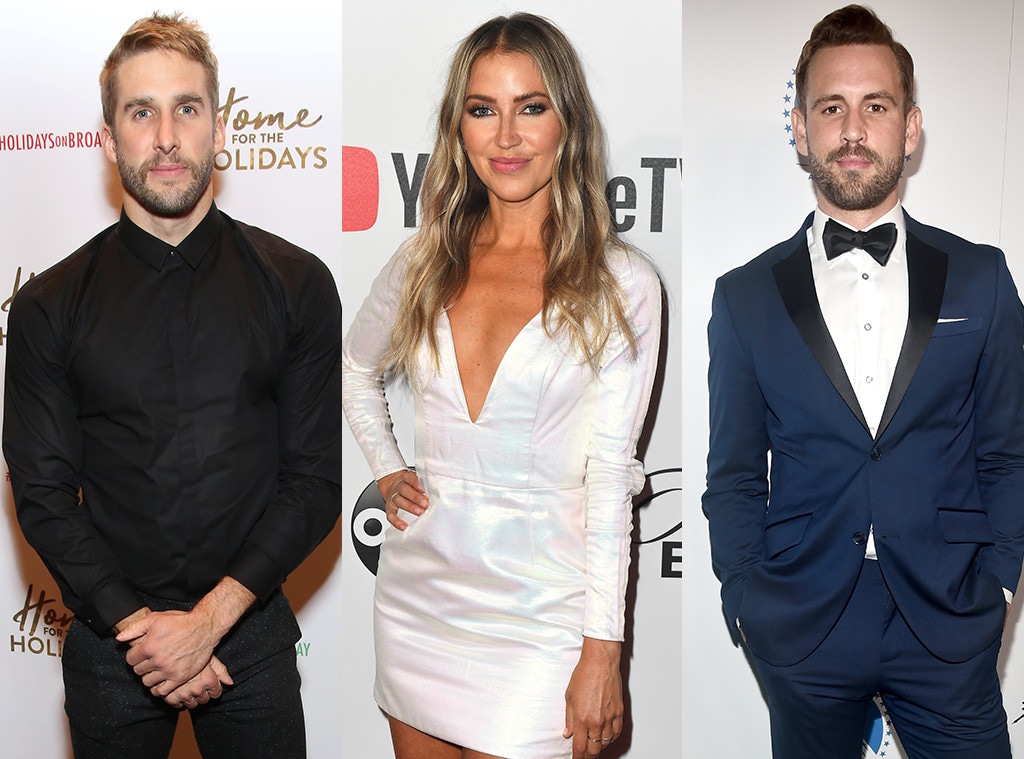 Getty Images
It's been a year since Kaitlyn Bristowe and Shawn Booth shocked Bachelor Nation by announcing their split.
The Bachelorette alumna looked back at her relationship with her former fiancé during Wednesday's episode of Nick Viall's podcast The Viall Files.
As fans will recall, Bristowe handed out the roses on season 11 of The Bachelorette. She accepted a proposal from Booth during the finale and sent Viall, who was the runner-up, home. Viall then went on to star on season 21 of The Bachelor. However, this apparently didn't sit well with Booth.
"When you became The Bachelor, Shawn almost broke up with me and said that you won," Bristowe recalled. "I was like, 'What do you mean?' That hurt me so badly. And he said, 'That guy won. That's what he wanted. That's why he came on the show and he won.'"
Viall said that "narrative" always bothered him and insisted he came on Bristowe's season for the right reasons. 
"When I came on your season, that was the only time I actually came for the girl," he said, recalling how he came on the show in the middle of Bristowe's season after previously appearing on Andi Dorfman's season. "With Andi, I didn't f--king know. I went on a show. With [Bachelor in] Paradise, it was like, 'Yeah, I'll go on a beach. I'm not going to end in a relationship.' With The Bachelor, it was like, 'You asked me to be The Bachelor. I definitely want this to work, but I'm going to say yes because you asked me.'"
Bristowe also felt like Booth couldn't truly see how much she cared.
"At the end of the day, I chose him…and it never felt like he chose me back," she said.
Bristowe and Viall also had a "contentious relationship" after her season aired. In fact, they didn't speak to each other for a few years. Bristowe argued she was "totally trying to protect" her relationship with Booth. She also said she felt "shame" around Viall for "how badly I had hurt Shawn through our relationship." While Bristowe didn't go into specifics she seemed to indicate that Booth was hurt that she and Viall had been intimate on the show.  
"I think I was made to feel shame but deep down I knew I wasn't ashamed," she said.  "But that's why I acted the way I did, or that's why we didn't talk or that's why I made little jabs here and there because I know he had been so hurt by it and I hated that."
Watch:
Kaitlyn Bristowe & Jason Tartick the Next "Bachelor" Power Couple?
Bristowe and Booth were together for more than three years. However, they announced their split in November 2018.
"For me, everybody knows I'm outspoken. I seem to stand my ground. I'm confident in myself, but I really lost confidence in myself in that relationship," Bristowe said looking back at their time together."I think the balance wasn't there, where I was too much wanting to please him and make him happy. I lost who I was."
Bristowe is now dating Jason Tartick, who is also a member of Bachelor Nation. Still, she wishes her ex the best.
"I guess I just feel so happy in where I'm at in life, I genuinely want the same for him and I want him to feel happy," she said.
To listen to their full interview, check out The Viall Files.