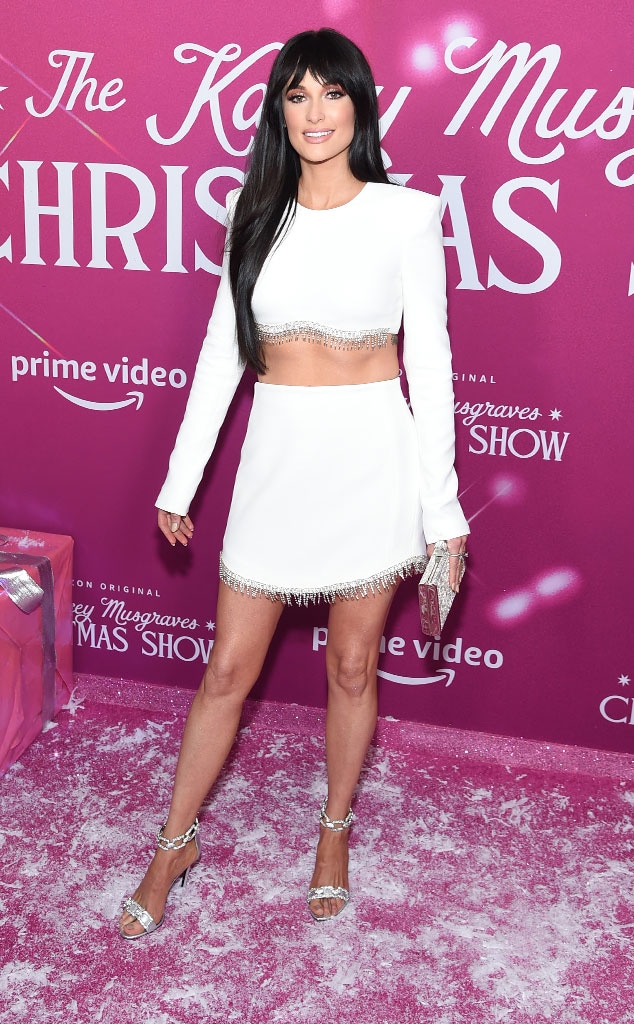 Jamie McCarthy/Getty Images
We're totally hair for Kacey Musgraves' latest transformation! 
The 31-year-old country singer stepped out on Tuesday, Nov. 19, for the screening of her Kacey Musgraves Christmas Show at Metrograph in New York City. But her Christmas special, which will debut on Amazon Prime Video on Friday, Nov. 29, wasn't the only thing she was debuting tonight. 
The "Space Cowboy" singer has bangs! We repeat, Kacey got bangs and yes, she looks positively bangin'. She's got us reaching for a pair of scissors and wishing we looked as good as she did with the infamous hairdo. 
For the screening of her upcoming Christmas special, the "Late to the Party" singer was wearing a two-piece all-white ensemble with silver fringe embellishments. The all-white look only made her long black locks and bangs stand out that much more. The country singer paired her Winter Wonderland-esque look with strappy silver heels and a silver clutch. 
On the pink carpet, Kacey also stopped by to chat with us about her latest project.
"[The Christmas special] is about the feeling you get when you're with your family or the things you remember from being a kid. There's a little dip in sadness in our show because I feel like the holidays aren't always happy and I think consumerism makes you feel like you should be and that's not always possible," she told E! News.
Jason Kempin/Getty Images
Kacey's Christmas special will be narrated by Schitt's Creek creator and star Dan Levy and will include a star-studded list of special guest performers including Fred Armisen, Camila Cabello, James Corden, Zooey Deschanel, Lana Del Rey, Troye Sivan, Leon Bridges, the Radio City Rockettes and Kendall Jenner. 
Of the Keeping Up With the Kardashians star involvement in her Christmas special, Kacey told E! News that she "loves the idea of having people from all walks of life" involved her project.
"You look at shows like The Cher Show or The Judy Garland Christmas Show and there were guests of all calibers coming, you know, just to be part of the celebration. And so, honestly, anything goes, I think she's gorgeous and she's been very sweet to me," she added.
The "Oh, What A World" singer and her celeb pals will perform both classic and original holiday songs accompanied by an official soundtrack that will also be available on Nov. 29. 
Watch:
Kacey Musgraves Is Life-Size Barbie at Her Met Gala Debut
"I can say without a doubt that this project is unlike anything I've ever done before," Musgraves said of the project. "What started as the small seed of an idea one night over a year ago has turned into something I'm so proud of. Some truly brilliant comedic and musical guests are featured in the show—as well as my own Grandma. My vision was to bring my old Christmas album to life visually and create a modern and fashionable, fresh take on a classic format. It's a nostalgic, Wes Anderson-inspired reimagining of the holidays. It's heartfelt, funny, and most of all, real. I can't wait to finally share."