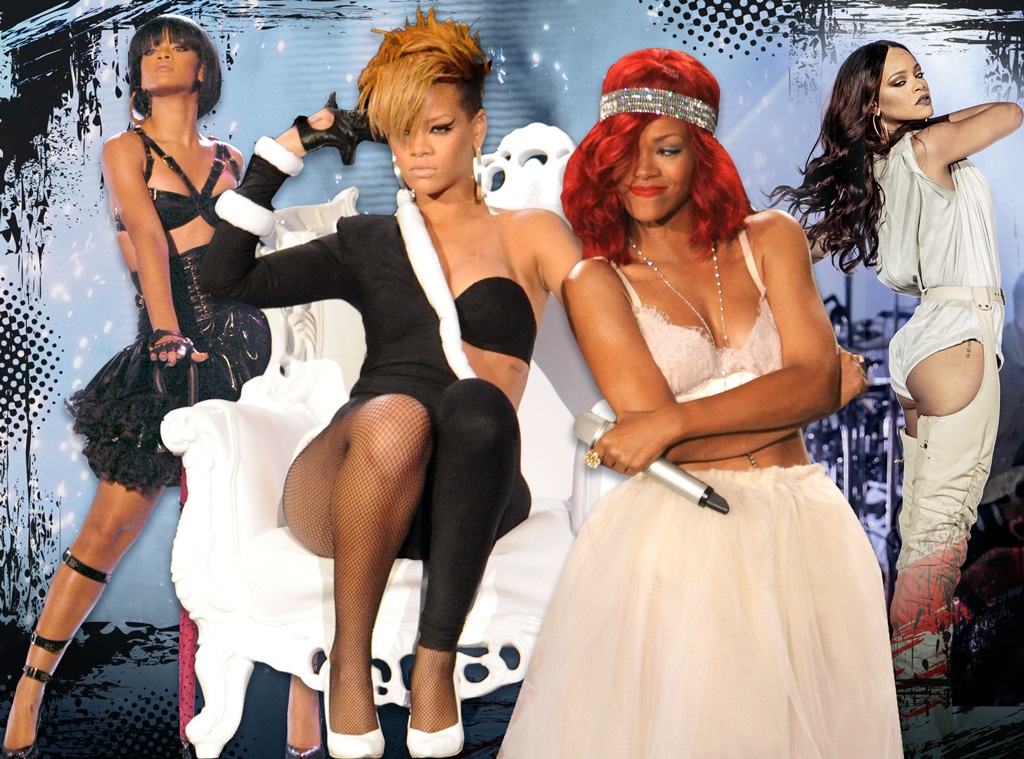 Getty Images/E! Illustration
 Rihanna songs are a bit like pizza. Even when they're "bad," they're still pretty damn good.
Since the Barbadian beauty arrived on the scene in 2005 with her very first single, the Caribbean-influenced "Pon de Replay," she's proven to be an unstoppable hit maker—even if she does like to keep us waiting, thirsty AF for new material, these days. Over the course of her career, she's managed to hit No. 1 on the US Billboard Hot 100 with fourteen singles, putting her behind just Mariah Carey and Elvis Presley, tied with 18, and The Beatles, who reign supreme at 20. And as it stands, she is the only artist in history to produce No. 1 singles on the Hot 100 chart from seven consecutive albums.
It's been 10 years since one of those albums, the brooding and atmospheric Rated R (her first release since her assault from then-boyfriend Chris Brown earlier that year), dropped, eventually giving her her fifth solo No. 1 in the form of the dancehall hit "Rude Boy." And in honor of that pivotal album's special anniversary, we thought we'd take on the Herculean task of ranking each of Rih's 14 No. 1's. (Really though, we'll just take any excuse to gush about her while we wait, with increasing impatience, for that new album we've been promised.)
Knowing full well that there is no truly bad Rihanna song, it became an exercise in splitting hairs. But split hairs we did. So, without further ado, the list...
14-13. "Love the Way You Lie" and "The Monster": It's a tie for the bottom with these two Eminem tracks, released in 2010 and 2013, respectively, for a couple of reasons. One, they belong more to Em than they do Rih, given that she's only featured on the chorus of each. And two, regardless of how great their relationship may be—he's appeared on two of her songs over the years as well—the recent leak of that repulsive verse where Em vocalized support for Chris Brown attacking his frequent duet partner has forever tainted the work they've done together. Sorry not sorry.
12. "Live Your Life": This uplifting 2008 track from T.I. (who's also proven to be a bit problematic as of late, but for reasons entirely separated from our girl Rih) is great and all, but again, it belongs to the rapper and not his guest. Therefore, this is as far as it can legally go.
11. "Take a Bow": This mid-tempo ballad, the lead single off Rih's 2008 re-release of her third studio album Good Girl Gone Bad is perfectly lovely. And while it's certainly a potent anthem for anyone looking for the strength to kick their cheating significant other to the curb, the track, from superstar producers StarGate and Ne-Yo, feels a bit stuck in the sort of middling R&B ballads Rih and the rest of us left behind in the the late 2000s. But like we said, perfectly lovely.
10. "SOS": This song, the lead single off Rih's second album, 2006's A Girl like Me, was her first to hit No. 1 on the Hot 100. Over the years, the superstar's proven she's had more daring in her than this uptempo club track with the "Tainted Love" sample, originally written for—and rejected by—Christina Milian, would ever seem to hint at. But we all have to start somewhere. And you never forget your first. 
9. "Disturbia": Chris Brown, one of the co-writers credited with this track that ultimately appeared on the 2008 re-release of Good Girl Gone Bad, was wise to hand it over to his then-girlfriend rather than keep it for himself, as intended. There's a reason this dark and very danceable song has become a spooky season staple. And that's because it's very, very good.
8. "S&M": After a dark year, Rihanna clearly wanted to return to the fun with her fifth album, 2010's Loud. Nowhere was that more apparent than this, the album's opening track. One of three tracks from the LP to hit No. 1, the Euro-pop banger presented a fully-empowered Rih, owning both her sexual prowess and proclivities. And when Britney Spears hopped on the remix, helping take it all the way to the top of the Hot 100, it made Rih the youngest artist ever to achieve 10 No. 1s in the shortest time.
7. "Only Girl (In the World)": Who doesn't love a song that begins with the lyric, "I want you to love me like I'm a hot pie"? By the time this song, the lead single off Loud, reaches its chorus, it become so irrepressible that you'll have no choice to give into each and every one of Rih's demands throughout. Now, who do we have to petition to get her to revisit that red hair?
6. "Work": It's absolutely criminal that this is the only single off 2016's Anti to reach No. 1 when you recall the sheer volume of excellence on the LP. We as a people really failed Rih by not making "Love on the Brain" and "Needed Me," at the very least, follow in this song's footsteps on the march to the top. OK, stepping off our soapbox for now. As for "Work," it helped kick off the recent trend of dancehall on the top of the charts, gave us Rih singing in Jamaican Patois, and teamed her back up with our favorite of her frequent duet partners, Drake. What's not to love?
5. "Rude Boy": The sole single from Rated R to hit No. 1—and stay there for five consecutive weeks, thank you very much—this upbeat dancehall track feels just as immediate and inescapable as it did when we first heard it a decade ago. Here's to ten years of asking all the rude boys in our lives if they're, ahem, big enough.
4. "Diamonds": With lyrics infamously written by Sia in just 14 minutes, this lead single off 2012's Unapologetic is one of the most romantic tracks in Rih's discography. With anthemic electronic production from StarGate and Benny Blanco, the song is the rare mid-tempo ballad that will drive just about anyone to the dance floor. What a stunner.
3. "We Found Love": We dare you to listen to even 10 seconds of this song, the lead single off 2011's Talk That Talk and her first collaboration with Calvin Harris, and not want to absolutely dance your brains out. There's a reason this is Rih's longest-running No. 1, with 10 non-consecutive weeks, and the 24th most successful single of all-time, and that's because it's one of the finest pieces of electro-house music recorded in the last decade.
2. "What's My Name?": Have Rihanna and Drake ever been better together than they are here? The answer is no. No, they have not. This sexy mid-tempo track off Loud would become the first of many collaborations between the friends and sometimes-lovers, and while they've never disappointed, you know what they say: Lightning rarely, if ever, strikes the same place twice. But here in 2010? They were lit the f--k up.
1. "Umbrella": Come on, as if there was any doubt. Rih may have been on her third album by the time she released this track, the Jay-Z-featuring lead single off Good Girl Gone Bad, in 2007, but it is, without a doubt, the one that catapulted her to superstar status. Not only did it sit atop the Hot 100 for seven consecutive weeks, it was the song of the summer that year, as inescapable as it is excellent. It was the sort of moment that every pop singer prays for and will forever go down as Rihanna at her absolute finest.