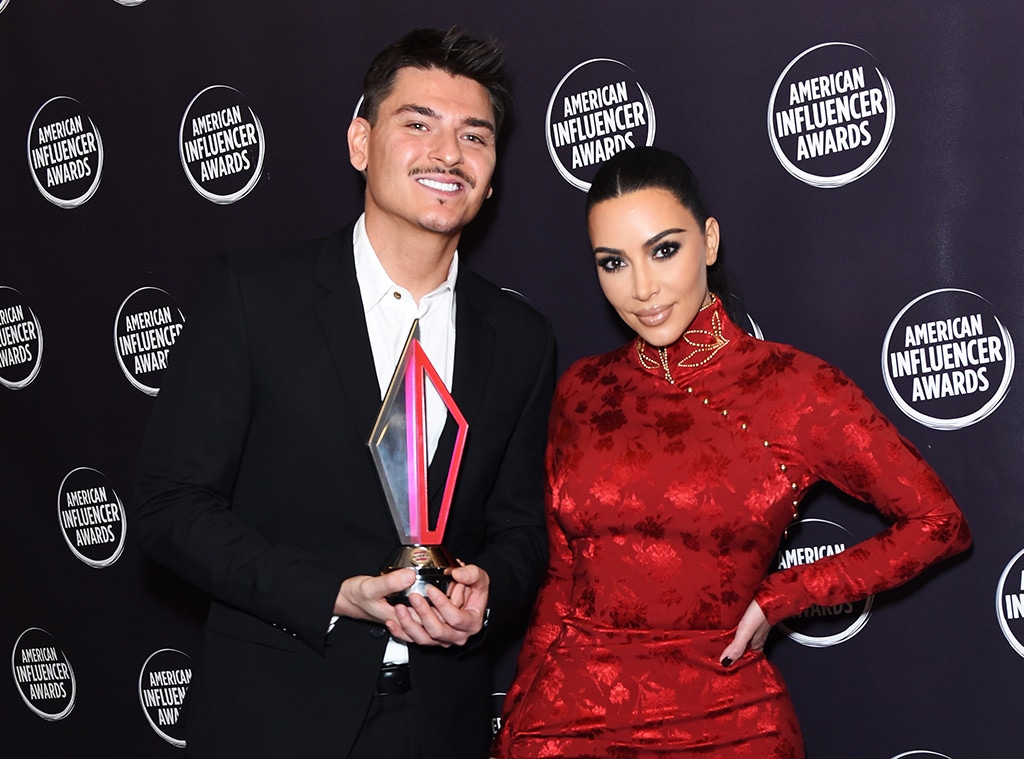 Presley Ann/Getty Images for American Influencer Awards
Mario Dedivanovic won the Artistic Achievement Award at the 2019 American Influencer Awards on Monday, and Kim Kardashian was there to celebrate his big honor.
The Keeping Up With the Kardashians star walked onto the stage in a red Christian Dior dress and reflected on the "very special night."
"He is honestly one of my best friends and is so deserving of this award," she said. "He really has respectfully worked his way up the makeup artist ladder. Just, we've been through so much together. We've worked together for 11 years. 11 years of fights—you guys, we fight like you don't even understand. We fight like brother and sister. But he's created some of my most magical memories and, really, I believe made me who I am today. And also, really helped with my KKW Beauty brand. I call him. I FaceTime him at 3:00 a.m. testing formulas or showing shades, and he is always there no matter what. And I love him."
Kardashian then showed an emotional video that featured Dedivanovic's parents and his siblings speaking about his upbringing and his road to success. Dedivanovic teared up after seeing the footage. 
After the touching tribute, Kardashian thanked Dedivanovic for continuing to inspire her every day.
"Don't make my cry," she said before welcoming him to the stage and giving him a hug.
Dedivanovic was clearly touched by Kardashian's words.
"Thank you, Kimberly—you're my muse, and you are my angel—for your love and support through all of the years. My self-worth. What you have done for my self-worth is indescribable right now in words. But I promise that one day that I will show you."
He also thanked the American Influencer Association (AIA) for the honor and said it was a "dream come true." 
 "I guess this honor for Artistic Achievement means that I'm officially dad status in the industry," he quipped. "And that's OK because I'm really proud of that. You can just call me daddy if you want."
Putting all jokes aside, he then said he had "to be honest with you guys and tell you all something."
"I manifested this very moment many years ago when I began my artistic journey at Sephora. And in my manifestation, I've always envisioned myself on a stage with this light around me that felt so pure, like joy and happiness. As the months and days approached, though, I didn't feel that bright happiness. I know that I've put the work in and the years necessary to deserve this honor, but I've been having an internal struggle recently and my whole life to find that light that I knew I deserved," he said, choking up. "This is my 19th year as an artist and I am a 37-year-old man."
He said he's "been painstakingly building the foundation and the infrastructure for my next chapter in life."
"Within this process, I've had to slowly invest everything that I have and everything that I've earned into this dream, and something incredible and powerful began to happen," he said. "As I began to let go and to give all of the cushion and security that  I've built over the years, I realized that I was starting to feel more confident, less insecure, more willing to show my true self, less afraid to speak and to share and more comfortable in my own skin. I don't care as much about what I look like and what I wear and what I own. I don't feel a need to be validated anymore. I'm starting to see my true value and purpose in life and it isn't about social media, likes, subscribers, fame, fortune and accolades and all of those surface things. It isn't about any of that stuff because that stuff is just that—it's stuff. And that stuff clouds your vision and your true purpose here on Earth as a human."
He then recalled heading home to see his mother on her 73rd birthday. He saw her doing his laundry and he "broke down to her crying."
"I told her, finally, that I had spent my entire life and childhood suppressing my thoughts, suppressing my dreams, my feelings, my creativity, and trying to be invisible so that no one would know how I'm feeling inside and so that no one would see how I walk or how I talk—protecting myself so no one would make fun of me because I knew that I was born different," he said. "I was traumatized to be me."
Dedivanovic then said he's been "living in fear" his entire life. 
"I've been ashamed—ashamed of the way that I was born—a human with a good, pure heart," he said. "She looked at me with her beautiful green eyes and I could feel her heart breaking. She said, 'Mario, from this day forward, you are never again to live in shame or fear and to be afraid of who you are, and what you think, and who you love because you are perfect. You are beautiful. You are powerful. And no one can ever say or do anything to take that away from you.'" 
Dedivanovic said he woke up the next morning "feeling that light around me."
"It wasn't very inviting, like my vision, but it was glowing a little bit," he said. "I was breathing easier, too. I felt a little lighter. I thought of you Mom, and I was floating. Dad, I know everyone says that I take after Mommy, but I have a little secret, Dad. I have your hands—big and strong. I never told you that or anyone for that matter. I though it would be weird if I said that, but I've known that since I was a little boy."
He then recalled watching his father work in the basement and build things with his hands.
 "I remember you used to build everything so strong no matter what it was. No one or nothing could break what you built because you made sure it was solid," he said. "You screwed and you drilled and hammered and glue everything—not perfectly beautiful, I have to say—but incredibly strong and unbreakable." 
Looking back at his first job at age 12 and every job after that, Dedivanovic said he "did it all with strength and passion and love with these hands that you gave me, Dad."
"When I work on a human face, I hold my tools and I hold a face in front of me with confidence, with a passion and with laser focus to make sure I know that my work is strong and that the strength shows through on the human I'm working on," he said. "I don't stop until I know that they see their own beauty, that they see their own power and, most importantly, that they feel it and believe it." 
He then said he's building the foundation of his company the same way.
"Step by step," he explained. "So, it's strong and so when it's ready to be shown to the world, I can stand tall and proud on the foundation that I built and I can know that no one or nothing can destroy it."
He then said he needed to "say something important to my Albanian brothers and sisters." He explained how he bought "a beautiful piece of land" where his father was born. However, he said he couldn't build his father's dream home because "I still feel ashamed when I step foot on that land."
"I want to feel in my heart that when I step on that soil where my father comes from, that I feel proud of my house and that I respect myself the same way that I have tried so hard my whole life to honor and to respect everyone and make everyone else proud," he said. "I'm asking you all to open your eyes, open your hearts, and your souls because so many of our little boys and girls around the world are growing up in pain and fear like I did, thinking of killing themselves every single day, like I did, because they are different and they're scared to be themselves because their culture, or their family judged them and shamed them. Little kids are scared that their parents and their uncles, aunts and cousins, their family, will not accept them because they were born different. We are not different. We all bleed the same and we are all equally deserving of the right to feel happiness and to feel loved."
"Right now, I stand here for the first time in my life, a proud 37-year-old gay man." he continued. "And right now, l finally feel that bright light that I've dreaming of my whole life. It's pouring from my soul around my body and it's mine. I can now live the life that I deserve and right now I feel true happiness because for once I can finally breathe and I can accept this beautiful honor and I'm proud of myself. I'm finally happy to be me."
Fans can watch his speech in the video above starting at around the 2:19:15 mark.