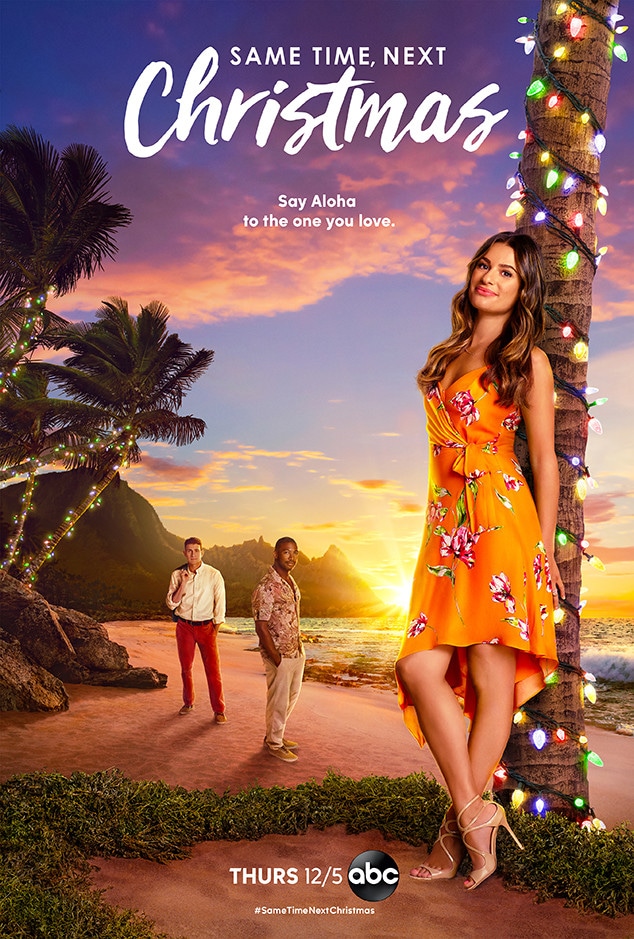 ABC
Allow Lea Michele to get you in the holiday spirit. The Glee veteran, who also has new holiday album titled Christmas in the City, is starring in Same Time, Next Christmas on ABC alongside Charles Michael Davis and Bryan Greenberg. E! News has your exclusive first look at photos that will make you ready for December 25—and a vacation.
In the movie, Michele plays Olivia Anderson, a successful young woman who met her childhood sweetheart during her family's annual Christmas visit to Hawaii. After the two were separated by distance and years, they reunite at the same Hawaiian resort and the chemistry sparks again…but circumstances conspire to keep them apart.
Davis plays Jeff Williams, Greenberg is Gregg Harris, Scandal veteran George Newbern is Woody Anderson, My Big Fat Greek Wedding's Nia Vardalos plays Faye Anderson, Phil Morris is Alec Williams and Dannah Lockett plays Madelyn Williams in the original holiday movie.
"This holiday season holds special importance to me as I get to celebrate both my role in this film and my first-ever holiday album," Michele said in a statement when the movie was announced. "I'm honored to return to ABC with this movie event, and I am excited to share the holidays with everyone."
Same Time, Next Christmas premieres Thursday, Dec. 5 at 9 p.m. on ABC. The movie then becomes part of Freeform's 25 Days of Christmas block of programming at 8 p.m. on Monday, Dec. 23.
Freeform's 25 Days of Christmas also includes old favorites like Home Alone and The Santa Clause as well as a The Fosters reunion special on Good Trouble and a new original movie, Ghosting: The Spirit of Christmas.
In Ghosting, Aisha Dee plays Jess. She's just had the best date of her life but ghosts her new beau when she dies in a car accident. However, her spirit is stuck on Earth and only her best friend Kara (Kimiko Glenn) can see and hear her to provide help. Kendrick Sampson and Jazz Raycole also star.