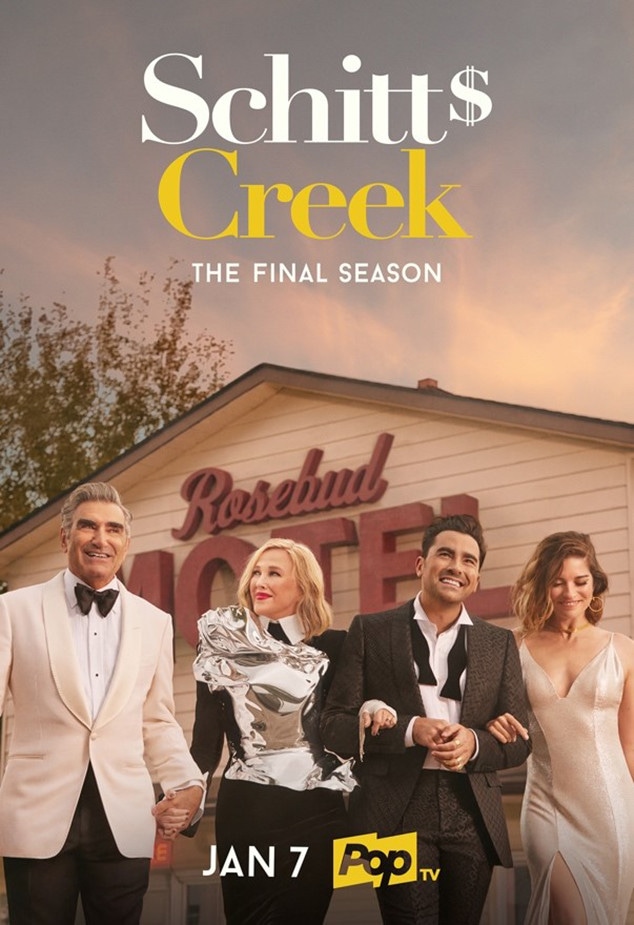 Pop
Yes, for some reason Schitt's Creek is still going ahead with that whole "final season" thing. The sixth and final season, which debuts January 7 on Pop in the United States and CBC in Canada, has a brand-new promo that is sure to get the waterworks going.
In the quick spot, which you can see below, stars Eugene Levy, Catherine O'Hara, Dan Levy, Annie Murphy, Emily Hampshire and Noah Reid, are all dolled up and leaving the Rosebud Motel, the place the Rose family called home for the last six season, and looking very happy.
Details on the new season are being kept under wraps, but for a show like Schitt's Creek, you can expect some tears and laughs. Created by Eugene and Dan Levy, Schitt's Creek hit new heights in season five when it was nominated for multiple Emmys, including Outstanding Comedy Series.
Despite being more popular than ever, the show is still ending.
"I think the audience, the fans of the show, have really come to rely on it as like a safe space in a dark time. And the thought of pushing that past its expiry date [Laughs.] for the sake of just being able to do another season—I care too much about our viewers and about our characters to risk taking them farther than they need to be taken. So, it was always planned that this was going to be the end. And I really had no interest in pushing that any further and potentially compromising a good thing," Dan Levy, who is also the showrunner and co-creator of the series, told E! News.
"We are constantly asked by fans if Schitt's Creek is a real place they can visit, and it is beyond exciting to finally be able to say 'Yes!'" Brad Schwartz, president of Pop TV, said in a statement. "It is the perfect way to kick off our final season and say one big final thank you to the best fans in the world that have made all this possible."
Chris Elliott, Jennifer Robertson, Dustin Milligan, Sarah Levy and Karen Robinson also star in the series.
Schitt's Creek season six premieres Tuesday, Jan. 7, 2020 at 9 p.m. on Pop TV.