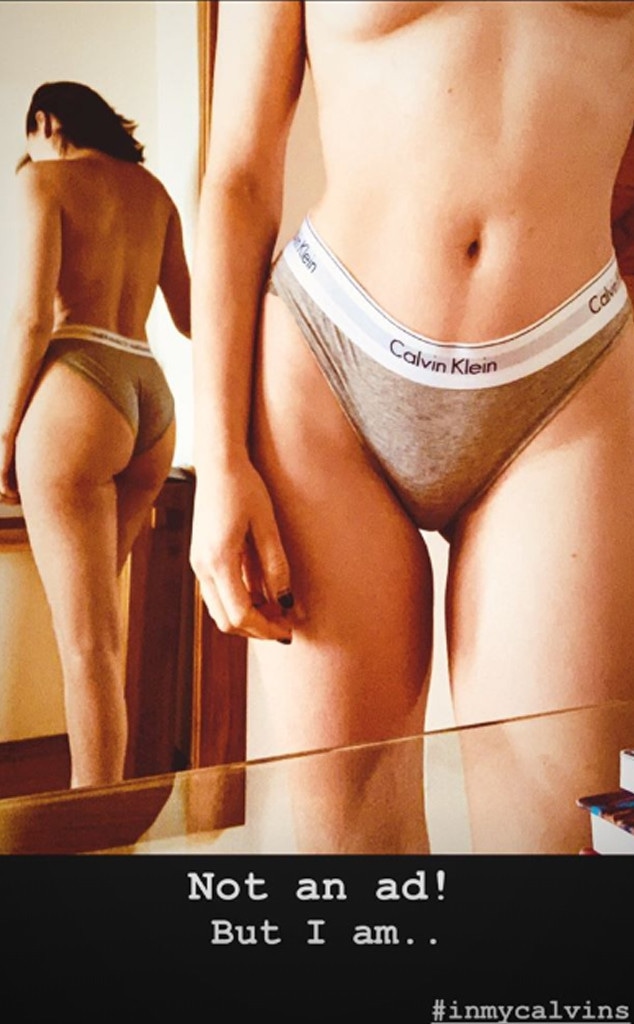 Instagram
Va va voom!
Jessie J isn't holding back. On Sunday, the singer stripped down to her Calvins for a cheeky selfie on Instagram. Standing in front of her mirror and wearing only a pair of gray high-cut panties, Jessie put her curves on display and modeled her favorite intimates from the celeb-favorite brand.
"Not an ad!" she wrote across the image on her Instagram Story. "But I am.. #inmycalvins."
This steamy snap comes two days after the "Bang Bang" singer posted another racy shot on the 'Gram, where she is in what appears to be a koi pond surrounded by colorful fish. Posing on her hands and knees, her backside can be seen through her soaking wet dress. Naturally, she used two umbrella emojis for the caption.
Jessie's boyfriend Channing Tatum may be taking a break from Instagram right now, but he'd definitely like these images if he could. Back in August, the actor announced his social media hiatus with an honest post, writing, "I'm gonna take a break and come off socials for a minute. I've been trying to get inspired and create again."
"And to be honest, i don't really feel, or at least i haven't felt very creative on social in the last couple years now," Channing continued. "I'm gonna go and be just in the real world for a while and off my phone. I'll probably come back at some point. But if i do I want to have a direction or a clear point of view of why I'm on here and what I'm putting out there. Love ya! see ya after a while!"  
Watch:
5 Things Channing Tatum and Jessie J Have in Common
Like the Magic Mike star, Jessie has also been candid on her social media. In fact, she recently opened up about her struggle with anxiety on her Instagram Story. She wrote, "My anxiety is so bad today. Like the worst it's been in ages. Not judging myself. Not trying to over react. Just being as calm as I can. Being gentle with myself. Protecting my energy and space."
Hoping her message would resonate with others that are experiencing the same feelings, she continued, "You are not alone. Give yourself some time. Try and find some quiet space and breathe."