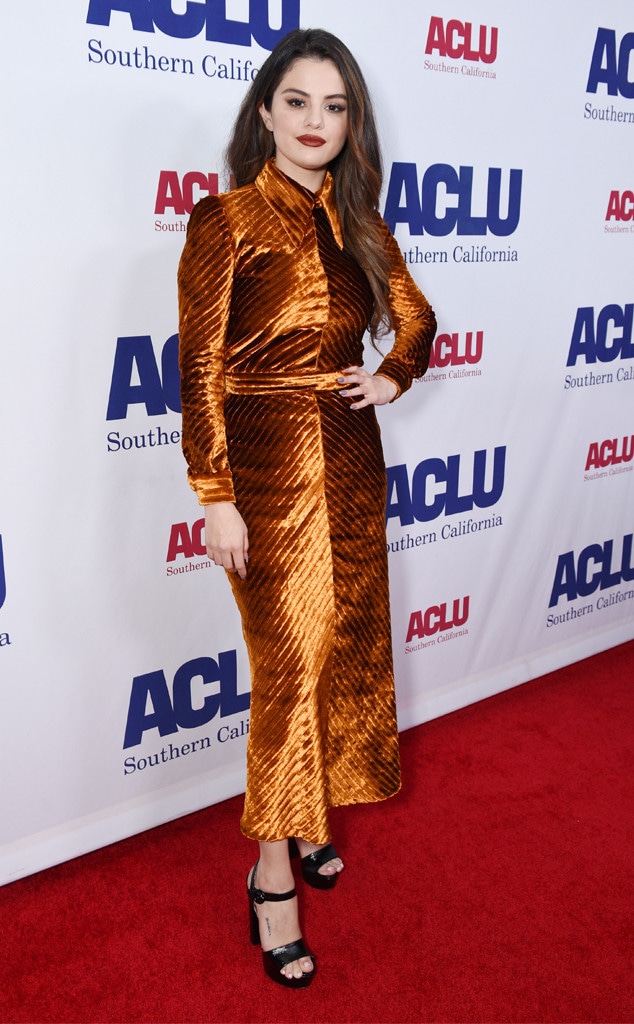 Variety/Shutterstock
Selena Gomez's latest ensemble is on fire!
The 27-year-old star dressed to impress at the ACLU SoCal Annual Bill of Rights dinner on Sunday night at the Beverly Wilshire Four Seasons Hotel, wearing a spicy orange outfit that can only be described as a Phoenix rising through the ashes.
Well, that might be a bit dramatic, however, the "Look at Her Now" singer certainly brought fiery fashion to the star-studded event! Making her pumpkin spice-colored cocktail dress pop even more, Gomez rocked an equally bold makeup look.
Instead of sticking to her usual pink and nude lipstick color, she opted for something more fierce: a vampy red shade that accentuated her plump lips. Moreover, her hair also matched her spicy ensemble, because her loose waves appeared to have an auburn tint to it when it hit the lights. 
If anything, it makes sense the actress would pull out all the stops for the special event, considering she's presenting tonight. Regina Hall, Bob Balaban and Richard Schiff are also presenters.
Additionally, this year's honorees include Don Cheadle, Justin Tranter and Judy Balaban. "At a time when our rights and freedoms are under all-out attack, we are proud to pay tribute to our honorees," ACLU SoCal Executive Director Hector Villagra previously said in a press release shared with E! News. "Their work and dedication inspire us."
Watch:
Inside Selena Gomez's Year of Rebuilding
As of late, Selena has been vocal about fighting for people to have equal rights. Back in October, she penned a powerful essay on the immigration crisis for Time magazine. Not only did she reflect on her family's personal experience with immigration, but she expressed that she wants to advocate for those going through similar situations.
"Over the past four decades, members of my family have worked hard to gain United States citizenship," she shared. "Undocumented immigration is an issue I think about every day, and I never forget how blessed I am to have been born in this country thanks to my family and the grace of circumstance."
"I don't claim to be an expert. I'm not a politician, I'm not a doctor, and I don't work in the system at all," Gomez later added. "I understand it's flawed and that we need rules and regulations, but we also have to remember that our country was formed by people who came here from other countries. It's time to listen to the people whose lives are being directly affected by immigration policies. It's time to get to know the individuals whose complex stories have been reduced to basic headlines."
She also touched on the Netflix documentary series she executive produced and how she was deeply impacted by it.
"In 2017, I was approached about getting involved in a new documentary series called Living Undocumented that would shine a light on eight immigrant families in the U.S. from different countries and backgrounds, all facing possible deportation," she explained. "I watched footage outlining their deeply personal journeys and I cried. It captured the shame, uncertainty, and fear I saw my own family struggle with. But it also captured the hope, optimism, and patriotism so many undocumented immigrants still hold in their hearts despite the hell they go through."
She went on to say, "When I signed on to executive produce a show about undocumented immigrants, I couldn't help but anticipate the criticisms I might face. But the truth is, the worst criticism I can imagine is still nothing compared to what undocumented immigrants face every day."
"Fear shouldn't stop us from getting involved and educating ourselves on an issue that affects millions of people in our country," she said. "Fear didn't stop my aunt from getting into the back of that truck. And for that, I will always be grateful."