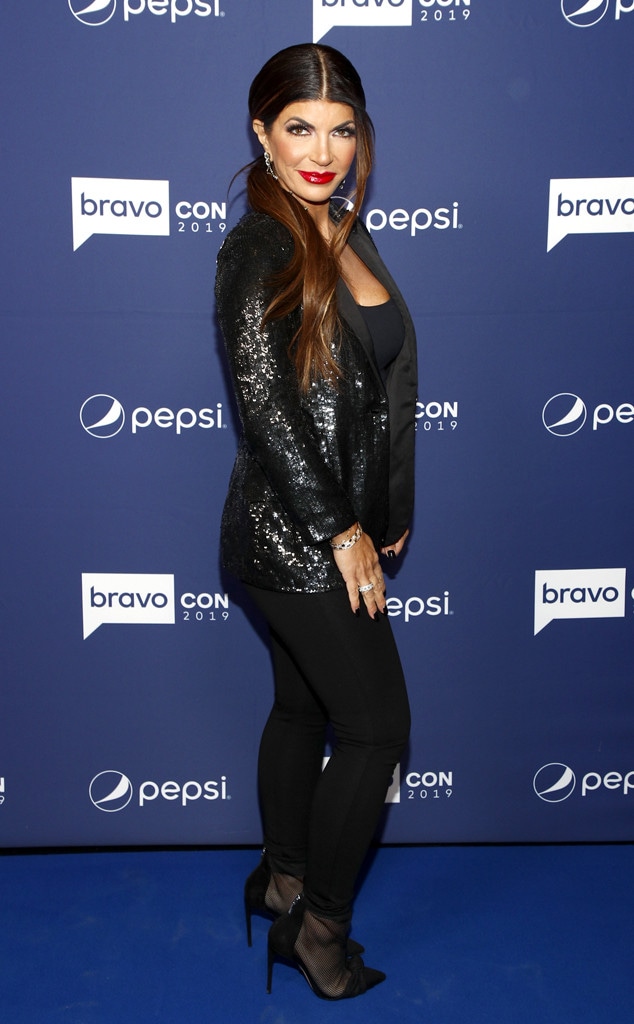 Astrid Stawiarz/Bravo
Family over everything!
No one lives by that motto more than Real Housewives of New Jersey star, Teresa Giudice. On Sunday, the 47-year-old reality TV personality celebrated the third day of BravoCon with her co-stars, other Bravo celebs and fans alike. However, she had to cut her time at the convention short to take her father Giacinto Gorga to the hospital.
"Sorry, BravoCon fans," Teresa told her followers on Instagram Stories, alongside a video where you could see an ambulance truck in the distance. "I had to leave."
She continued, "My dad doesn't feel well. I'm taking him to the hospital."
While the mom-of-four didn't share any other details with her fans, E! News can confirm that the reality TV star's father is back in the hospital, where he has been several times this past year. His recent visit, however, does not look any worse.
Despite having to leave the last day of BravoCon early, it looks like the reality TV personality had a good ole time there.
"I'm happy for him, happy he's [free]," she said about her husband Joe Giudice, who is currently staying in his home country of Italy as he awaits his deportation case.
She also shared that she and her four daughters cried a lot when they went to visit Joe earlier this month. Luckily, they'll be reunited soon.
"The girls are definitely going to see Joe for Christmas," Teresa told E! News after the panel. "I was telling them, if they want to go for Thanksgiving... but he's in the process of getting his passport, so I don't think it's going to be ready in time."
"Maybe we'll split [Christmas]," she added. "I don't know yet. I might be working."
Even though Bravo teased a very dramatic season of Real Housewives of New Jersey, all of Teresa's co-stars had nothing but love and support for her.
"They will always be family," Margaret Josephs told E! News at BravoCon 2019 on Saturday. "It's about them as a family, not as a couple. I want the family unit to be happy." Margaret continued, "You know, people grow in different ways. And when you're apart for so long, you're not the same person."
"I want her to be happy," Jackie Goldschneider also shared. "When she says, 'I haven't been happy in so long,' that breaks my heart."
Melissa Gorga also showed her support for her sister-in-law. "We're all good, we're all happy," she told E! News. "We want to see them finally at peace, whether it be Joe living somewhere where he's not in some horrible place anymore and everyone able to see each other and be happy and that's it. We hold each other down."
(E! and Bravo are part of the NBCUniversal family.)