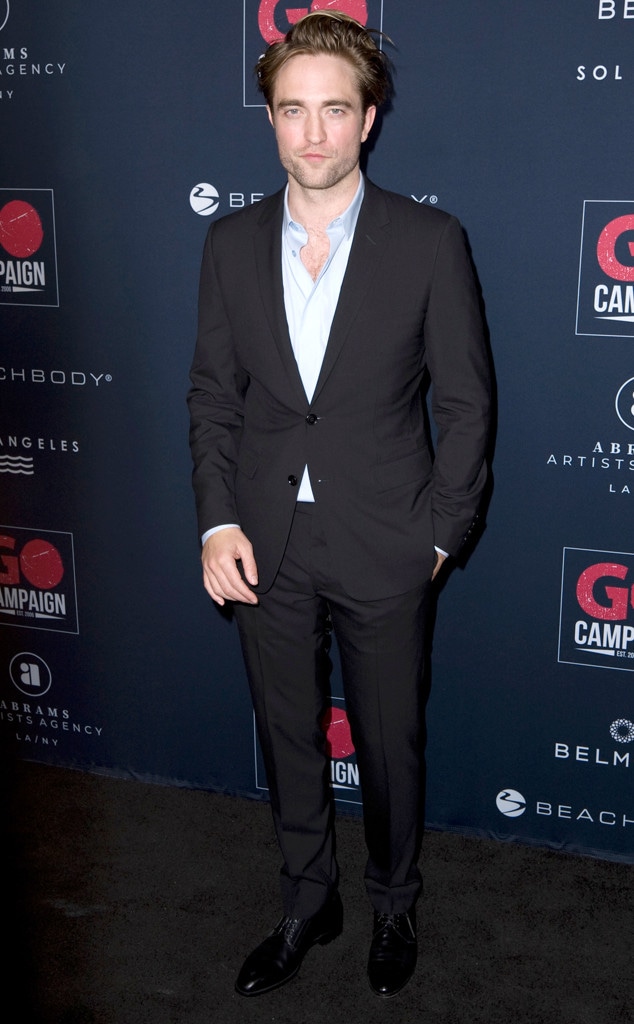 MediaPunch/Shutterstock
Robert Pattinson isn't letting his busy schedule keep him from rallying behind the social justice issues he cares about the most. 
The former Twilight actor has recently starred in The Lighthouse which premiered in October, Netflix's The King which premiered earlier this month and he also has two upcoming films in the works, Batman and TENET. Even so, Pattinson visited Los Angeles, Calif. this weekend to host the 13th Annual GO Campaign Gala at NeueHouse in Hollywood on Nov. 16. 
Co-hosted by GO Ambassadors Pattinson and Lily Collins—who became the first female ambassador for the organization—the night featured a star-studded guest list ready to raise money for the nonprofit organization. Based in Santa Monica, Calif., the organization works toward transforming the lives of orphans and vulnerable children in marginalized and underrepresented communities across the world. 
During the black carpet, the Batman actor spoke with E! News about his involvement with the organization and about how much he appreciates his fans' supporting him through the organization. 
"It's amazing and they've done it every year," Pattinson said. "It's kind of—it's so sweet. You know, it's a great organization, that's why I'm kind of trying to promote it. It's a wonderful thing to be doing." 
Besides chatting with E! News about his involvement with Go Campaign, Pattinson spoke to us about his friends and co-stars are supporting his latest film projects. 
Before heading out to the black carpet, Pattinson's TENET costar John David Washington and Rami Malek along with Chris Evans hosted a screening of his latest film The Lighthouse.
The upcoming action thriller TENET marks the second time Pattinson and Malek appear on the big screen together. Remember Malek's appearance in Twilight: Breaking Dawn Part 2? We can't help but think of last night's gala event as a mini Twilight reunion as well. 
"[It's] the best and they're fun, too," Pattinson said of his friends throwing him the intimate viewing party. "I wanted to just hang out with them anyway [since] I've only got one day in L.A. So I was like OK, you're coming to this charity event. You don't have a choice!" 
Other celebrities in attendance at the gala also included Armie Hammer and wife Elizabeth Chambers, Emily Ratajowski, Josh Hutcherson, Paris Hilton and Kid Cudi.
During his speech, the 33-year-old actor recalled the first time he attended the event before becoming a GO Campaign ambassador in 2015. "I was so impressed with the organization that I just wanted to get involved. Every year, it's a joy to see it get bigger," Pattinson said.
According to Variety, since becoming a GO Campaign ambassador and being more involved with the nonprofit organization, his fans have also helped join the fight toward helping children all over the world by raising more than $10,000. 
This year's gala highlighted the migrant crisis at the border and gun violence. To which Pattinson contributed $150,000 for relief for migrant children. Over $200,000 was raised to combat gun violence during the gala.
Watch:
Why Robert Pattinson No Longer Hates "Twilight"
The Remember Me also said onstage: "Two years ago I had brought a dear friend who has since helped fund a vocational training school for students in Tanzania. Last year, one of my guests, after learning about an orphanage in Mexico that didn't have heat, built a furnace for the winter. Tonight I've brought a group of friends that I'm very expectant of—let's see what they get. One of the most impactful people I brought was Lily Collins who came a few years ago and became the Go campaign's first female ambassador." 
Since Collins could not attend the gala because she was working in Europe, Pattinson introduced a video message from the actress instead.
"As you all sit there and you learn about the incredible work that GO does, and the lives they impact, you, too, will feel exactly as I did that first time," Collins said. "Just by being here tonight, what you don't know is that you've already changed the life of a child for the better."