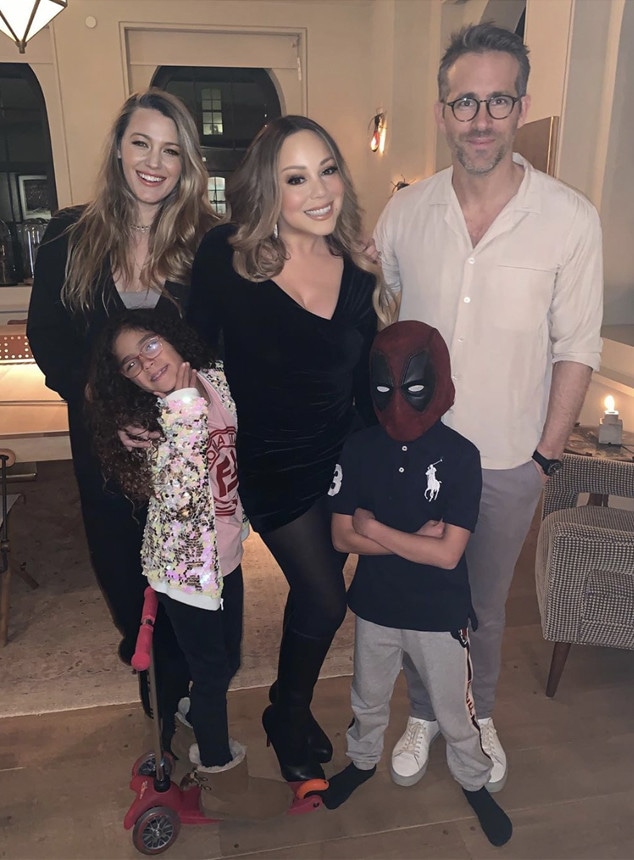 Instagram
All I want for Christmas is... to see Blake Lively, Ryan Reynolds and Mariah Carey in one single picture. 
And on Sunday, Nov. 17, that Christmas wish has come true! 
The "All I Want For Christmas Is You" singer took to Instagram to share a photo of herself and her twins, Morrocan and Monroe, posing with Reynolds and Lively. Apparently, her 8-year-old twins seem to be big fans of Reynold's Deadpool character—so much so that they're still in the Halloween win spirit rocking a Deadpool mask! 
Carey captioned the photo: "Rocky snuck up on an unsuspecting couple wearing a Deadpool mask. Will they ever recover?" 
They might, but we won't ever recover from this iconic ensemble in one single photo. 
Further, it looks like it was also a dream come true for Reynolds to meet a little Deadpool doppelgänger or to meet the Queen of Christmas (or both). The 43-year-old actor commented on the picture he was tagged in, writing, "Whoa. My vision board became a photo."
In the picture, Carey can be seen in full glam wearing a black long sleeve velvet mini dress with her locks in loose curls. The Gossip Girl actress can be seen all smiles behind Carey, wearing all black and looking radiant. 
Carey's daughter can be seen striking a pose in front of her mom standing on a red scooter, while her son "Rocky" is giving us major superhero vibes with his arms crossed in his power pose. 
Now, will this family be spending any more time together during the holidays? We hope they continue sharing adorable pictures if they do!
Watch:
Mariah Carey Promises a Real Look Into Her Life in Memoir