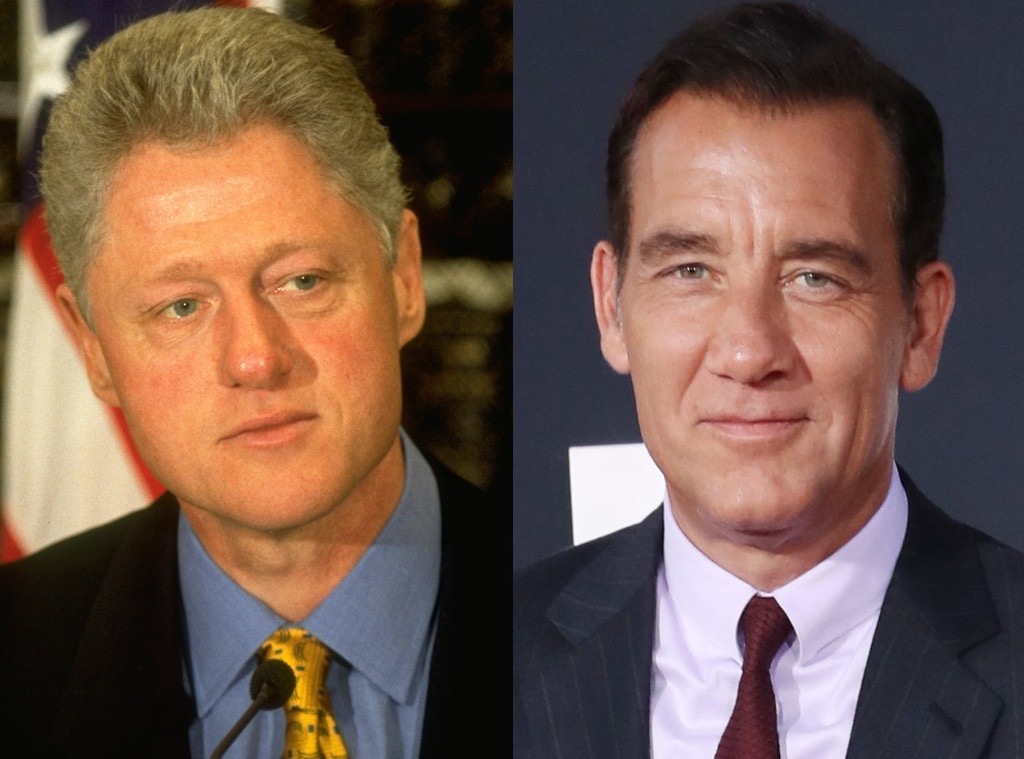 Diana Walker//The LIFE Images Collection via Getty Images, Matt Baron/Shutterstock
FX has found its Bill Clinton. 
Clive Owen has been cast as POTUS himself in Impeachment: American Crime Story, the third installment in FX's anthology series, which is following Clinton's sex scandal and impeachment hearings from the late 90s. Deadline was first to report the casting. 
As previously announced, Monica Lewinsky is a producer on the season, and she will be played by Beanie Feldstein. Sarah Paulson will play Linda Tripp, while Annaleigh Ashford will play Paula Jones. Hillary Clinton has yet to be cast. 
The season was officially confirmed in August, after two years of being rumored as a possibility for the series. Ryan Murphy first talked to E! News about it all the way back in 2017, after he had optioned Jeffrey Toobin's book A Vast Conspiracy: The Real Story of the Sex Scandal That Nearly Brought Down a President, which serves as source material for the season. 
"It's a very interesting book," Murphy said back then. "It's not really about Hillary Clinton. That book is about the rise of a certain segment of a right-wing group of people who despised the Clintons and used three women, Paula Jones, Monica Lewinsky and Linda Tripp to try and tear him down. The Toobin book is amazing. And there are a lot of bizarre crimes within that book that you can highlight. But the show isn't really about Hillary Clinton, it really is about the other women. In fact, we might be doing the Clintons with hand puppets [laughs], I don't know. We're more focused on the mechanizations behind the scenes to try and get [Bill Clinton] impeached."
Apparently the team decided against using hand puppets to play the Clintons (which is honestly too bad, but Owen will be good too). 
When he announced the official news of the season in August, FX president John Landgraf said that Impeachment would "explore the overlooked dimensions of the women who found themselves caught up in the scandal and political war that cast a long shadow over the Clinton presidency." 
The season is based on the Toobin book and written by Sarah Burgess, with Ryan Murphy, Nina Jacobson, Brad Simpson, Brad Falchuk, Larry Karaszewski, Scott Alexander, Alexis Martin Woodall, and Sarah Paulson all producing. Toobin was also a consultant on the first season, which also used one of his books as source material. 
Season one, The People vs. O.J. Simpson, followed the O.J. Simpson trial, while season two, The Assassination of Gianni Versace, explored the murder of the famed fashion designer. 
Season three is set to premiere September 27, 2020 on FX.