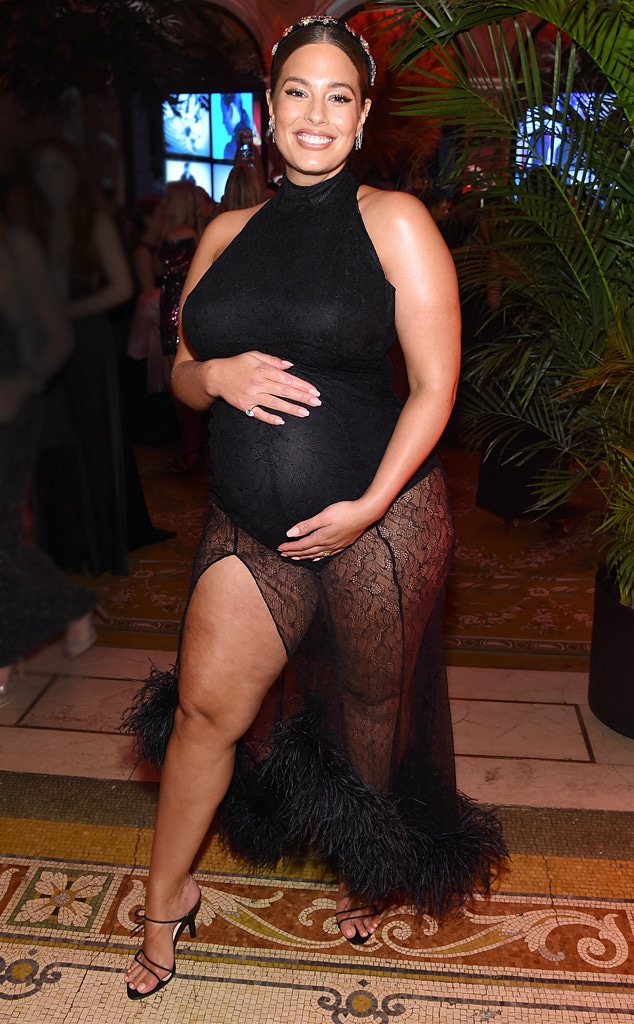 Jamie McCarthy/Getty Images for Harper's BAZAAR
To all the pregnant women out there, Ashley Graham understands. 
The supermodel, who is pregnant with her first child, is known for being a passionate body positive advocate, but even she has struggled with her changing shape. In a newly released episode of her Fearless series, Graham met with mom of four Taylor Hoit, who is struggling with her own self image after welcoming twins. Graham took notice of Hoit on Instagram, where she had shared a photo of her postpartum stomach 10 weeks after giving birth.
"I wanted to be like, Hey, I have to do something for me and for my daughters to show them you don't have to get your body back because your body was never lost. It just changed and just love it and I'm still trying to work through loving it," Hoit explained of the photo. 
She had tagged Graham, who posted her own candid shot of her bare body just a day earlier and a few days after announcing her pregnancy. 
As Graham revealed to Hoit during the episode, there was more to the story behind the snap. 
"The reason I had posted that original photo—I had just announced that I was pregnant. I thought then I was gonna feel good and I didn't. I just felt terrible and that morning...that morning I really thought to myself," the media personality explained as she began to cry. "That morning, I was like, get it together Ashley—there's other women out there that are going through the same thing as you. Why don't you have a dialogue with them?"
"This is a new body that I'm walking into...Why don't I just put myself out there with this new body?" Graham continued. "I felt so isolated. I felt so alone...So, it's like I've had to come into this new world of body confidence."
While Hoit acknowledged struggling with confidence and self-love, Graham had a powerful reminder for her. 
"It's you who inspired me," she said. "I want you to remember that for when the next time you look at your body, next time you see your scar, next time you see your tummy and you think, 'God, I feel so alone. God, I feel so ugly. God, when's my body gonna bounce back?' None of that matters, right?"
Soon, Hoit got a sweet surprise that indeed mattered. Check out the video above to see for yourself! 
(E! and NBC are both part of the NBCUniversal family.)