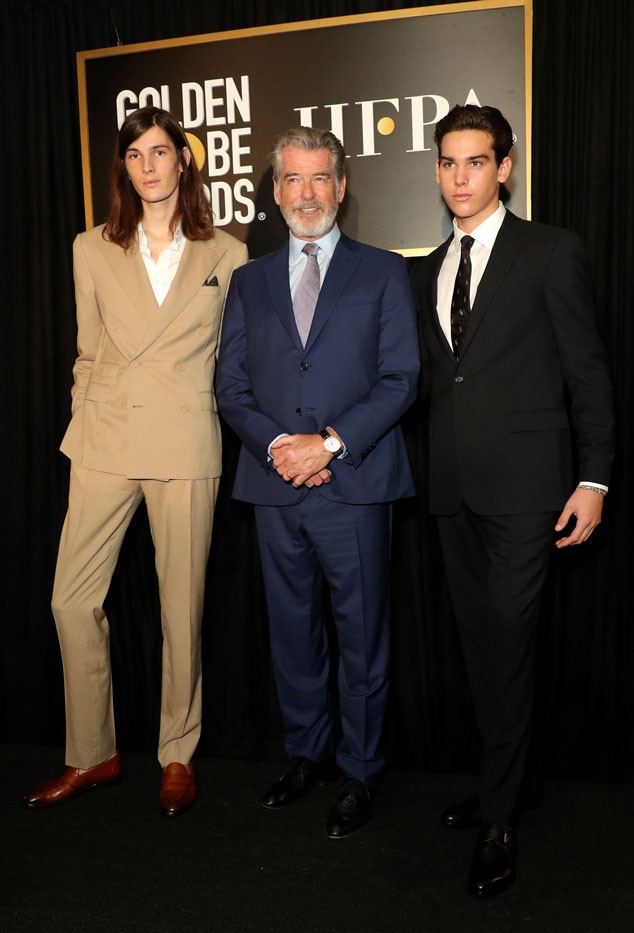 Chelsea Lauren/Shutterstock
Meet your new Golden Globes Ambassadors. 
This year the task will fall to Pierce Brosnan's sons Paris Brosnan and Dylan Brosnan. The two will be following in the footsteps of Idris Elba's daughter, Isan Elba, who served as 2019 Golden Globes Ambassador last year. The title changed to Golden Globe Ambassador from Miss or Mr. Golden Globe in 2018. 
"For the first time in Golden Globe history, we've proudly selected two brothers to represent the Hollywood Foreign Press Association this awards season," President of the HFPA Lorenzo Soria said in a statement. "Dylan and Paris Brosnan have already achieved tremendous success in the fashion world and are following in their father's footsteps in entertainment. We're excited to see how they'll use this platform to contribute their talents to elevate the important issue of childhood hunger."
As part of their roles, Dylan and Paris have partnered with FEED, an organization that helps to bring nutritious meals to school children. 
Dylan, who is expected to graduate from USC next spring, shared, "We're proud to honor our dad's legacy as we join the incredible roster of previous Golden Globe Ambassadors, many of whom have gone on to pursue their own dreams in the entertainment industry. The biggest lesson our dad taught us is to 'be kind,' which was an essential factor in Paris and my decision to study filmmaking and our desire to tell important stories. Having this opportunity to turn the spotlight outward on kids experiencing hunger is a true privilege." 
In his own statement, Paris touched on their family's commitment to giving back.
David Fisher/Shutterstock
"As students, my brother and I understand the value of education and its importance in equipping the next generation with skills to succeed," the college freshman noted. "I've never had to worry about where my next meal might come from. I'm lucky in that respect, but I know that millions of children worldwide don't have that luxury. School meals provide critically important nutrition, and also incentivize parents to keep kids in school, giving them a fighting chance for a better life."
It looks like the dynamic duo has a good grasp on their official duties, too.
"There's a few different duties," Dylan told E! News. "One, we represent the Hollywood Foreign Press. And then two, our family, which is important, because our father's been here many times. And then three, which is most important, is the charity aspect, which is, as Paris said, we represent Feed, who deals with childhood hunger and education at the same time by providing children with meals in school, which encourages parents to send their kids to school around the world." 
But did Pierce and Keely Shaye Smith give them any advice?
"Take it all in for tonight. Be happy. Be kind, be compassionate to everyone. And just enjoy it," Paris told E! News. "At the end of the day, we're here to support a cause we feel really strongly about, and to support the Hollywood Foreign Press, and their philanthropic efforts. And we're here amongst some of our heroes, and some of the greatest directors, producers, actors and overall filmmakers, everyone involved in the filmmaking process, so it's an honor to be here with my older brother, my dad and the whole team."
Dwayne "The Rock" Johnson's daughter Simone Garcia Johnson was the first official Golden Globes Ambassador. "It was surreal," Simone told E!'s Jason Kennedy before taking on the role. "My parents told me and we were all so excited and I'm really happy that the Hollywood Foreign Press chose to make this change because it's more inclusive and it promotes equality and I feel strongly about those things and I'm so happy to represent that title."
The distinction dates back to 1962, when the Hollywood Foreign Press Association decided to profile a daughter or son of one of the industry's most respected talents to serve as Miss or Mr. Golden Globe. It has become a yearly tradition that many Hollywood stars both past and present have taken part in throughout the years.
It's a very altruistic role with an emphasis on ambassadors using their platform to help further charitable causes that are close to their heart. Last year, Isan used her platform to help raise awareness for mental health issues.
Watch:
Idris Elba's Daughter Talks Being 2019 Golden Globes Ambassador
"I feel honored to hold this title and use this role to not only further educate people on the work of the HFPA, but also shine a light on issues that I care about," she stated. "Mental health, specifically among African Americans and my peers in particular, is something I really want to be more vocal about. There's this perceived stigma and I've seen friends struggle. We need to empower young people to not be afraid to ask for help."
The 77th Annual Golden Globe Awards will air Sunday, January 5, 2020 on NBC.