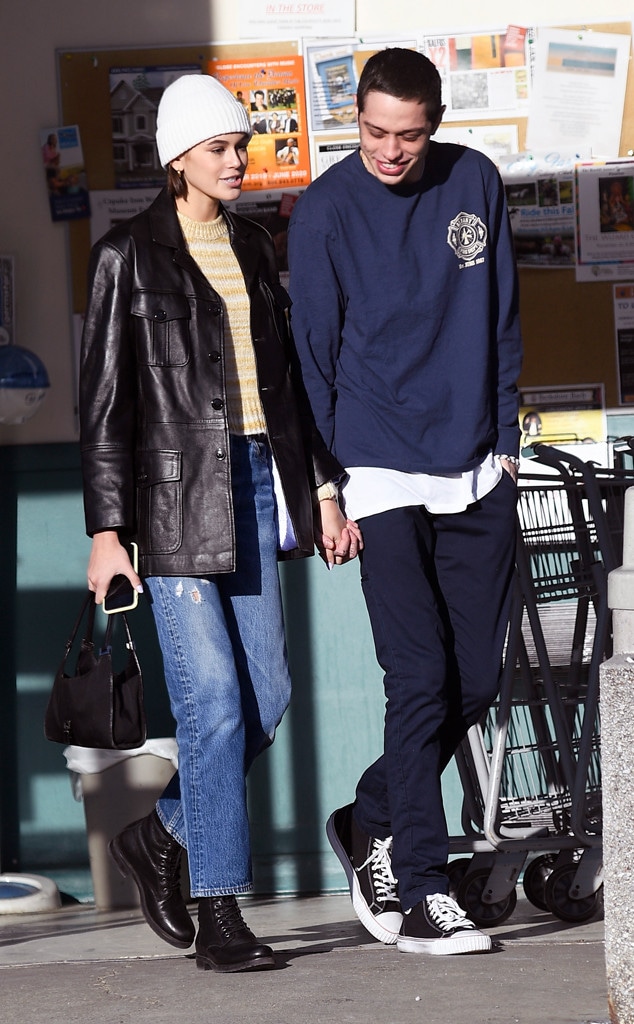 Elder Ordonez / SplashNews.com
Pete Davidson and Kaia Gerber are kicking off cuffing season in style.
The two fashionable stars stepped out in upstate New York to grab some groceries, which presented itself as the perfect opportunity to do a bit of PDA. Cameras were able to snap a pic of the comedian and model holding hands as they exited the supermarket. Aside from the obvious hand-holding, people noticed that the 18-year-old and 25-year-old looked positively smitten with one another. 
For the low-key outing, Kaia sported a '90s-esque leather jacket, a cropped sweater and some straight-leg jeans. She accessorized with a white beanie and a black purse. Her boo went for a more casual look by wearing an Albany fire department shirt over a white t-shirt and navy blue jeans, with a classic pair of Converse.
No word yet on why the A-listers were in the suburbs of New York, but with winter coming it must be nice to escape the concrete jungle.
Things appear to be moving quickly for the young lovers. They first sparked romance rumors in late October and have been nearly inseparable ever since. A source told E! News, "They have been friends for a while now and run in the same friend circle, but became romantic recently. They started hanging out alone more often after meeting up in NYC in October."
Despite living on different sides of the country, the pair seem to be dedicated to seeing where things will go. The source shares that they were recently in Malibu, but Kaia returned to the Big Apple with Pete to support him with his commitments at work. "Kaia expressed she loved Pete's personality. She thinks he is charming and is very intrigued," the insider says. 
It's good to hear that Kaia's found a man to lure her away from the backgammon board. In a Sept. interview the teen said that because of her demanding career she didn't have "the energy to even flirt with anyone." Instead, she said she fills her time playing the leisurely game. She quipped, "I have backgammon at my house, and that's all a girl needs. When I'm home, I'm living the life of a 70 year old woman."