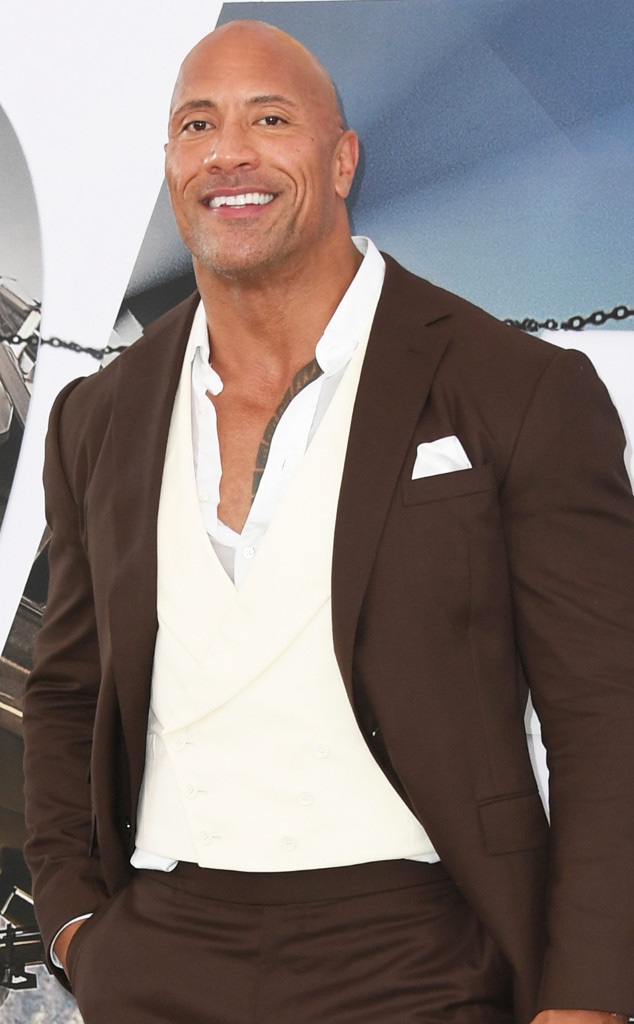 Jon Kopaloff/Getty Images
Well, that took long enough. Dwayne "The Rock" Johnson is finally playing a superhero!
The beloved action star revealed on Instagram on Thursday that his "superhero dreams have come true," as he'll be joining the DC universe as Black Adam. The film is set to release in December 2021.
To announce the news, the Hobbs & Shaw star shared an epic piece of art portraying himself as the comic book superhero. In the shot, he's flying overtop a mountain of rubble, a lightning bolt emblazoned on the chest of his supersuit, his body and eyes charged with lightning and his billowing cape torn. And as for his caption, it was just as intense as the photo.
"The Man in Black," Johnson wrote in his emotional post, which raked in over 1 million likes in just one hour. "Like most kids growing up, I dreamed about being a superhero. Having cool superpowers, fighting for what's right and always protecting the people. It all changed for me, when I was 10yrs old and was first introduced to the greatest superhero of all time - SUPERMAN."
As his caption continued, "As a kid, Superman was the hero I always wanted to be. But, a few years into my fantasy, I realized that Superman was the hero, I could never be. I was too rebellious. Too rambunctious. Too resistant to convention and authority. Despite my troubles, I was still a good kid with a good heart - I just liked to do things my way."
"Now, years later as a man, with the same DNA I had as a kid," he continued. "My superhero dreams have come true. I'm honored to join the iconic #DCUniverse and it's a true pleasure to become, BLACK ADAM."
The father of three then described his character's powers, and more specifically, what makes Black Adam different from Superman.
As he explained, "BLACK ADAM is blessed by magic with the powers equal to SUPERMAN, but the difference is he doesn't toe the mark or walk the line. He's a rebellious, one of a kind superhero, who'll always do what's right for the people - but he does it his way. Truth and justice - the BLACK ADAM way. This role is unlike any other I've ever played in my career and I'm grateful to the bone we'll all go on this journey together. BLACK ADAM 12.22.21. Huge thank you to my friends, @jimlee and @bosslogic for this first time ever bad ass collaboration."
Johnson now joins the ranks of Robert Pattinson and Zoe Kravitz, who are slated to play the iconic DC comic characters Batman and Catwoman in the upcoming remake. The next official DC universe installation will be Margot Robbie's Harley Quinn-centric Birds of Prey, hitting theaters in February. 
Welcome to the wonderful world of superhero movies, Black Adam!