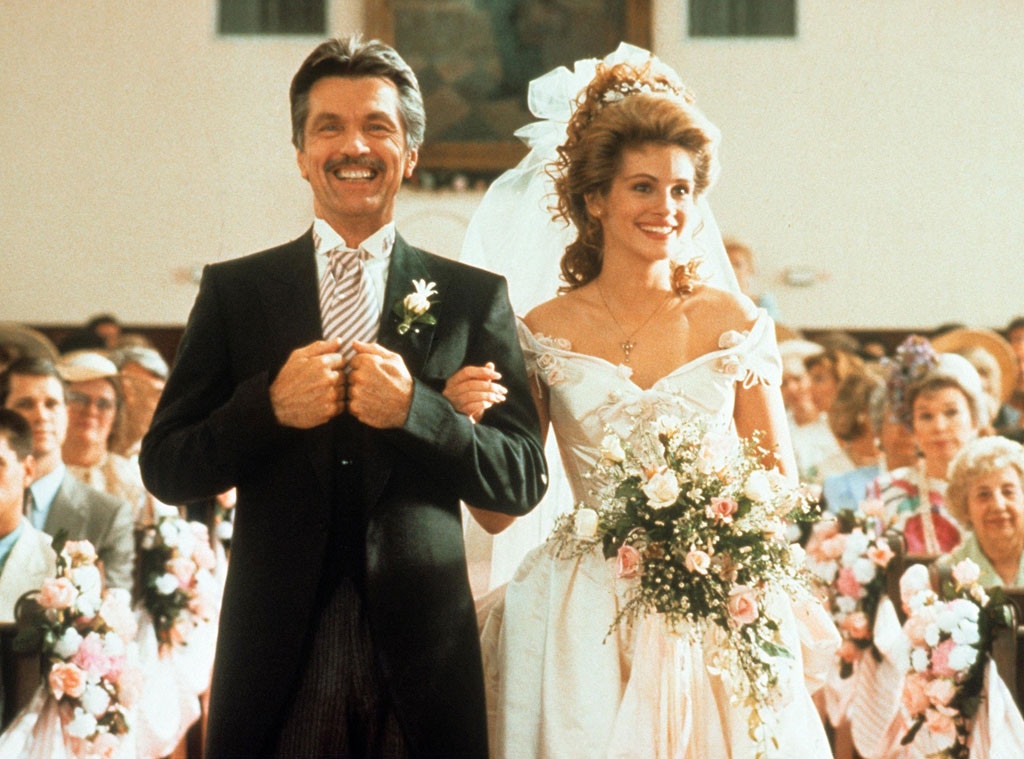 TriStar Pictures
What bride, when planning her vows, hasn't declared, "My colors are blush and bashful"? 
No? Just us then, okay. 
Thirty years ago, those words were being uttered by a promising young thespian named Julia Roberts. Just seven credits to her name when filming began, the then-21-year-old was hand-picked as the woman who could hold her own among the likes of Dolly Parton, Sally Field, Olympia Dukakis, Daryl Hannah and Shirley MacLaine in a film about the coterie of woman who make up a small Southern community and how they deal with the death of one of their own.
Based on a true story, Steel Magnolias was meant as a tribute to playwright Robert Harling's sister Susan, who passed due to complications from diabetes. Following the success of the 1987 play of the same name, director Herbert Ross adapted it to the big screen, creating a star-studded Hollywood production that took over the small town of Natchitoches, Louisiana. 
"The L.A. people required things that you didn't find at the local Piggly Wiggly," Harling recalled to Garden and Gun in a 2017 look back. "I remember the manager of the store saying to a local reporter, 'Yep, if it hadn't been for Herbert Ross, nobody around here would know the difference between ostera and beluga." 
Caviar knowledge aside, the female-forward tearjerker (noting how no men appeared in the stage pale, The New York Times' critic complained the film wasn't much better complaining "the male characters are no more substantial now than when they were invisible") became one of the top-grossing films of 1989 and birthed a legend. Roberts, the least known member of the cast, earned her first of four Oscar nominations for her turn as newlywed Shelby, willing to risk her life for just a few years as a mom. 
Off-camera, the success stories were just as real, with MacLaine declaring that the summer camp-style filming experience bonded them for life. Allow us to fill y'all in. 
Watch:
Julia Roberts' Most Challenging Film
1. The movie came thisclose to never happening. 
Because, actually, Harling never intended to be a playwright, earning a degree at Tulane University Law School before following his acting dreams to New York City. After his beloved younger sister got sick and passed away, however, he was inspired. "I wrote it to somehow get this true story off my chest and to celebrate my sister in the process," he told The Huffington Post in 2014. 
Like Shelby, he told Garden and Gun, Susan's diabetes meant bearing kids could be life-threatening: "But she wanted a child, she went ahead and had a child, and then, sure enough, her metabolism started to fail—circulatory system, kidneys, the whole thing. It was much grimmer than I portrayed in the play."
Initially he intended to write a short story, in part to share with his nephew one day to explain what happened to his mom. But a few pages in, he felt he wasn't accurately capturing the women's dialogue, so he switched course. Within 10 days, he'd scribbled out an entire play. 
2. The names were also based on a true story. 
Shelby's mother M'Lynn (Field) was taken from a close friend. Shelby was the name of one of his mother's cousins. Clairee (Dukakis) "a fabulous aunt" and Ouiser (MacLaine) from his sister's best friend: "She in no way resembled the character," he said of the town curmudgeon. "But there was just something about the name that fit." Personalities were also lifted from the people he grew up with in Louisiana. "I've never told a living soul who Ouiser is based on," he shared, saying he was willing it might offend. But when people came to see it, "Lo and behold, every woman in town was saying, 'He based Ouiser on me.'" 
Kevin Winter/Getty Images
3. They didn't expect people to find the funny. 
"We played it like a drama,"said Margo Martindale, who took on the part of hairdresser Truvy in the play, largely set in the town salon. (Her role was later adopted by Parton.) "And then the first night it was in front of an audience, we were shocked. It was riotously funny and played straight as an arrow." 
The way Harling sees it, he just happened to know a lot of hilarious ladies. "They all love one-liners and they talk in bumper stickers," he told Huffington Post, "and they're sharp, funny women."
4. But for the family, it was a place to openly grieve. 
"That play really did work miracles," Harling's brother John told Garden and Gun, "and I don't use that term lightly." Echoed is father, Bob, "I felt happy, I felt sad, I just couldn't believe what was happening. But I was mostly feeling good, proud. It was a memorial to my daughter."
As such, Harling's father, uncle and next-door neighbor all invested in the production. At first he was horrified, he said, worried about the cash they'd lose, then, he realized that wasn't the motivation: "They weren't looking to make money, they wanted to support the continuation of the saga."
Moviestore Collection/Shutterstock
5. The movie came together as quickly as the play. 
Producer Ray Stark (his credits included Funny Girl and Smokey and the Bandit) was among those approaching Harling to take the play to Hollywood. He floated the idea of shooting in his hometown and promised to "get the greatest cast you can imagine," Harling told Huffington Post. "That's how it came to me and then Ray got Herbert Ross to direct it and then it was this domino effect of superstar after superstar."
6. Because some big names came looking for parts. 
As the play gained traction and Hollywood insiders looked to option, everyone from Joan Rivers to Lucille Ball to Cher and, Harling said, "all of the Golden Girls" showed up to see it. "Somebody had told Elizabeth Taylor that M'Lynn was the perfect role for her, and when word got out that she was coming, they had to shut the street," he recalled. "I was thinking at the time, 'Elizabeth Taylor's going to sit there and hear the line, 'When it comes to suffering, she's right up there with Elizabeth Taylor.' No one laughed harder than she did." 
7. Bette Davis made a hard sell. 
Harling actually assumed he was being pranked when the film icon rang, inviting him for tea at her New York City hotel. Once there, she pitched herself as Ouiser, Elizabeth Taylor for M'Lynn and Katharine Hepburn for Clairee. "It was fantastic," Harling told The Huffington Post. "If I ever write a book, it's a complete, incredible chapter. She basically, bless her heart, wanted to show that she was up and at 'em and doing it. There was nobody else and she was looking fabulous." 
And taking no prisoners. Telling the story to The Morning Call in 1989, he recounted her parting phrase: "You may give the role of Ouiser to someone else. But you and they will hear from Bette Davis."
8. But it's hard to argue with Shirley MacLaine. 
When director Ross sent the script over to the Oscar-winner, he said any part was hers except for M'Lynn and Shelby. "So I read it and I said, 'I want to play the really b--chy one,'" the 85-year-old told Garden and Gun. "I think I was rehearsing for my old age. I was seeing if I could get away with saying what I negatively felt and still be funny. And it's kind of turned out that way, actually." 
Moviestore Collection/Shutterstock
9. Meg Ryan turned them down. 
Which, in retrospect, it's hard to say she made the wrong call. "The day we offered it to her, she came back and said, 'I just got offered this movie with Billy Crystal, When Harry Met Sally, and that's my chance to be a leading lady,'" Harling remembered. "'In Steel Magnolias I'd be part of an ensemble.'" 
10. Thankfully, Julia nailed the audition. 
Though they had a list of known stars they were considering, including Laura Dern and Winona Ryder, "The casting director said, 'There's this girl. She hasn't been able to audition because she's been off making some movie about pizza," said Harling. When the Georgia native came in, fresh from filming Mystic Pizza, "It was like somebody bumped up the lights. She smiled that smile. She was the essence of the great Southern gal: spicy, witty, smart, with a layer of compassion underneath." 
11. Though Nicole Kidman took a stab at the role as well. 
One of the Aussie actress' earliest parts was as Shelby in the Sydney production of the play. 
12. Turns out Shirley has a really good eye for talent. 
"The moment Julia walked into the reading, I thought, 'That woman is going to be a star,'" she told Garden and Gun. "I called my agent and said, 'I don't know if she has an agent, but you should handle her.'" 
13. The whole cast trucked down to Louisiana. 
Stark insisted they film on location. "It helped that Natchitoches is gorgeous," said Harling. "Anywhere you point the camera you're going to frame a good shot." But bringing in the hordes of equipment required for a massive shoot, plus finding rentals for the big-named stars to stay in, turned the production into an extravaganza. As Harling put it, "The circus had come to town." 
14. Dolly drew the biggest crowds. 
Every night the legendary country artist and her squad (an assistant, bodyguard and hair stylist) dined at the same spot, "a restaurant called Mariner's out on Sibley Lake," resident Tom Whitehead recalled to Garden and Gun. As a result, the seafood spot remained sold out for the whole of the shoot, he said: "People filled it up to see Dolly Parton eating in the back corner."
Zade Rosenthal/Tri-Star/Kobal/Shutterstock
15. But was also the least likely to indulge in diva behavior. 
Louisiana in the summertime presented some challenges. And while MacLaine admitted most of the cast were "always complaining" about the heat, there was never a peep from Parton. "There was Dolly with a waist cincher no more than 16 inches around and heels about two feet high and a wig that must have weighed 23 pounds," said the star. "And she's the only one who didn't sweat." 
Even when a Christmas scene required her to swelter in a cashmere sweater. "Julia said, 'Dolly, we're dying and you never say a word. Why don't you let loose?'" Harling recounted. "Dolly very serenely smiled and said, 'When I was young and had nothing, I wanted to be rich and famous and now I am. So I'm not going to complain about anything." 
16. Julia lived up to her future billing as America's sweetheart. 
As Harling remembers it, the twentysomething actress was eager to have his parents' blessing to play their daughter. "She'd come over, and Daddy would cook hamburgers," he shared, "and they'd talk, and she'd write poetry and she'd read us the poetry." Oftentimes, he continued, Parton would join the party, "sit on the sofa and play her guitar. It was just beyond surreal." 
Moviestore Collection/Shutterstock
17. Olympia almost converted the whole town. 
During the summer of 1988, the Moonstruck actress' cousin, Massachusetts governor Michael Dukakis, was running for president against George H. W. Bush and she was heavily involved, even speaking at the Democratic convention. Though the town was largely republican, said Harling, "there were some people who put Dukakis signs in their yard to be neighborly."
18. Shirley indulged in a little method acting. 
Maclaine told Garden and Gun she made the most of being in Louisiana by studying the locals and "walking through their lives a little." Making her way through town, "I'd go to the ice cream store and the magazine place and the video store," she said. "I just wanted to see how people acted, how they belonged to themselves." 
19. And some timely back talk. 
Director Ross "could be sometimes very stern and sometimes very harsh," MacLaine told Us Weekly at a 2013 screening. "My deepest memories of the film were how we bonded together after he told one of us or all of us we couldn't act." Seeing him go after Roberts "with a vengeance," she continued, she felt the need to defend the young actress who was staying next door to her and coming over for nightly pep talks. 
"Then one day I basically told him to go f--k himself," she told Garden and Gun, "and everybody heard it and things got better." 
20. He went after Dolly as well. 
"I remember the day Herb said to Dolly Parton, 'Why don't you take some acting lessons?'" MacLaine shared at the same 2013 event as former costar Field hovered nearby. "You don't say that to Dolly Parton!" the Forrest Gump alum responded. "Dolly Parton is absolutely the funniest, wittiest and filthiest, and she will cut you to ribbons."
21. True fans can fully immerse themselves in the film. 
Arlene Gould, executive director of the Natchitoches Convention and Tourism Bureau, told The Shreveport Times the movie "had a tremendous impact on the tourism trade and on our community." Official tours are still on offer today and diehards can even stay at M'Lynn's house. The 19th century Cook-Taylor House served as the backdrop for her residence and in 2003 it opened as a bed and breakfast called The Steel Magnolia House.
22. The writer made a cameo. 
On set for both the wedding scene and the funeral, Ross suggested he play the minister. He agreed, provided he wouldn't have to say much. "People have said, 'Well, you're an idiot, you just have one line, what's the matter with you?'" he told Huffington Post. "But that's not what it was for. The movie had very little to do with me."
Moviestore Collection/Shutterstock
23. Even the small details were true to life. 
Ross hired Susan's actual doctors to play the same spot in the movie. The nurse who turned off her life support machine, did so on camera as well. Having grown close with Roberts during the shoot, Harling's mom chose to be present on set for the scene. 
"I said, 'I can't believe you put yourself through that,'" he recalled of the shoot. "She said, 'No, I wanted to see Julia get up and walk away.'"
24. Shirley takes umbrage with people labeling it a chick flick. 
"To say it's a women's film I don't think that's correct," she told Entertainment Tonight in 2014. "If you've got women in your life bring them to see this film and you'll know much more about them when you go home."
25. Filming was akin to sleepaway camp. 
With little to do in the small town, he shared, they'd often gather at night to play Pictionary and Charades. "Everyone got along great. It was just like Camp Magnolia," he insisted to The Morning Call. "Olympia would call up and say 'Come over, I have some leftover squash soup.' Or Tom Skerritt would whip up some hot fudge sauce. Or we'd hang out on Shirley's porch, which overlooked a lake. We always had a ball together."
Tri-Star/Kobal/Shutterstock
26. Their evening chats provided the inspiration for Soapdish. 
Harling told Huffington Post he wrote the screenplay for the 1991 comedy starring Field as an aging (and vicious) soap actress after the crew spent a night discussing their dream roles. While MacLaine wanted to play an alcoholic and newcomer Roberts just wanted to work, Field, he said, lamented that she was always cast as "really noble, earnest women that wear crummy clothes. For once I'd like to play a bitch that gets to wear nice clothes." Enter: Soapdish's Celeste Talbert.
27. Julia came away with more than an Oscar nod.
Dating Liam Neeson when she began filming, the twentysomething fell hard for her onscreen husband Dylan McDermott. The pair became engaged before splitting up a year after the movie's release. 
Moviestore Collection/Shutterstock
28. And Susan's son earned some impressive clout. 
During a 2014 appearance on Today, Harling recalled a time his nephew was having trouble in school. Checking in to make sure he was okay, he was floored by the teen's response. "Oh no. Don't worry about me," Harling recounted of what he was told. "Everybody likes me. They think I'm really cool." 
Apparently having Julia Roberts act the part of your mom comes with infinite cool points. "That hit me like a ton of bricks," Harling said. "He doesn't remember his mother, but he does know as a teenager that his mother was so cool, it took the biggest star in the world to play her."
29. Shirley forecasted the film's success. 
As she had said about Roberts, the veteran star knew there was something special with the film. Dressed up in parkas and sweaters to recreate the Christmas festival, Harling told Today, "I remember Shirley turning to me during one of those scenes and saying 'ya know, I think this could be important.' And, you know, Shirley's never wrong."
30. The cast remain pals to this day. 
Perhaps it was the emotional nature of the storyline or the fact that everyone stays tight with their camp friends, but as MacLaine recalls they all became protective of one another and quite close. "We really did make fast friends, all of us," she told Garden and Gun, "and have been ever since. I don't know what it is about the subject matter in the movie, but going through that makes you friends for life."