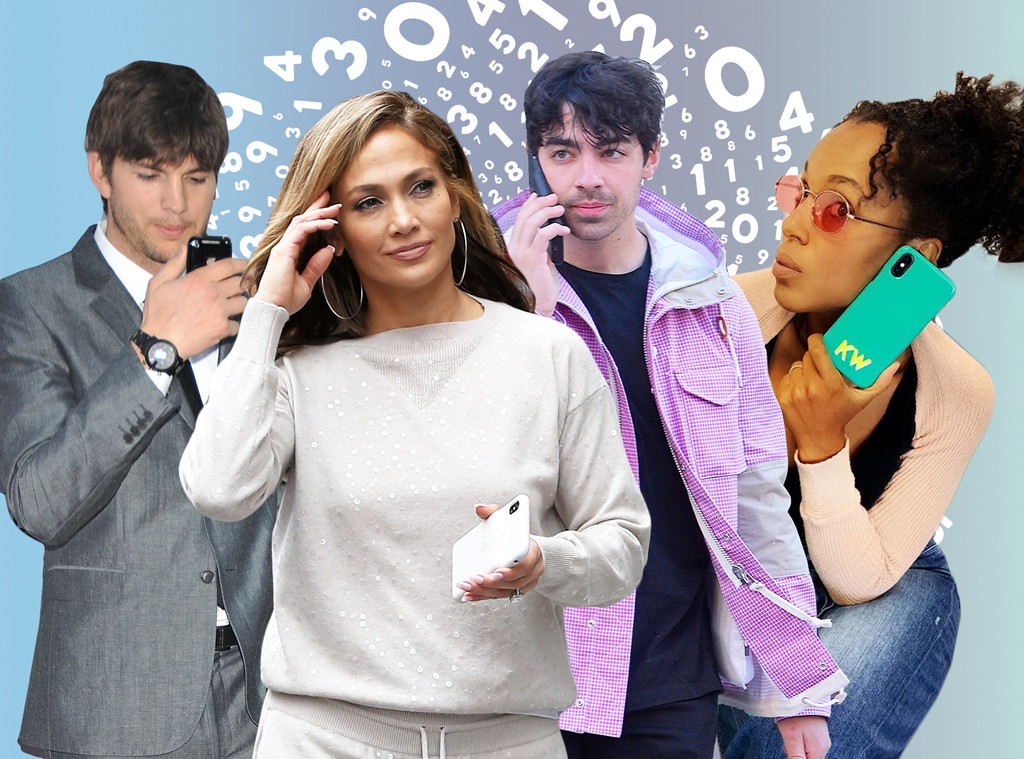 Getty Images; Splash News; Instagram/E! Illustration
It started with a simple tweet from Ashton Kutcher.
"I miss having a real connection w/real people," he wrote back in January on the social media platform. "My Community. From now on you can just text me. I won't be able to respond to everyone but at least we can be real w/ each other & I can share the unedited latest & greatest in my world." 
And then he did something that, for a celebrity with an 18 million person following, seemed truly unthinkable: He shared a working 10-digit phone number wherein one could actually text him.
(Oh, and about the curious capitalization in his tweet—well, it'll make perfect sense in just a minute.)
Kutcher may have been the first to offer his fans an allegedly direct line of communication, but as the year has progressed, he's far from the only one to enter into this brave new world. Celebrities as varied as Jennifer Lopez, the Jonas Brothers, Kerry Washington, Diddy, Mark Cuban, Lele Pons and Jake Paul have followed suit, asking their fans to text them.
But what happens once they do? And why the sudden proliferation of these public phone numbers?
If you've greeted each of these rare instances of private made public from the celebs who've gotten in on the fun with a healthy dose of skepticism, resolute in your belief that there's no way anyone so famous would willingly share their direct line with millions of people, congratulations. You were absolutely correct. 
A text to any of the phone numbers made available by the stars mentioned above generates some variation of an auto reply that encourages the fan to click a link and "sign up" so they can be added to the celeb's contacts. Once the link is clicked, you're taken to a website called Community.com, where you're asked to provide personal information such as your first and last name, date of birth, gender identity, location, and email address. In essence, you're joining a mailing list.
And if you try and call any of the numbers? All you'll get is a message recorded by your celeb of choice, requesting that you not leave a message and only text them. "I will read it, I will respond to it, and we can all feel seen and loved, hopefully," Washington's message promises, though the likelihood that you'll get a personal response every time you text seems, well, slim.
What you're more inclined to receive is targeted messaging from your celeb of choice, perhaps promo for their latest project or simply their random musings, all of it unencumbered by the increasingly restrictive algorithms of the traditional social media networks (Facebook, Twitter and Instagram) that make it hard to guarantee anything you release into their ether is actually ever seen by every last one of your followers.
As OneRepublic frontman Ryan Tedder, whose band is among one of around 300 celebrity acts using Community to connect with their fans through text messaging, told Billboard this month, over 20 percent of their audience at an August performance at Denver's Red Rock Amphitheater engaged immediately with the band once the venue's monitors displayed their personalized phone number, more than they'd ever received on social media. 
"Nobody else should have your fan's information other than you — the fact that Facebook owns all of it and we can't have access to it unless we want to pay exorbitant fees is ridiculous," he explained, adding, "When I'm trying to tell people in Philly or in Shanghai, 'Hey, we're in Shanghai and we're going to pop up at this record store, we're opening up the final thousand tickets that we've saved until today,' I can't do it [on social media]. People in Lima, Peru, are responding, and the Philippines, and Houston, and it just becomes white noise. If someone doesn't have that app open at that moment they're not getting that that post. If they're not trolling Twitter or if they're not currently on Instagram, they're not going to get that. [Community] cracks the code on that for me."
So just what is Community? 
According to the New York Times, it's a tech start-up that has raised $35 million to "help corporations, stars and other high-profile clients manage direct messaging with a mass audience" that began back in 2014 under the name Shimmur, founded by Matthew Peltier and Josh Rosenheck. Around the time Kutcher started sharing his phone number back in January, the company had received a new round of investment from the actor and his Sound Ventures investment partner, Hollywood talent manager Guy Oseary, whose longtime clients include Madonna and U2, and relaunched as Community.
As their very minimalist website reads, "Community is a fresh start for communication.‍ We understand the value of direct dialogue between you and who you care about. Community enables direct, meaningful conversations at scale. It's a new way for community leaders to talk to community members - via text. We don't advertise and we don't sell personal info.‍ Let's start over together."
And while no one's revealing just how many people have joined Community, or what the true nature of the relationship between Community and the stars who've come aboard thus far is, Peltier did tell Billboard earlier this year that, among those who have opted-in once their curiosity lead them to the website, the results are impressive. According to him, 98 percent of texts sent through the service are opened within three minutes, while 90 percent of those are opened within just three seconds.
And that makes sense. Who among us doesn't usually open a text almost immediately upon receiving it? But the bigger question is: What will the response be when those receiving the texts realize that they've just fallen prey to the latest form of spam messaging and the promise of two-way communication was a pretty empty one?
For a great many, we imagine it'll be: "New phone, who dis?"