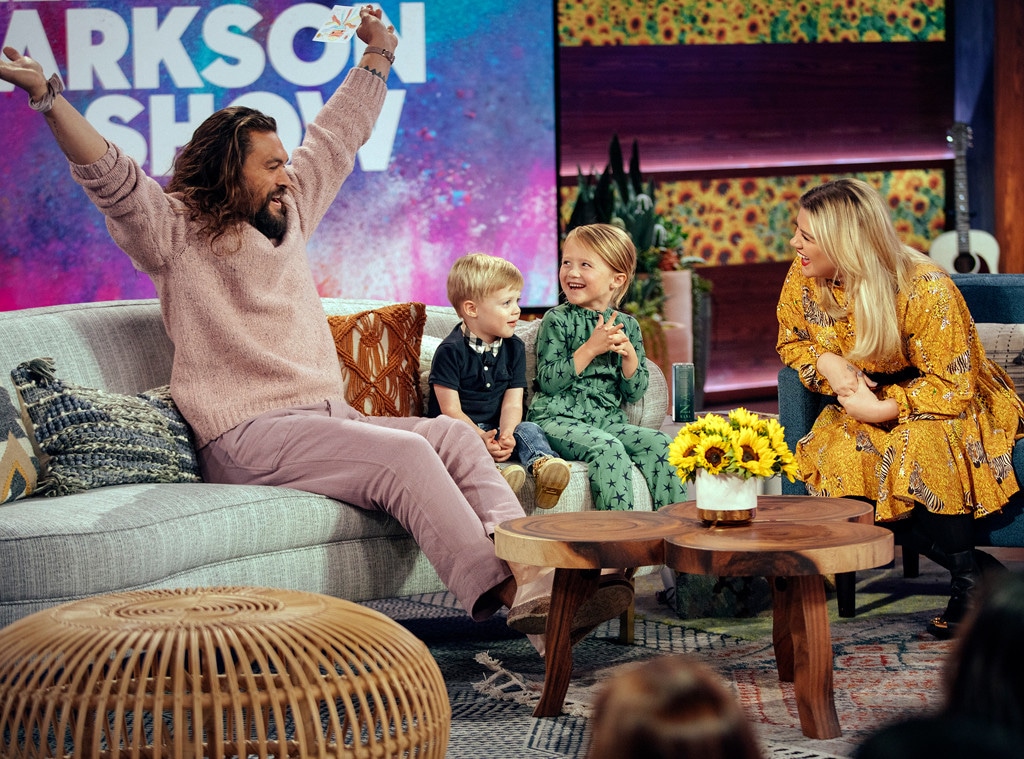 Weiss Eubanks/NBCUniversal
Wednesday was bring your kids to work day on The Kelly Clarkson Show, and oh boy, were Kelly Clarkson's kids in for a treat.
In the most adorable talk show interview you'll see this week, the singer's children River, 5, and Remington, 3, got the chance to meet their icon, Aquaman star Jason Momoa. And, knowing her kids adore the superhero, she asked the Game of Thrones alum if he would be game to have River and Remy asking him a few questions.
River went straight up to her favorite superhero and gave him a huge hug, whereas Remy, a little nervous, ran right into mom's arms. "Oh my God, he's gonna cry," the superstar quipped as she watched her son sit next to Jason. The little guy stayed quiet for most of the interview, allowing his big sister to take the lead with the questions, which were too cute.
"Do you know The Little Mermaid?" the tot asked with a little help from her mom. 
Naturally, Jason—who shares kids Lola, 12, and Nakoa-Wolf, 10, with wife Lisa Bonet—entered full-on dad mode. "Ariel?" he responded. "Yes, Ariel's very sweet. She's very nice."
Turning to Remy, the actor quipped, "She's also a redhead, so I'm gonna teach you about redheads someday." As the American Idol alum cracked up, Jason added, "They're very passionate. Very passionate people."
Somehow upping her cute factor, River then gifted the 40-year-old actor with a drawing of an octopus she made backstage. "Aw, thank you, baby!" he gushed to the 5-year-old. At this point, Remy's nerves had subsided a bit and he sat and gazed up at his hero with a sweet smile on his face.
Then came River's final question. "Where does Aquaman go to the bathroom?" she prompted, giggling as she finished. Spreading his arms out wide, Jason responded, "Everywhere!"
As for his own kids, Jason admitted that he's far from ready for his daughter to grow up. "No! No! No!" he screamed when Kelly asked if Lola had started dating. "Lola is a saint! She is gonna be a nun!"
It will, they both noted, be interesting when she does start, though. "I feel sorry, I mean, it's going to be fun when the boy does arrive," the star admitted. "You know what I mean?"
Of course, Kelly had a suggestion for him. "Just wear a lot of flannel and just grunt," she joked. "Don't say anything. Just grunt at him."
The Aquaman trident would also come in handy.
(E! and NBC are both part of NBCUniversal.)