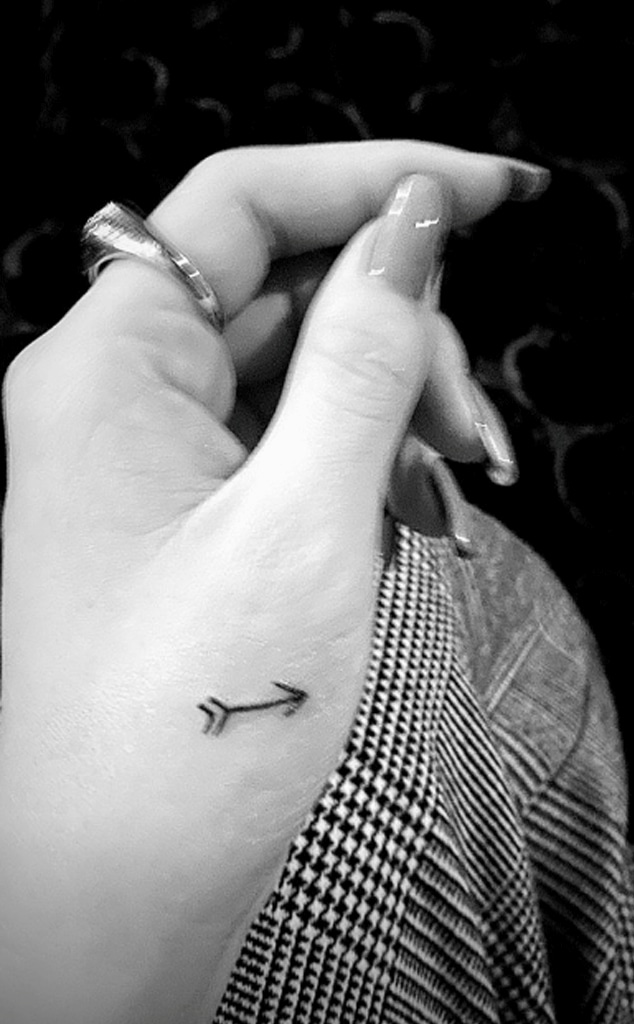 Instagram
Two words: BFF goals!
Selena Gomez is celebrating her bestie's birthday with a bang! The "Look at Her Now" singer and Julia Michaels took their friendship to the next level after they both got matching tattoos on Monday night.
Even though the "Issues" star's birthday isn't until Nov. 13, the gal pals decided to have fun a bit early.
"It's tatted.. my arrow points to you forever," Selena wrote on her Instagram Stories, alongside a candid photo of her and her BFF sharing a special moment at the tattoo parlor.
She also uploaded several behind-the-scenes snaps of her and Julia getting inked—they both got arrow-shaped designs on their lower thumbs.
Moreover, it appears the two superstars got their fresh ink done at The Black Lantern studio, according to artist London Reese. "Spent the last couple days celebrating the birth of one of my faves, miss @juliamichaels," he captioned his Instagram post. "Went to her show with @bradreis_tattoo and I tattooed Julia while my dude tattooed the ever so sweet @selenagomez."
Reese continued, "The vibes were the sickest and both these girls are as dope as you could hope for. Happy birthday, Feej! Love ya, kid!!"
In the last few days, the 27-year-old star has showered her BFF with love.
On Monday night, Selena made hearts explode when she surprised fans at the Fonda Theatre in Los Angeles. During Julia's concert, the "Lose You to Love Me" singer unexpectedly got up on stage to perform the second-to-last song of the night, according to an eyewitness. Michaels also reportedly told the crowd, "Let's see what Selena thinks about it," before bringing her out.
The dynamic duo performed their duet, "Anxiety," which they dropped earlier this year. "I'm kind of convinced these last few days aren't real. Thank you @selenagomez for the most epic headline show I've ever played," Michaels shared on Instagram. "I love you beyond words and I'm so happy we finally got to sing our baby together."
As if that weren't sweet enough, The Dead Don't Die actress played dress up for the 25-year-old star's early birthday party celebration.
The theme of the night was '90s prom, which meant guests got into the festive spirit and rocked spaghetti strap gowns with combat boots, messy buns with thin front bangs and frosty makeup—at least, that was SelGo's lewk for the event. Making the theme even more nostalgic, hanging string lights, sea-inspired backdrops and colorful streamers filled the room.
"My love, my heart and my soul," Selena captioned her Instagram, where she uploaded pics of the lavish bash.
So, how does one get initiated into Selena and Julia's BFF group? Asking for a friend...