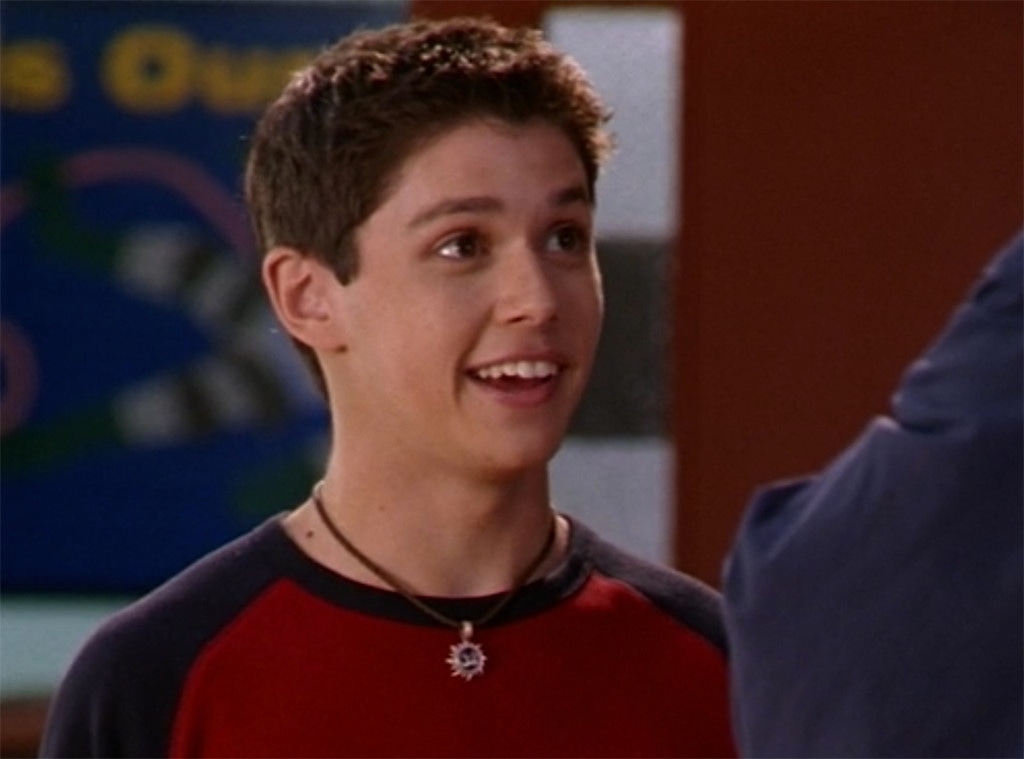 Disney Plus
Bless you, Disney+. Sure, we're excited about Star Wars and Marvel and all that, but the real joy we've found so far is in reliving the Disney Channel shows of our youth. 
We were especially thrilled to discover that Phil of the Future is now something we can watch anytime we want, which we were alerted to by the Instagram stories of star Raviv Ullman (originally credited as Ricky Ullman), who is now a photographer as well as an actor. 
"I know it's too early for this, but because I'm sitting in an airport and in honor of Phil streaming on Disney Plus starting today, I'll answer whatever questions you got," Ullman wrote. 
He then answered quite a few questions about the show, on which he starred as Phil, a teen whose family time traveled from 2121 and got stuck in the early 2000s. Aly Michalka starred as his best friend Keely. Craig Anton, Lise Simms, Amy Bruckner, Evan Peters, Kay Panabaker, and Brenda Song also starred. 
We've compiled the best questions and answers below, so join us in a little trip back to Phil of the Future. 
Q: "How did they do the 'Phil only has 4 toes' illusion on the show?
Ullman: "We had a great fx team that painted it out in post! Lots of time on set was spent doing lock off shots and green screen setups for all the effects. And I cut off my pinky toes bc I'm a committed actor." 
Q: "Would you ever do a sequel like how they're doing Lizzie [McGuire?]" 
Ullman: "Can't wait to see Lizzie btw, and I suppose I wouldn't be the one to put the breaks on it. I'd like Phil to come back and help save the planet from environmental ruin." 
Q: "Which gadgets or inventions from the show do you wish were real today?" 
Ullman: "You know I'd ride a skyak daily." 
(In case you've forgotten what a skyak is, it's sort of like an ATV you can ride in the sky.)
Q: "Why did they end the show when they did, and how do you feel about the way they ended it?" 
The show ended in 2006 after two seasons on a bit of a cliffhanger, which we won't spoil for you here if you fully forgot it and want to watch/rewatch the series. But Ullman had this to say when asked how he felt about the way it ended:
"Actors are rarely privy to network decisions, so I don't know why the final decision to end it was made, but I'm always down for a romantic cliffhanger." 
Q: "What does Phil + other 2121 citizens think of our current political climate?" 
Ullman: "Horrified, but a blip. Thanks to the tired work of activists, environmental lobbyists, and civil rights organizations the world gets back on track." 
Q: "What was the audition process like for Phil?" 
Ullman: "Auditioned in New York City and ended up flying to LA twice for callbacks. Met Kay Panabaker at my first network test, did a chemistry read with Craig Anton who made me laugh the entire time—I was worried I blew the whole thing." 
Q: "Have you spoken/seen Aly lately??" 
Ullman: "Super proud of Aly and AJ and the music they make, I'm such a fan," he said. "I tray and see their concerts whenever they come through town." 
Q: "Do you ever rewatch the show?
Ullman: "I think I've seen every episode once but I find watching myself horrifying."
Q: "One thing you and Phil both had in common?"
Ullman: "I think we're both optimists. Which means we're constantly disappointed but looking for the best in people all the same." 
Q: "Are you still in touch with Amy [Bruckner]? And where is she now?" 
Ullman: "Amy is a frickin LAWYER now, how amazing is that?" he said. "She's been studying her ass off for years, has gone to some of the top universities in the country. So cool." 
Q: "Do a sequel where Phil is sexually fluid and navigating dating post high school?" 
Ullman: "Ok but cavemen are off limit." 
(Sorry, Curtis the family caveman.) 
Q: "What boundary do [you] wish the show would have pushed?" 
Ullman: "I think what's actually lovely about Disney Channel is that the purpose isn't to push boundaries. It's to provide a comforting, safe, all inclusive space and they do that really well." 
Q: "Would you travel to the future if you got the chance? What year?" 
Ullman: "The day 45 leaves the White House." 
Q: "What was it like recording 'A Dream Is a Wish Your Heat Makes' for DC Circle of Stars?" (See above)
Ullman: "What was fun about working for Disney was all the interstitial work we got to do with the other casts. It really made it feel like a little community." 
Q: "Were you able to direct an episode of Phil of the Future?" 
Ullman: "I didn't but we had some great directors over there including Fred Savage, Savage Steve Holland—all the savages." 
For everyone else who'd also like to relive this show, we'd recommend starting with episode 10, "Future Tutor," which is actually the original pilot, followed by "Future Jock" and "You Say Toe-Mato," then go back to the episode that's actually listed as episode one. 
Happy time traveling!