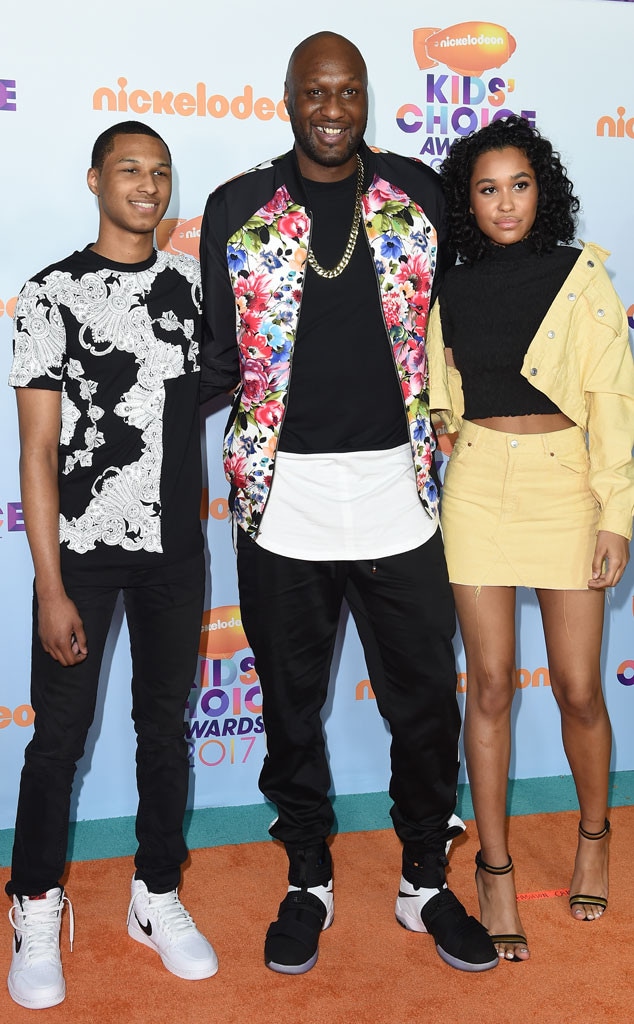 Axelle/Bauer-Griffin/FilmMagic
It be your own family, sometimes.
Congrats were in order for Lamar Odom, after he shared the special news that he was engaged to Sabrina Parr. 
"Introducing my new fiancé," he announced on Instagram on Monday night, alongside a photo of him posing with his future wife. "Soon to be Mrs. Parr-Odom. She the ONE!!!!"
The health and life coach also took to her Instagram to proudly show off her massive diamond ring. ""I SAID YES!!!!!," she shared.
While many of his famous friends and loved ones congratulated him on his engagement, the 40-year-old star's teenage son admitted that he was "hurt and caught off guard" by the news.
It turns out, Lamar Morales-Odom Jr. found out about his dad's engagement via Instagram. "Last night I was emotional seeing my father got engaged through social media," 17-year-old expressed on Tuesday, alongside a throwback photo of him and his sister, Destiny Morales-Odom, with their dad. "I was hurt and caught off guard."
Despite feeling blindsided by his father, Morales-Odom Jr. closed his statement on a positive note. "At the end of the day, I am a teenager, that is becoming a young man," he wrote. "I have to be responsible for what I post, I have nothing but love for my dad and want what's best for him."
According to The Shade Room, before the 17-year-old shared his post on Instagram, he aired out his frustrations with his father in a now-deleted comment, which the outlet screenshot.
"Not a txt or phone call to see how people who've known this dude his whole life to see how we would feel or react," Morales-Odom Jr. allegedly wrote under his father's engagement post.
He added, "Knew shawty for 4 months and already got you twisted, fam n friends already don't approve of homegirl but she already got your ass ina sunken place. Shame family gotta find out on social media but that's been how life been all the time as a son of an odom."
Destiny has yet to comment on her dad's engagement.
According to a source, the Darkness to Light author kept his engagement private and only shared the special moment with NeNe Leakes and her husband, Gregg Leakes.
"Lamar, Sabrina, Nene Leakes and her husband are currently celebrating the engagement at Prime 112 in Miami," the insider previously told E! News. "The group enjoyed dinner and desert and a champagne toast is going to happen shortly."
Of the magical moment, Parr shared a brief behind-the-scenes clip on Instagram Stories, but other than that, the two lovebirds are keeping their intimate proposal to themselves.
The 40-year-old athlete and his soon-to-be-bride are taking the next step in their relationship nearly three months after they sparked romance rumors. Back in August, the same month they fueled dating rumors, the pair made their romance Instagram official.
But from the looks of their relationship, it looks like they have an unbreakable bond.
"The look on @getuptoparr face is how she makes me feel [every day]," Lamar wrote about his boo on Instagram in October. "Outside of my daughter, this is the most serious and committed relationship I've ever been in with a woman."
This marks the basketball legend's second marriage. He was previously married to Khloe Kardashian in 2009, but they finalized their divorce in 2016. The two remain on good terms, and a source recently told E! News that she's "happy" for her ex-husband.
"Khloe wants Lamar to be happy. She has always had hope that he would find his way and live a long and healthy life," a source revealed. "She's happy for him if he has found happiness again. The chapter of her life that she shared with Lamar is closed and she has moved on. She harbors no ill will or jealousy."
"She wishes him nothing but the best," the insider added.
Lamar shares his kids with his ex Liza Morales.