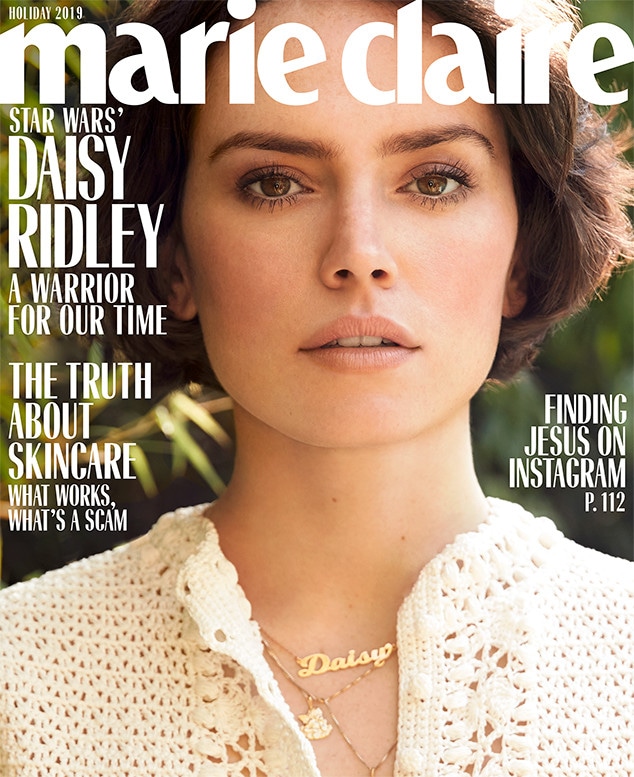 Nicole Nodland/Marie Claire
In a galaxy far, far away, Daisy Ridley will dish all the details on her personal life. But, on here on Earth, we'll have to settle for a little less.
Back in June, the Star Wars actress sparked rumors she was engaged to Tom Bateman after she was spotted rocking a diamond ring on that finger. (The notoriously private duo reportedly first met while filming 2017's Murder on the Orient Express.) And now, she's responding to those rumors. 
"The thing is, I've never talked about my personal life," she admitted during her Marie Claire cover interview . "So I won't talk about it now. I'm so aware of how much information about my life is out there, so if there's one thing I don't want to talk about…"
And, in case you were wondering, yes, she's still wearing that eyebrow-raising bling. "It's a really nice ring that I wear," she admitted. "It's the first time I've publicly been asked this one."
Though tight-lipped on her romance, the 27-year-old seems more than happy to tease next month's Star Wars: The Rise of Skywalker. 
"The third one for me was the best," Ridley, who plays heroine Rey, told the magazine. "It's a big film for everyone. I did all of the emotions: I did frowns, I did smiles, it was the sort of biggest breadth and I think that's also why I had such a good time because I got to do so much s*%t—like, physically, emotionally—and I got to work with so many people."
The seven-month shoot was undoubtedly taxing. But, thankfully, for this round, the lightsabers weighed significantly less, giving her arms a much-needed break. 
"If they had been heavier, I don't think we would have been able to do it," she admitted. "It's just really epic!"
Star Wars: Rise of Skywalker hits theaters on December 20.