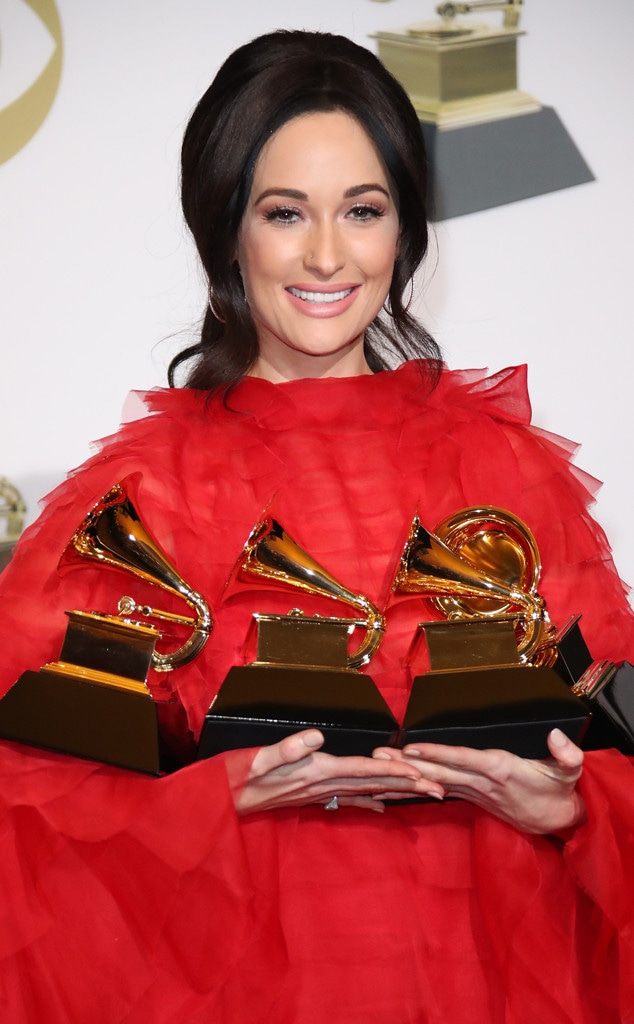 Dan MacMedan/Getty Images
2019 was a huge year in the life of Kacey Musgraves. These past 12 months saw her win four Grammy awards, complete a worldwide tour and beat out four other men for Album of the Year at the ACM Awards, not to mention snag a coveted invite to the Met Gala.
On the surface, it would seem like she has it all going for her. After all, she's an award-winning country musician playing at sold-out stadiums across the globe.
However, all that success hasn't exactly translated on the radio. Since releasing Golden Hour and Same Trailer, Different Park, Kacey's found herself with little to no air-time on country music radio stations. 
Some speculate that her retro, electric tunes are too foreign for country radio, while others think her music is too downtempo for the average listener. But to Kacey, it's pretty obvious why she isn't getting the same treatment as her male counterparts: she isn't willing to play into the radio stations' games.
"Grammys, critical acclaim, even the quality of the music—nothing matters except how much radio play you're getting," Musgraves previously told Vanity Fair. "No one's specifically said, 'You've got to sit on this guy's lap'—I probably would slap them in their face if they told me that. It's more like implied expectations. A program director got really mad at me because I wasn't paying enough attention to him, so he canceled a radio dinner I was supposed to have. I mean... can we just talk about the music?"
Watch:
Kacey Musgraves Is Life-Size Barbie at Her Met Gala Debut
If that didn't make the double-standards abundantly clear, she added in another interview, "One thing I've experienced as a woman on this path… is I can be meeting the same radio station people or people in the industry as a male artist but there's an extra pressure on me to be accommodating or nice."
It doesn't help that as it is, country music already seems to be a male-dominated field—one that has made little progress in balancing the playing field. Yes, there are the country darlings like Carrie Underwood and Maren Morris, but these women continue to be outnumbered by the Luke Bryans and Keith Urbans of the world.
Plus, men like radio consultant Keith Hill continue to spread the idea that women don't sell as many records as their cowboy counterparts. Or, as Hill explained it, "I play great female records, and we've got some right now; they're just not the lettuce in our salad. The lettuce is Luke Bryan and Blake Shelton, Keith Urban and artists like that. The tomatoes of our salad are the females."
Salad comparisons aside, there was hope that her Grammy wins would translate into more recognition at radio stations. Even her record label announced that after her victorious night, they decided to send the emotion-filled "Rainbow" to various radio stations across the country. But, as some would pessimistically expect, this did little to help her standing on the charts. 
"t's frustrating for me, because when I turned this album in, I made it very apparent that radio was very important to me, kind of more than ever with this record, and that I was willing to work as hard as I could in that lane to see it grow there. Because I think that it sounds like songs that you could hear on the radio. And I don't think that radio did have a fair chance to be included in this album, especially at the beginning with the singles," she told Variety this August. "All I know is that I did really, really believe in this as a radio album, even though I didn't create it to be one."
But, as one can surmise from her hopeful lyrics, Kacey isn't the type to let country radio's perception of her impact her music. If anything, she's more determined than ever to follow her arrow. Because at the end of the day, writing songs she describes as "traditionalism meets modern," is what won her four Grammys, so why stop now?
She told the HuffPost, "I think there's fear in creative risk. But you don't get far by not risking anything creatively... I love country music, I love the fans and I love my fans. But I'm not scared of 'em. I'm going to do what I'm going to do."