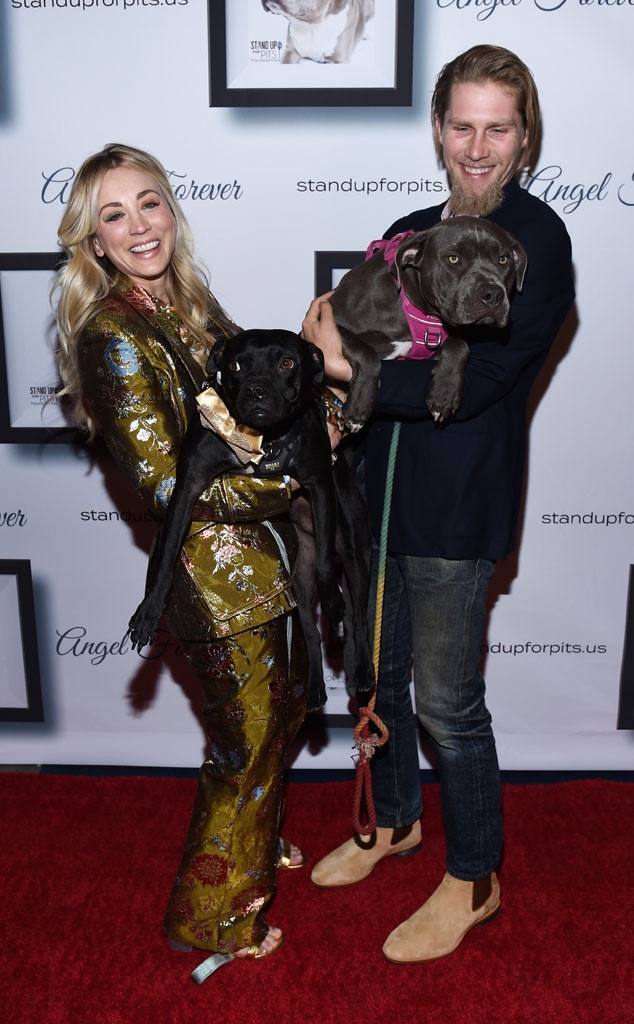 Amanda Edwards/Getty Images
Kaley Cuoco is so excited and she cannot hide it!
As The Big Bang Theory star continues working on her "dream barn" with husband Karl Cook, the actress is sitting down with BFF Brad Goreski for his brand-new podcast.
That's right, everyone's favorite celebrity stylist is launching a brand-new podcast called Brad Behavior. And in an exclusive sneak peek at the debut episode, Brad and Kaley open up about dreams, careers and love.
When discussing her husband, Kaley is quick to describe him as the "perfect match." One of the reasons is because of their mutual love for animals.
"I have the best relationship with Karl. We are so happy and yes, but yes we have separate lives and then our lives come together and he's so supportive of me," she shared in the show, which joins the popular Ladygang Network on PodcastOne. "He lets me be me and I let him be him."
Kaley continued, "We decided early on…I've moved in with guys before. I didn't want to do it right away and he was like great. So we've kind of been in separate places but as people see, we're together all the time. But we've had separate locations and whether that's helped us mentally or not, I've obviously never been in a better relationship and I want this to last the rest of my life so in a way, we're actually taking it slow. We've been together for almost four years. We've not lived together. We are building our house. We will be under the same roof eventually but this has worked for us."
In between their busy careers, the couple is building their "dream barn" that will be so much more than a safe place for animals.
"My biggest dream was to actually build a mini barn—it's a direct replica of our large barn—because Karl and I have taken in so many mini animals, which is hilarious so we're building a mini barn and it's literally going to be miniature size," she shared. "My vision is I would love to start a non-profit for these little guys and have school field trips. It's going to be built for kids. It's literally built for the height of kids. It will be like a little rescue petting zoo. That is my true little dream."
In Brad's new podcast, listeners can count on the TV personality to bring his charm, wit and fun to the audience. Each week, guests will also contemplate and celebrate fashion, pop-culture and life's random surprises.
"I am so happy to share Brad Behavior with everyone," Brad said in a statement. "There's going to be lots of laughs, lots of fashion and lots of great conversations! It's gonna be fun!"
To hear the first full episode including Kaley's thoughts on having children, listen to the full podcast on PodcastOne and Apple Podcasts.