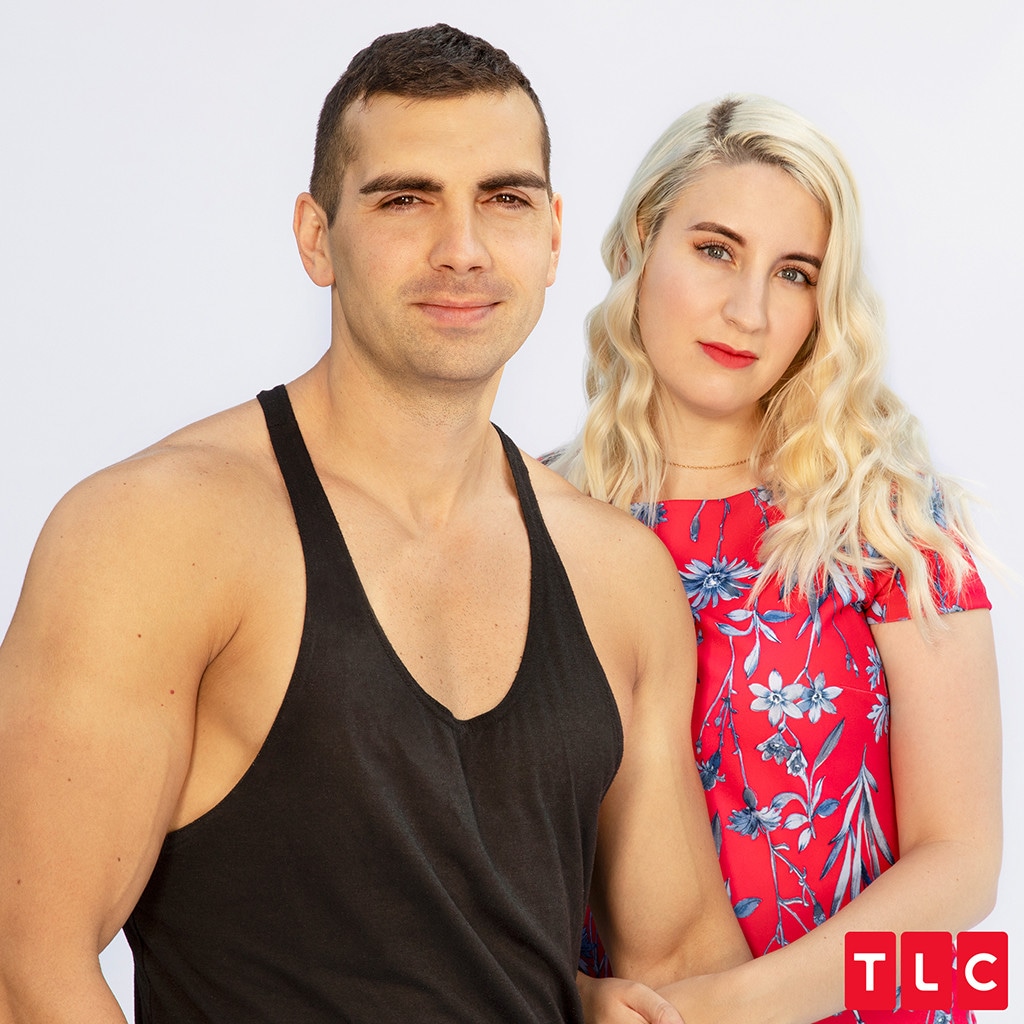 TLC
The race is on for the couples at the center of 90 Day Fiancé season seven. With three of the foreigners already in the US, and the others making their way, the march down the aisle is in view…for some.
Over in Russia, a very pregnant Emily met her fiancé's first wife, Masha, for the first time. As Emily and Sasha explained, Sasha was married at 22 and had a baby with Masha, but the marriage was "just doomed to fail."
Then he met his second wife, and it was all great, until "things changed." Sasha said he started his job as a trainer and he became more muscular. But he said his second ex-wife, who didn't sign a waiver to be on the show, wasn't a fan of his physique change. "She said, 'I don't like you. It's not what I wanted,'" he said. And that's when he met Emily. Well, he met Emily before the divorce. Now she's poised to be the third Mrs. Sasha and his third baby mama.
During the dinner with Masha, things were tense. Emily and Sasha wanted Masha to allow her son with Sasha to visit them in the United States when they move there. Masha wasn't sold on the idea. She also wasn't sold on the idea that this will be Sasha's happily ever after, because she said they got divorced when he met his second wife and got her knocked up. There's a pattern, will Emily break it?
Meanwhile…
Tania and Syngin
Despite traffic, Tania got to the airport for Syngin's big arrival. She wasn't going to let anything mess it up, including the maintenance worker who wanted to clean up the flowers she had put down for his big arrival.
Once finally reunited, and the traffic breakdown subsided, the two made their way back to the hotel where he only wanted to shower and have "sexy time." But Tania and her friends had other ideas, and after a two-hour rest, they were off to the streets of New York City. In Times Square, Tania surprised Syngin with a banner thanking him for traveling across the world to be with her.
Michael and Juliana
Before Michael made his way to Brazil, he had a necklace made for Juliana. But while he was there, he got a call from her about her—well, his—credit cards. It seems she made an impulse purchase on his card: a new car. Michael said it was an unusual act, one that was completely unexpected, but didn't really seem fazed be it at all.
How much has he spent on her, producers asked. Was it $100,000? More than $150,000? "I don't want to comment," Michael said.
Once the credit cards were straightened out, Michael made his way to Brazil for Juliana's K-1 visa application. Since her first two tourist visas were denied, Michael and Juliana were nervous, they said. Why were they denied? According to Michael, it's because she has a lot of stamps in her passport because of the modeling and travels they've taken together. Officials see she's from a poor part of Brazil and doing all this traveling and they assume something else.
"The interview was bad. They insult me. They just asked stupid questions. They asked me if I had been working as a prostitute in the last 10 years," Juliana said about her K-1 visa interview. Officials questioned whether Juliana was working as an escort when she met Michael. They both denied it. But now they wait.
Should Juliana make it to the US (she does), life will be different from the jet-setting romance they've had so far. Michael is very close with his ex-wife, which is something he said he's been open about with Juliana. Now, he fears she'll get denied because there's something lurking in her past…
Anna and Mursel
The beekeeper lovers made their way from the airport hotel to Anna's home where Mursel's first meeting with Anna's three kids was as awkward as you'd expect. The language barrier is a big hurdle, as is Mursel's disdain for the pizza and farmland of Nebraska.
"I don't have a lot of excitement in me. I miss Turkey," Mursel said about looking at all the flat land.
After settling in, Anna took Mursel to meet her mother. It's safe to say Anna's mother wanted to push some buttons. She tried to get Anna to order a beer, knowing Mursel doesn't want Anna to drink, and she brought up the fact that Mursel wants to keep Anna's children a secret from his family. Anna's mother also said she was concerned Mursel will stone Anna, as she's read they do in Turkey, and questioned whether Mursel would really give up his family for Anna in America.
Robert and Anny
Despite his pal raising his concerns about Anny's motives, Robert welcomed his bride-to-be to the United States. But upon arrival Anny was dismayed to see she'd be sharing a bed with Robert and his son Bryson.
"I want a lot of sex tonight," she said. However, Anny said she wants to be a good mother to Bryson, so there's that.
90 Day Fiancé airs Sundays, 8 p.m. on TLC.