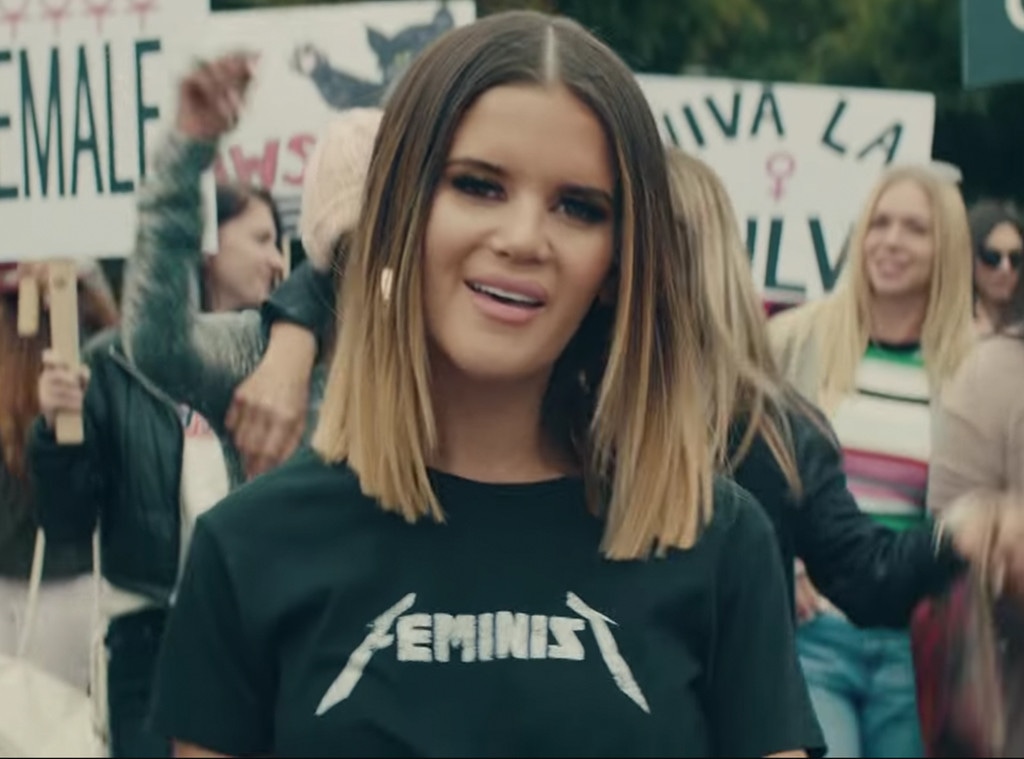 YouTube
It's almost time for the CMA Awards, and Maren Morris has several reasons to celebrate.
The 29-year-old singer heads into the night with the most nominations. She's a contender in six categories, including Single of the Year, Song of the Year and Music Video of the Year for her hit "GIRL." 
Of course, this should come as no surprise to her fans. The tune peaked at no. 44 on the Billboard Hot 100 chart back in August and at no. 5 on the Country Streaming Songs chart back in March. The corresponding music video also has more than nine million views on YouTube.
The track is the first song on Morris' album GIRL, which is also up for Album of the Year.
Even though the song has been played countless times on the radio and via streaming services, there are still a few fun facts fans might not know about the tune. For some examples, read on below.
1. She Saved the Best for Last: Even though "GIRL" is the first song on the sophomore album, it was actually the last song Morris wrote that made the cut. The artist revealed this fun fact during a YouTube video in July 2019.
2. She's Talking to Herself in the Song: The song was initially inspired by a "tiff" Morris had with a friend in the industry.
"I don't know if it's, like, each other or society that makes us competitive with each other, but I started this song as almost, like, a plea to this other woman. Like, 'Can we please just get our s--together and be cool?'" she told Genius in January. "Like an hour into the write, I was writing with Sarah Aarons [who also co-wrote "The Middle"] and Greg Kurstin for this song, I had this realization that, like, 'No, I'm not writing this to her, I'm writing this to me.' That sucked realizing that because it was honestly me looking in the mirror and being like, 'No, this is all your s--t. It's not hers. It's, like, your insecurity, your bulls--t."
At the beginning of the song, for instance, she sang, "Man, this s--t's unflatterin'/All up in my head again/I don't feel myself right now/Maybe I should just lay down."
"I was just talking freely about how ugly I was being," she continued. "You know, you get so in your head. Like, if someone wins something, it's taking something away from you, which is just complete and utter bulls--t. I just really hated the way that I was reacting to things that other people were succeeding at. It really just was unflattering and, it's like, owning up to that is such a powerful thing once you realize it."
3. She Switches Perspectives in the Chorus: While she initially sang from a first-person perspective, this changed in the chorus.
"I love the fact that this song really switches point of view quite a bit. That's sort of how we talk to ourselves is 'I, I, I' and then it's like, 'You get it together,'" she told Genius. "So, the chorus was, like, a tough-love older sister, older brother person telling you, 'Yeah, you need to get it straight and just get it over it for now and we're going to move on.'" 
She also told the outlet she switched perspectives again in the pre-chorus later on, which symbolized her "stepping in and out of the mirror."
4. The Music Video Director Also Directed Ariana Grande's "God Is a Woman": During a YouTube Q&A with CMT's Leslie Fram, Morris said she met director Dave Meyer during the shoot for "The Middle." She was then "taken aback at the imagery evoked" in "God Is a Woman" and "heavily inspired" by "his respect to the history of women and what we've gone through and the struggle." 
"I just thought, like, he was going to understand it," she said.
5. The Music Video Had a Lot of Changes: According to Morris, Meyer started writing the treatment for "GIRL" about six months before it debuted.
"It was, like, a labor of love, for sure," Morris said during the aforementioned Q&A, "and definitely the most changes a video has ever had, for me."
One of the things Morris loved most about the video was that she was "not the star of the show." In fact, she told Fram there were more than 65 women in the video and that it was "probably one of my proudest works to date."
The 2019 CMA Awards will be broadcast live from the Bridgestone Arena in Nashville on Wednesday, Nov. 13 starting at 8:00 p.m. EST on ABC.