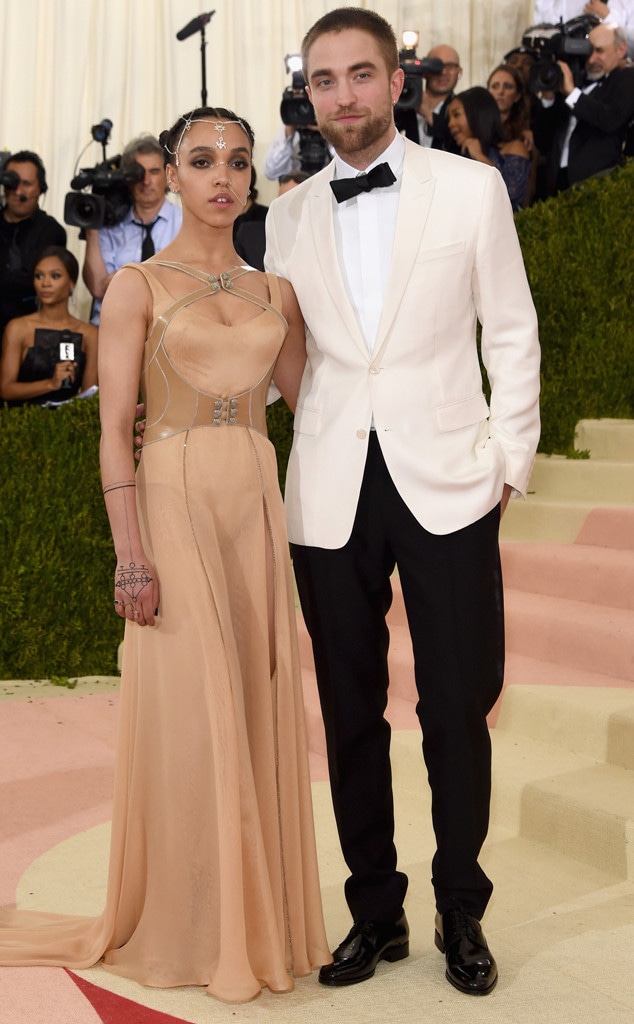 Jamie McCarthy/FilmMagic
FKA Twigs is opening up about the inspiration behind her new music.
On Friday, the singer-songwriter dropped her second studio album, Magdalene, which is rumored to reference her relationship with Robert Pattinson. As fans will remember, the celebs dated for three years before calling it quits in 2017. Now, along with the release of her new album, Twigs (née Tahliah Debrett Barnett) is sitting down with Zane Lowe for his New Music Daily on Apple Music's Beats 1 to discuss her new songs, her past relationships, health battles, and more.
"I feel grateful that I'm able to put my experiences and put my hardships into work. [The start of the album process was] Pretty out of control. Yeah, it was pretty out of control," Twigs told Lowe in the interview, released on Friday. "People say like, Oh, bad things come in threes. And you're like okay that's one bad thing. And then it's another bad thing. And then your friend will be like, yeah, but this is like a third bad thing...And then the three months goes by and then you're like, OK this is an extension of them all? Or are we starting again? Kind of like that."
"And then you're on five and you're like, Oh I see. This is just the new set of three," she continued. "It did feel like that, which is fine. That's totally OK. And I'm grateful for all the experiences I've had. I'm grateful that I had to face a lot of things alone."
Twigs, who was also spotted spending time with actor Shia LaBeouf in 2018, also talked to Lowe about writing from an honest place about her life experiences, including heartbreak.
"It was scary because I think I'd never written from, well I've always written from a really honest place, but an honest place at 22 or 23 with your life experience is different to an honest place," Twigs, now 31, said. "Then years on when you've experienced responsibility and heartbreak and a kind of glimpse of real adulthood...It became not easier in process, but just kind of like easier in the acceptance of myself to be able to put that on the table."
David Fisher/Shutterstock
"And I think obviously like showing people your heart when it's raw, it is vulnerable," she explained. "It's one thing showing people your heart when you're feeling sexy and sassy and you're 22, 23 running around New York like miss thing. Do you know what I mean? Like, Oh, I'm so sexy and so vulnerable at the same time. I'm discovering my sexuality, that's hot, know what I mean? But then it's another thing where like, Oh, I'm like, I'm broken now. It felt different, but I didn't give myself a hard time whenever I was into it."
The artist went on to discuss the idea of "unmeshing" with a significant other after being together for a long time, as she did with Pattinson.
"Unmeshing, like when you're with somebody, your lives become very entwined with like your friends and family and your routine," Twigs said. "And then the unmeshing is you're then by yourself and then it's finding your own morning routine, or your nighttime routine. Even something as simple as like, wow, now I can decorate the living room how I want it."
"I had to really find out who I, but I've always known who I am. I have always really known who I am, but it's just kind of discovering like who I was in adult crisis was like a big thing," she shared. "I mean I remember even when I had my operation waking up and like my family had gone home, my friends had gone home and just kind of having no one to call, not because like nobody loves you or not because there is truly no one to call. But just because, why?"
"Say like if you're in a relationship, something good happens and you have someone you can call and just say something silly or something bad happens, you can just call and just say something like minor," Twigs went on to tell Lowe. "And it doesn't have to be like a big deal. You couldn't just share, but then having that gone. So I remember waking up and it was just nobody. I didn't want to like call my mom and stress her out or anything. She'd just come back. I didn't want a thing to happen, like something's wrong, but just like waking up and just being like, Oh, this is just me."
Twigs added that being on her own is "also great."
"I have a dog and we hang, and I feel like I've never known myself better," she shared. "I've never felt younger. I feel like I have like a little child inside me that's like alive."