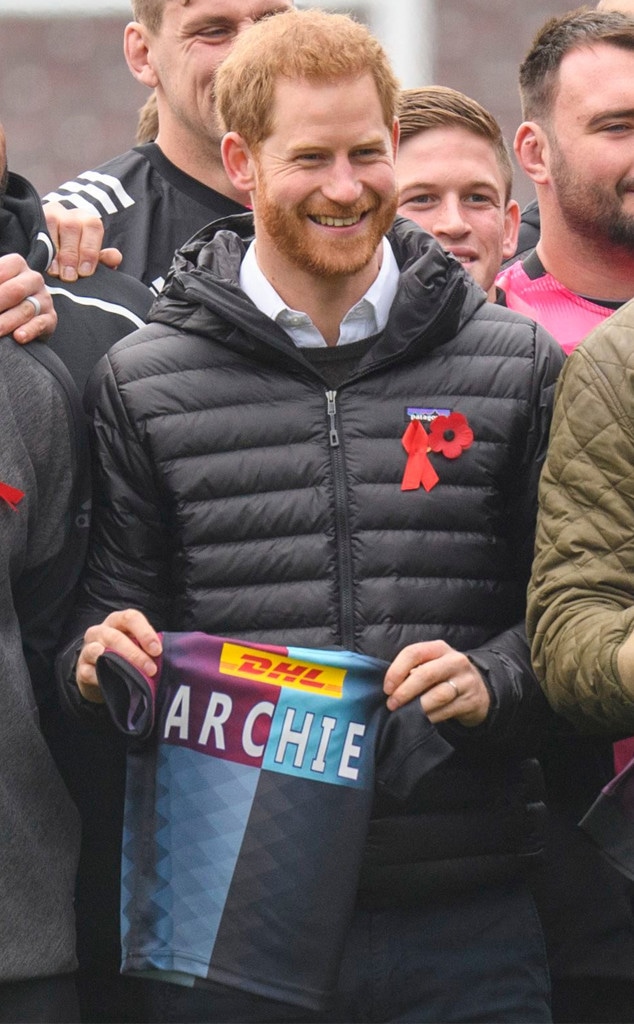 Tim Rooke/Shutterstock
Archie Harrison is only 6-months old; however, it looks like he's already a sports fan.
Prince Harry received a Harlequin rugby jersey and matching shorts for his son during a Terrence Higgins Trust event in London on Friday.
The event was held at Twickenham Stoop Stadium ahead of National HIV Testing Week. The Duke of Sussex was joined by members of the Harlequin team, as well as by Gareth Thomas.
The former Wales captain shared he is living with HIV back in September. According to the BBC, Thomas claimed a journalist talked to his parents about his HIV status before he did. When asked if he would have spoken publicly about his diagnosis had the press not gotten involved, Thomas said "absolutely not." However, he is now trying to put an end to HIV stigmas.
"Going public with living with HIV has been very empowering and I want to help others to show them they don't need to live in fear and live in shame, because you can still live with HIV and be healthy and live a normal life," he said.
After Thomas shared his diagnosis, Harry and Prince William took to social media to show their support. 
"Courageous as ever—legend on the pitch and legend off it," the Duke of Cambridge tweeted in September. "You have our support Gareth. W."
"Gareth, you are an absolute legend!" Harry wrote on Instagram. "In sharing your story of being HIV+, you are saving lives and shattering stigma, by showing you can be strong and resilient while living with HIV. We should all be appalled by the way you were forced to speak your truth, it is yours and yours alone to share on your terms and I and millions stand with you." 
Harry has been working to erase HIV stigmas for years. He's publicly gotten tested a number of times, including with Rihanna in 2016. His mother, Princess Diana, also worked to educate the public on HIV during her lifetime.
On Friday, Thomas, who was recently named a member of the Trust's HIV Commission, said "the support from the royals has been magnificent."
"And it's not just for me," he said, "it's to show that we accept people living with HIV and that carries an enormous weight."