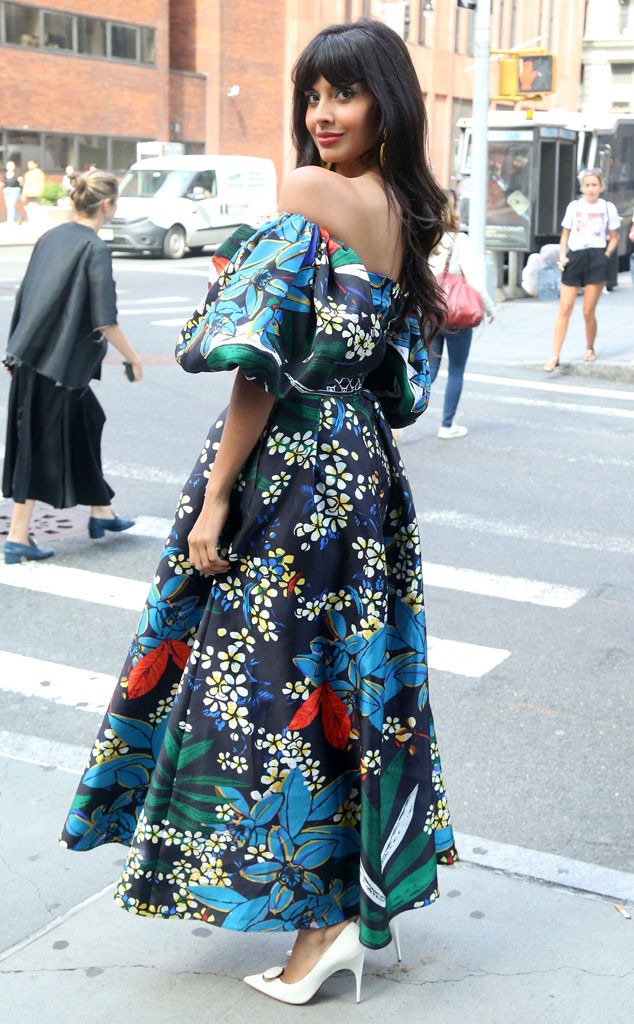 Broadimage/Shutterstock
For Jameela Jamil, a life-threatening event was a life-saving one, too. 
Last month, the Good Place actress made headlines after sparring with model Sara Sampaio on Twitter over the industry they both have been a part of. At the time of the back-and-forth, the two could not see eye to eye, with Jamil arguing that the industry perpetuates unrealistic standards of beauty and causes young models to use dangerous tactics to control their weight and fit sample sizes while Sampaio maintained that the star was attacking and offending models and generalizing about their behavior. 
"She misunderstood my messaging. She thought I was attacking girls, whereas I was very clearly attacking the industry," Jamil explained to Cosmopolitan. "She got quite defensive and, because she had a large platform, her words could very easily misinform a lot of people. Therefore, I stuck to my guns and made very clear to her why what she was doing is problematic."
As the actress explained to the magazine, she experienced the dangers of the industry firsthand as a teenage model with an eating disorder. 
"I was encouraged to smoke by agents and peers. I was encouraged to only eat red peppers or take a small bag of sweetener around with me so that whenever I felt like I was gonna faint, I would just have a little bit of sugar rather than eat any full meals," she described to Cosmo, also recalling instances where she was weighed in front of other people and a photographer announcing to the room "that I'm too fat for the clothing and would have to hold the dress against myself."
Then, at 17 years old, she was hit by a car and her back was "destroyed." "I was in bed for about a year and in a wheelchair for about six months after that," she explained to the magazine which resulting in her gaining roughly 70 pounds on steroids. "I was 'too big' for modeling," she said. 
Watch:
Jameela Jamil Talks Lizzo, Camila Cabello & Social Justice
Fortunately, there was a silver lining in the taxing accident. "I also developed a sense of purpose to protect my body after that and stop starving myself. I still had an eating disorder mentality, but I stopped actively starving myself once I got better because I realized that my body was fragile and I was taking it for granted," she explained.
As Jamil said of the experience, "Very intense, but it saved my life."