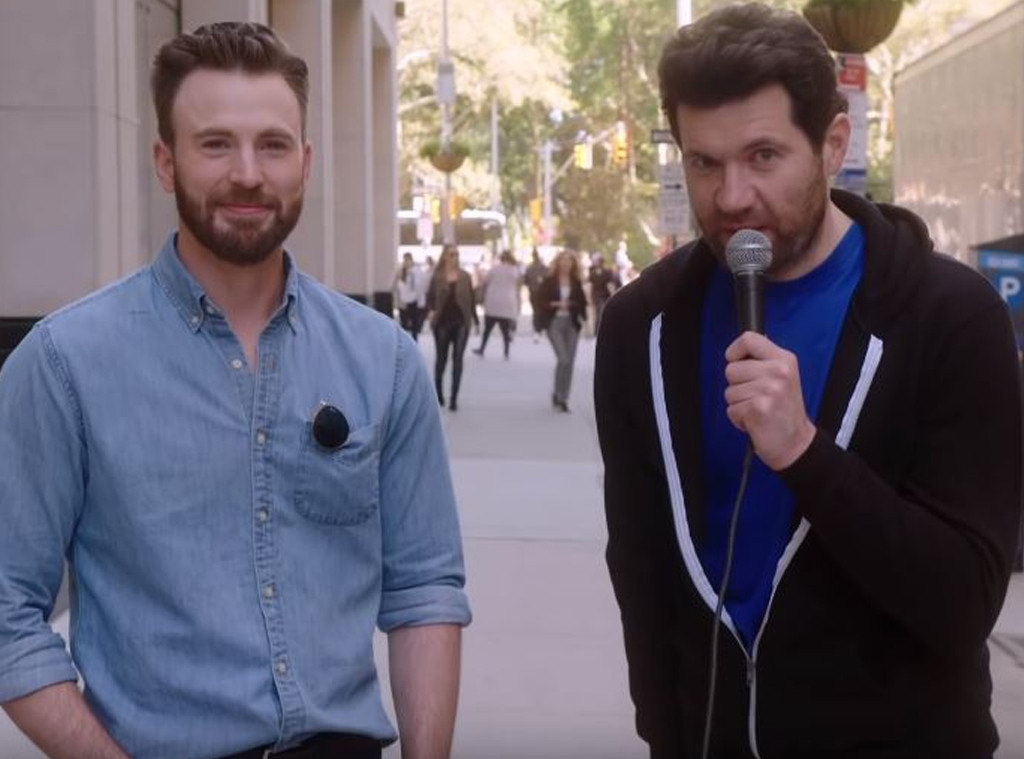 YouTube
Billy Eichner is back and louder than ever.
In a new episode of his hilarious Billy On The Street series, the comedian took to the streets of Manhattan with Chris Evans to ask random questions to, well, random people. Eichner was a giant ball of energy as he spread the word that his 15-year-old show is now officially on Netflix, and of course, he also took some time to promote Evans' newest flick, Knives Out.
For his part, Evans mostly just stood by and smiled as the hilarious host had them jump from one stranger to the next. Even without saying a word, the Avengers star was still the main attraction, naturally.
"I'm on Netflix now," Eichner shouted at one passerby. "That's what we're here to talk about." To which the man responded with the ultimate comeback: "Okay, will you still be on Netflix when ABC/Disney has their streaming service?"
But nothing phases the Parks & Recreation alum! "Give me 100 bucks," he whispered. "I'll take these episodes to Disney+ right now, do you understand me? I have no allegiance!"
And then, within the blink of an eye, the Avengers assembled! Yes, Paul Rudd made a surprising cameo.
After the Ant-Man and Captain America superstars shared a wholesome hug, the trio continued about their mission on the streets of NYC. 
"Miss, for a dollar," the host prompted a shocked woman. "Who would you rather have sex with: Chris Evans or Paul Rudd?" A big Clueless fan, the woman sided with Rudd. To her surprise, he popped out and delivered up an iconic line, "As if."
Now, grab your shields and watch the entire clip to find out which viral Avengers meme Eichner had Evans recreate.