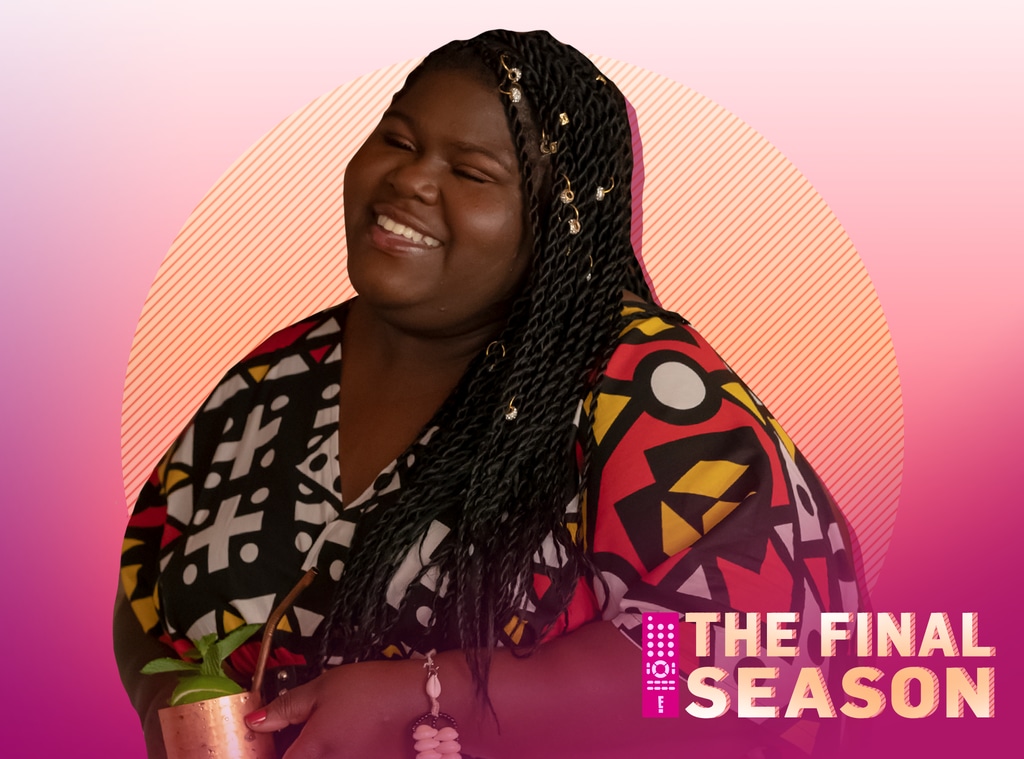 Chuck Hodes/FOX; E!
All good things must come to an end, even—and especially—television shows. And in the 2019-2020 TV season, quite a few favorites are signing off.
Will it be for good? That remains to be seen in today's climate of revival and reboot fever, but it's for now. To celebrate the end of an era, E! News assembled the stars who are saying "see you later!" to their beloved characters and for a candid look at the past, present and future of their hit shows. This week, Oscar nominee Gabourey Sidibe, who has spent six seasons keeping the business running on Empire as Becky, is in The Final Season spotlight. Originally Lucious' executive assistant, Becky rose through the ranks at Empire and became the head of A&R in season four.
In the sixth and final season, in addition to acting, Sidibe stepped behind the scenes to direct one of the show's last episodes.
Read on for her favorite memories about playing Becky and directing the series that's been her home for the last six years.
My favorite behind-the-scenes memory is…
"Recently, while directing episode [seven of season six], I had to go see the rehearsal for a Tiana [Serayah] performance that I came up with the concept for, African dances, with dancers of all shapes, and sizes and nationalities. And right when I wasn't expecting to, I cried the entire rehearsal. REALLY cried too! Not a cute cry but a "What's wrong with her?" kind of cry. I cried because I'm African. Senegalese to be exact, and after three decades of not seeing enough of myself or my family on TV, not only am I the representation I needed, on camera, but also BEHIND the camera. That's my favorite BTS memory."
The prop/wardrobe item I've always wanted to take home…
"I have always had my eyes on every single Kehinde Wiley print that decorates the Lyon mansion…but if it goes missing, that wasn't me!"
When I think of my character, the first thing that comes to mind is…
"My favorite outfits I've ever worn!! Becky's sense of style is EVERYTHING!"
The thing about this character I'll never be able to shake is…
"I will always be lazier than Becky and I just have to face that fact about myself."
The thing I'll miss the most about my character is…
"Her close proximity to those cute outfits and heels that I'm only interested in wearing for like 15 minutes, tops!"
I think TV revivals are…
"Is this a trap? Who sent you?!"
The person I'll miss the most (and why) is…
"I get to goof off a lot in between scenes with some of my favorite castmates. Nicole [Ari Parker] and I are always singing and taking selfies and she's always bullying me into taking part in whatever new juice she discovered will save the world. Not sure what I'll do without her and I hope to never find out! I also really love Ta'Rhonda [Jones]. She's so fun and spirited and grounded. I know she's grown, but I tend to worry about her like a little cousin. I can't leave her to fend for herself. I mean...I can....I should.....But I won't."
The thing—besides the people—I'll miss most about this show is…
"Certainly not the purses I stole from Cookie's closet...That wasn't even me!"
Empire airs Tuesdays, 9 p.m. on Fox.
For more The Final Season interviews:
Jared Padalecki and Jensen Ackles